More than 370 Journalists Have Been Attacked During Coverage of Venezuela's Protests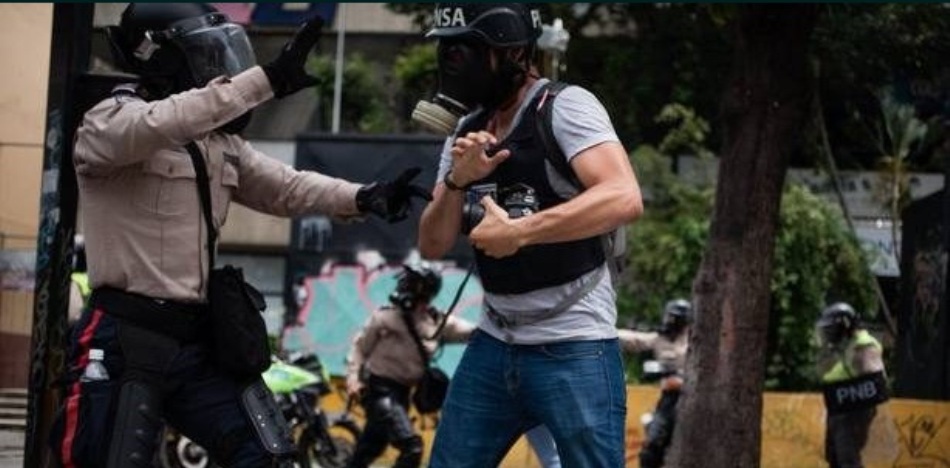 EspañolAt least 376 journalists have been attacked by Venezuela's dictatorial regime during the coverage of ongoing demonstrations held by the country's opposition.
On Sunday, the National Union of Press Workers reported that journalists for print, radio and TV have suffered significant injury during the heightened demonstrations, which have lasted three continuous months.
The country's Public Prosecutor's Office requested that the courts grant special protection to journalists, but there have been consistent reports of abuse against the press nonetheless. The police, army and independent groups in support of the dictatorship have all demonstrated hostility to the presence of the media.
Most of the attacks have reportedly been carried out by military and police officers, who not only repress the crowd, but also persecute reporters.
Between March 31 and June 24, 376 press workers were assaulted in 238 documented cases, the union said. Security forces are responsible for 170 of those cases.
The National Union of Press Workers's also reported 33 case of illegal detentions of its members.
The Bolivarian National Guard is reportedly responsible for 60.5-percent of cases of assault in which "state security agencies are the perpetrators."
More than 75 deaths in general have resulted from demonstrations against Maduro's dictatorship. There have been thousands of reported injuries, according to a report by the Attorney General's Office.
Sources: El Estímulo, La Patilla