Protests Erupt against Fujimori ahead of Peru's Elections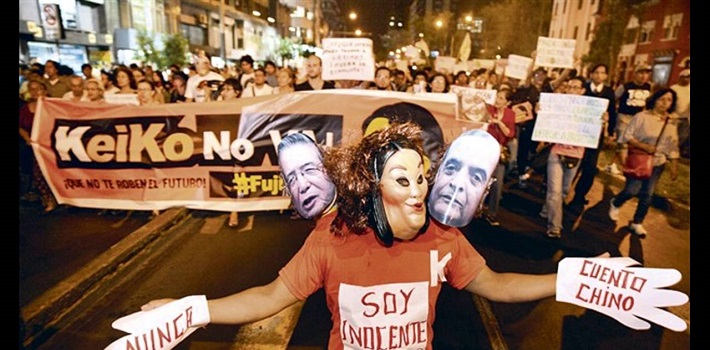 EspañolSunday, June 5 begins Peru's runoff election, prompting thousands of Peruvians to march on Tuesday, May 31 while chanting "Keiko Won't Go" in protest of Fujimori's candidacy.
It was one of the last demonstration before the election that will decide the next president of Peru. Students, unions and citizens will meet at six at night in the San Martin Square in Lima to protest the return of another Fujimori to office.
It will be the third event of its kind organized by the group "Keiko No Va."
The protest will go through different streets of the city until reaching the Plaza Dos de Mayo where a mass gathering will be held. The rally organizers expect the protest to be replicated in other cities around the country, and abroad.
Jorge Rodriguez, a spokesman for No To Keiko reported that despite having expressed his desire to participate, Pedro Pablo Kuczynski, Fujimori's opponent will not be present at the rally for alleged scheduling issues. Instead, the rally will be attended by Avelino Guillen and Gino Costa, representatives of the Peruvian Party for Change (PPK).
He also said former presidential candidate Veronika Mendoza will be in attendance, among other politicians.
The "No to Keiko" mobilization resulted in more than 50-thousand people protesting peacefully against the daughter of former President Alberto Fujimori, who was convicted of crimes against humanity.
Verónika Mendoza favors the PPK
Former presidential candidate Veronika Mendoza, who came in third in the first round of voting, decided to support Pedro Pablo Kuczynski in the elections on Sunday, claiming it was the only way to "block Fujimori."
"Leave the ballot blank or spoil it for Keiko Fujimori," she said. "Voting for the PPK is the only way to block Fujimori."
Mendoza's announcement drew attention because the leader of the Frente Amplio received insults from Kuczynski in the election campaign. Now she is making her first defense of democracy by opposing the return of Fujimorism.
Even Keiko Fujimori expressed surprise, saying it is strange that the Left (referring to Mendoza) would ever support the Far Right.
On Tuesday, a photograph went viral showing former President of Uruguay Jose Mujica wearing to an anti-Fujimori shirt.
"Pepe" Mujica, nominated for the Nobel Peace Prize, is pictured next to former presidential candidate for the Frente Amplio Veronika Mendoza, with a shirt that says, "Keiko No Va."
CEO of Ipsos pollster Peru Alfredo Torres told El Comercio that Veronika Mendoza's announcement, could add, subtract but also even some votes for the PPK.
"In this case, she is calling on people from the left who left the ballot blank to support the PPK. But it can also alienate people that have been supporting the PPK to leave, because they don't like the support of the left," he said.