Asphyxia and Drills: How Political Prisoners in Venezuela Get Tortured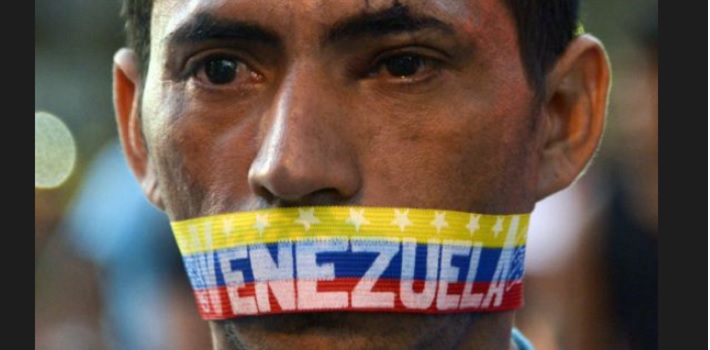 EspañolBeing an opposition activist in Venezuela these days could get you locked up in prison for political reasons, risking your life.
According to the Venezuelan Penal Forum, an NGO that defends human rights in Venezuela, President Nicolás Maduro's regime is keeping 96 political prisoners, many of whom are being tortured in underground cells.
A documentary called "The Tomb," based on real-life accounts, reveals how young detainees live under the watch of the Bolivarian Intelligence Service (SEBIN), spending weeks or months in 4 x 6 foot cells below the ground.
They undergo interrogation and torture sessions which often involve making confessions or give up names in order to see the sunlight or go home.
The head of the Venezuelan Penal Forum has called the current government a "modern dictatorship." He claims that the state security apparatus has perfected forms of torture and intimidation against those who oppose the Chavista elite.
According to complaints before the Venezuelan Penal Forum, the government allegedly tortures political prisoners into making false confessions.
What Torture in Venezuela Looks Like
On Sunday, May 29, attorney and defender of human rights José Vicente Haro recounted on Twitter the experience of Araminta González, who was detained during a protest at the end of 2014.

Les colocan una bolsa con la que cubren la cabeza y antes de cerrársela hasta punto de casi asfixia, le rocían insecticida adentro…

— JOSE VICENTE HARO (@JOSEVICENTEHARO) May 29, 2016
They place a bag over their heads and before closing it off to induce asphyxia, they spray insecticide into it…
Luego, en el mismo acto vienen las descargas eléctricas en varias partes de cuerpo, fuertes y en aumento si el torturado se niega a cooperar

— JOSE VICENTE HARO (@JOSEVICENTEHARO) May 29, 2016
Then, they set off electric charges on various body parts and increase the strength if the tortured person refuses to cooperate.
Durante el proceso de tortura antes narrado, en el cuarto de torturas del SEBIN Helicoide, se le suministran duros golpes al torturado…

— JOSE VICENTE HARO (@JOSEVICENTEHARO) May 29, 2016
During this torture process that takes place in the torture room of the SEBIN [intelligence agency], they beat up the tortured person
En parte de los casos, torturas en el SEBIN van acompañadas por introducción, para el caso de los hombres, de un palo de madera por el ano.

— JOSE VICENTE HARO (@JOSEVICENTEHARO) May 29, 2016
In some cases, if the tortured person is male, he gets a wood stick up his anus


The attorney described other cases of torture that applied to political prisoner Marcos Coello, who tried to flee Venezuela before they could sentence him.

Haro explained that there is a type of torture called the "Massage of the CICPC," in reference to the "Cuerpo de Investigaciones Científicas, Penales y Criminalísticas" — or Organization for Scientific, Penal and Criminal Investigation.

En la División Antiterrorismo del CICPC se captura a la persona (Av. Urdaneta), allí hay unas celdas y también unos torturadores.

— JOSE VICENTE HARO (@JOSEVICENTEHARO) May 29, 2016

In the Anti-terror division of the CICPC they capture people (Avenue Urdaneta), there are some cells with some tortured people.
Al torturado se le coloca una bolsa en la cabeza y se le amarra hasta un punto de casi asfixia (y se le rocía insecticida adentro)…

— JOSE VICENTE HARO (@JOSEVICENTEHARO) May 29, 2016
They put a bag over the head to asphyxiate them and then inject insecticide into it…
…luego, le colocan palos o barras de madera alrededor del cuerpo y se cubre el cuerpo con goma espuma o "colchonetas delgadas"…

— JOSE VICENTE HARO (@JOSEVICENTEHARO) May 29, 2016
Then they put sticks or bars of wood around the body and wrap the person with rubber foam or "thin mats."
….se golpea todo el cuerpo: golpes, patadas, duras agresiones físicas corporales, acompañadas por insultos de toda naturaleza…

— JOSE VICENTE HARO (@JOSEVICENTEHARO) May 29, 2016
They start beating the person up, hitting, kicking, accompanied by insults of all kinds
…todo con el objeto de producir o inducir una falsa confesión. Si la persona no coopera viene el siguiente nivel, caso Araminta González.

— JOSE VICENTE HARO (@JOSEVICENTEHARO) May 29, 2016
All this has the goal of producing or inducing a false confession. If the person doesn't cooperate, they go to the next level like [they did] with Araminta González.
..se le coloca un taladro en el oído, en ambos oídos y se les amenaza con perforarles el cuerpo si no dan nombres y dan "falsas confesiones"

— JOSE VICENTE HARO (@JOSEVICENTEHARO) May 29, 2016
…they put a drill to the person's ears and threaten to drill their body if they don't give names and confess.
…además, se les aplica el "helicóptero" herramienta que sirve para arrancar poco a poco pedazos seleccionados del cuero cabelludo.

— JOSE VICENTE HARO (@JOSEVICENTEHARO) May 29, 2016
In addition, they use the "helicopter," a tool that slowly takes off small pieces of the scalp.


Another story he tells is of  Christian Manrique, a student who disappeared for more than 24 hours after being arrested for "taking orders from opposition leaders."


According to the website Cuentos de la Quinta, the police locked Manrique in the Tomb and threatened to kill him.

A pistol was put in his mouth until he confessed to being paid by opposition leaders to make disturbances during a protest. Local media reported that torture also involved making cuts on his stomach.

"Battered and tortured, he was abandoned in El Paraíso, a popular area in Caracas, with the agents telling him he should go to a friend's home."
Related Posts
Canada Libertarians Say No to Nanny State on World No Tobacco Day
Prompted by World Tobacco Day, members of the international grassroots activist group Students For Liberty took to Parliament Hill on Tuesday to hand out their "No Nanny" plain-packaged chocolate bars to legislators and federal employees. The chocolate bar labels warn that chocolate "severely raises the risk of obesity" and therefore it "may kill you." Program Associate at Students For Liberty David Clement was present in front of Canada's federal parliament on Tuesday to hand out the chocolate bars in protest of the idea of the plain packaging of tobacco products, due to be introduced by Prime Minister Justin Trudeau's administration. "The Trudeau government's plan to force tobacco companies to use plain packaging on their products is a paternalistic, nanny-state policy that will fail to reduce smoking rates," said Clement. "Three years' worth of government evidence from Australia shows that plain packaging has not reduced smoking rates, the volume of tobacco consumed, or youth smoking." Even more, Clement says there may even be evidence that smoking rates went up as a result of plain packaging in Australia. The World Health Organization, which sponsors World No Tobacco Day each year, says citizens should "get ready for plain packaging" in its news release on Tuesday. // "Plain packaging reduces the attractiveness of tobacco products. It kills the glamour, which is appropriate for a product that kills people," said WHO Director-General Dr. Margaret Chan in a press release. "It restricts tobacco advertising and promotion. It limits misleading packaging and labeling. And it increases the effectiveness of health warnings." Read More: Syrians, Palestinians Entering US With Fake Honduran Passports  Read More: Canada Runs Deficit Willingly for First Time in Three Decades Such policies have already passed in Australia, France, the United Kingdom and Ireland, and many more countries will soon reduce the tobacco industry's ability to market to its customers. That said, at least one international coalition of 46 groups upholding property rights across 30 countries, lead by the Property Rights Alliance, have sent a letter to Dr. Chan protesting the implementation of these types of laws which deprive the freedom of companies to market their products. "Plain packaging prohibits the use of trademarks and therefore significantly erodes the value of this intellectual property — a dangerous precedent to set for commerce in general," the letter said. It's these kinds of policies that Clement and others believe will lead to plain packaging of more than just tobacco products. "Plain packaging is spreading to other sectors like alcohol and food. This signals a new level of unjustified government intervention in consumer choice," said Clement.