Maduro Militarizes Venezuela to Avoid Facing Protests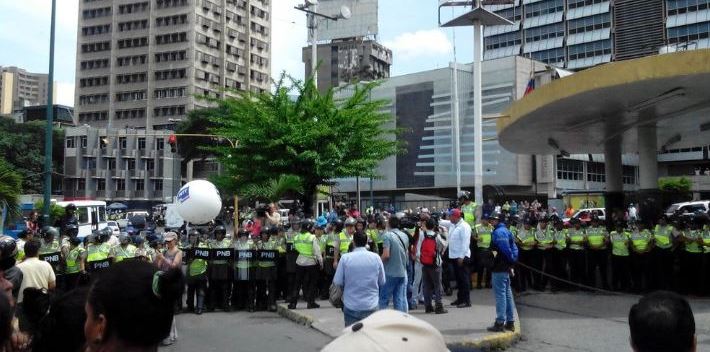 EspañolThe Venezuelan opposition announced on Wednesday, May 18 that it is marching to the headquarters of the National Electoral Council (CNE) to force the electoral body to ensure the recall referendum process continues against President Nicolás Maduro.
In response, some cities around the country have been militarized.
Caracas decided to close at least 14 subway stations to prevent the mobilization of citizens while hundreds of police and soldiers closed entrances to Plaza Venezuela, the gathering place for the march.
People on Twitter reported strong traffic congestion on the main avenues of the city. Motorized National Police were also on patrol, and there were several military tanks stationed on corners.
Similarly, all access to the Central University of Venezuela was blocked with a strong National Guard presence.
Guarenas, the scene of looting and large protests earlier in the week, also woke up to a military and police presence on the streets. CNE headquarters were surrounded by security officials in western Tachira.
On Twitter, Venezuelans complained that Valle de la Pascua in the country's central region was also militarized, just as Maturin was in the east.
The March Continues
The governor of Miranda and former presidential candidate Henrique Capriles announced, however, that marches toward the offices of the Electoral Council will still happen.
During a press conference, President Maduro mocked the international media for questioning cities under military control.
"What militarization?" He asked. "Show me."
The President declared a state of emergency on Friday, which was rejected on Tuesday afternoon by the National Assembly, though Maduro still has the power to restrict the right to protest and mobilize.