Colombia: Uribe Calls for Civil Resistance against FARC Peace Deal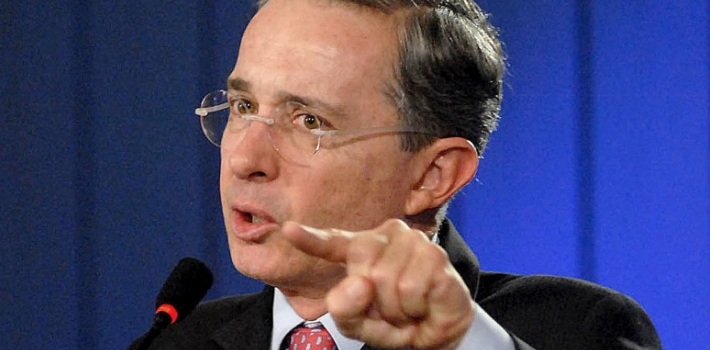 EspañolFormer Colombian President and opposition leader of the Democratic Center Alvaro Uribe asked his country this week to take "civil resistance" against the peace agreements taking place between The Revolutionary Armed Forces of Colombia (FARC) and the government.
The former president and current senator noted that citizen resistance would consist of marches and demonstrations, but these suggestions were met with controversy nationwide.
"Civil resistance is a constitutional form of opposition to this agreement of impunity with the FARC that creates new violence … it is not sustainable because it is in clear violation of the International Criminal Court," Uribe said.
He said he was not happy with the direction the talks are heading, because it lets FARC fighters off the hook.
Read More: What Else WillColombians Yield to FARC in Peace Talks?
"One of the issues we have to invoke against the plebiscite for citizens to vote no or abstain is that the agreement in Havana is open and disguised impunity. Open because the government accepted that drug trafficking is associated with a political offense, hence the world's largest cocaine cartel will not go to the jail, or be extradited."
Reactions
Senator Roy Barreras from the U Party, who is also the Chairman of the Senate Peace Commission, said he is "sad" that while the international community is waiting for peace, a former president of the republic and his party are trying to prevent it.
Minister of the Interior Juan Fernando Cristo described Uribe's call to civil resistance "delusional and regrettable" because Colombians "have resisted 60 years of war" that now must end "with the agreements in Havana."
Senator Antonio Navarro Wolff from the Green Party Alliance, who was a guerrilla member of the defunct Movimiento 19 de Abril (M-19) said it was "unthinkable" to build civil resistance against a peace agreement and compared Uribe's attitude with United States Republican presidential candidate Donald Trump.
Sources: La Fm; El Colombiano.
Related Posts
Venezuela: Countless Wounded after 5,000 Loot Supermarket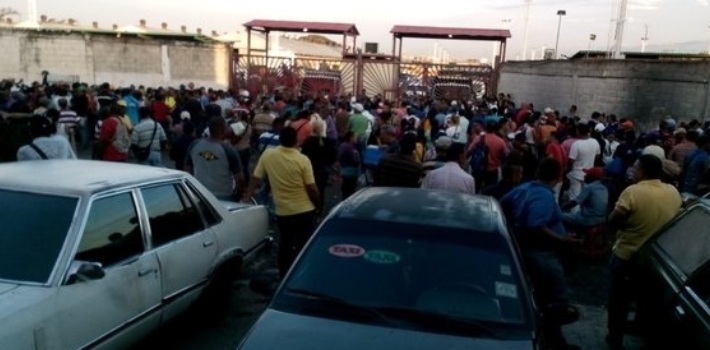 EspañolVenezuela saw a new wave of looting this week that resulted in at least two deaths, countless wounded, and millions of dollars in losses and damages. On the morning of Wednesday, May 11, a crowd sacked the Maracay Wholesale Market in the central region of Venezuela. Read More: Gasoline Shortage Looms in Oil-Producing Venezuela According to the testimonies of merchants, the endless food lines that Venezuelans have been enduring to do groceries could not be organized that day. As time went by, desperate Venezuelans grew anxious over not being able to buy food. Then they started jumping over the gates. https://twitter.com/llaneroVen/status/730390635388252160 "They took milk, pasta, flour, oil, and milk powder. There were 5,000 people,"one witness told Venezuela outlet El Estímulo. People from across the entire state came to the supermarket because there were rumors that some products not found anywhere else would be sold there. "There were 250 people for each National Guard officer... lots of people and few soldiers. At least one officer was beat up because he tried to stop the crowd," another source told El Estímulo. Other food dispensaries run by the government were also looted by the people. // According to some reports, an entrance gate collapsed under the weight of the crowd, leaving several wounded. Over the last two weeks, several provinces have hosted scenes of looting in pharmacies, shopping malls, supermarkets, and food delivery trucks. In several markets, shouts of "we are hungry!" echoed. On April 27, the Venezuelan Chamber of Food (Cavidea) reported that the country's food producers only had 15 days left of inventory. Official Month of Hunger Oscar Meza, Director of the Documentation Center for Social Analysis (Cendas-FVM), said that measurements of scarcity and inflation in May are going to be the worst to date. "We are officially declaring May as the month that [widespread] hunger began in Venezuela," he told Web Noticias Venezuela. ... "As for March, there was an increase in yearly prices due to inflation — a 582.9 percent increase for food, while the level of scarcity of basic products remains at 41.37 percent." Read More: Hungry Venezuelans Hunt Dogs, Cats, Pigeons as Food Runs Out Read More: A Day Out at the Black Market in Venezuela Meza said the trigger for the crisis is the shortage of bread and other foods derived from wheat. "Prices are so high that you can't buy anything, so people don't buy bread, they don't buy flour. You get porridge, you see the price of chicken go up and families struggle ... lunch is around 1,500 bolivars... People used to take food from home to work, but now you can't anymore because you don't have food at home," Meza said.