Venezuelan Government Imposes Daily Four-Hour Blackout Nationwide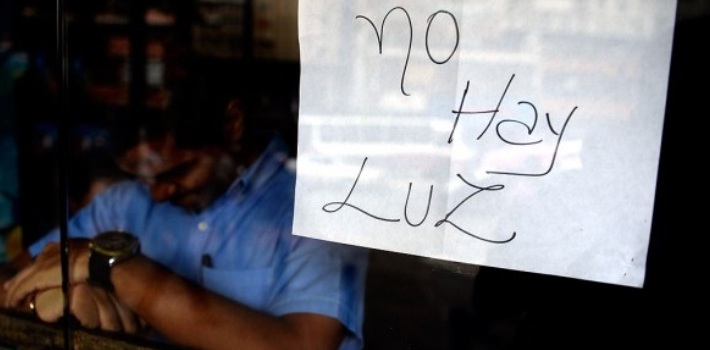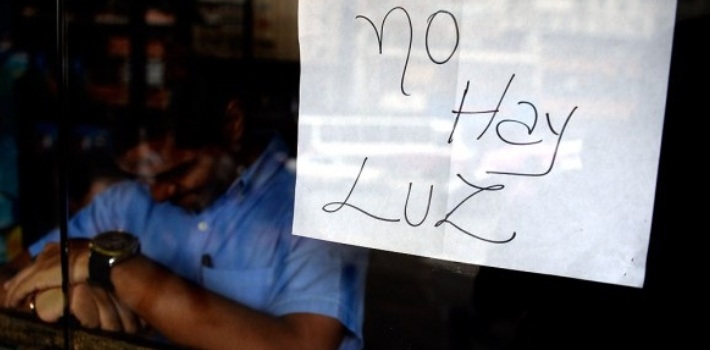 EspañolThe power outages that have been periodically affecting parts of Venezuela will now become the norm throughout the country, as the Venezuelan government rolls out a daily rationing plan.
Minister of Electric Power Luis Motta Domínguez announced on Thursday, April 21 that "every client" of CORPOELEC, which just so happens to be the entire country, will have to do without 4 hours of energy every day for at least the next 40 days.
#AHORA Motta Dominguez informó que existirán 4 bloques de racionamiento eléctrico rotatorio: 8am a 12m / 12m a 4pm/ 4pm a 8 pm / 12am a 4am

— TalCualDigital.com (@DiarioTalCual) April 21, 2016

"Motta Dominguez reported that there will be 4 blocks of rotary rationing: 8am – 12m / 12m – 4pm/ 4pm-8pm/ 12am – 4am"
With this plan, the Nicolás Maduro administration aims to "slow down" the consequences of the decreasing water levels that feed the Guri hydroelectric plant, which generates 70 percent of electricity in Venezuela.
According to Venezuelan newspaper El Nacional, Maduro's plan should save 2,000 to 6,000 megawatts between April and May.
Since the announcement, Venezuelans have flooded social media with messages expressing their outrage.
The director of the Federation of Electrical Workers, Alexis Rodríguez, reported that the energy regulator will particularly increase the blackouts in the nine countryside states.
The union representative said the rationing plan can save almost a third of the total energy consumption, which during peak hours reaches 17,000 megawatts.
Rodríguez criticized CORPOELEC because the agency didn't notify Venezuelans about power outages earlier so that those affected could prepare and avoid possible damage to electrical equipment.
He said rationing could have been avoided if the national government had properly maintained and repaired the country's thermoelectric plants.
"Electrical Load Management Plan"
On Wednesday, April 20, President Maduro had announced the "Electric Load Management Plan" and that the government would detail in the coming days the rationing schedules.
Officials blame the weather phenomenon "El Niño" for the drought that is causing low levels of water in the Guri Dam, and they warned that the states that "consume the most energy" will suffer the most.
Electricity will be rationed in the Venezuelan states of Zulia, Carabobo, Aragua, Lara, Bolívar, Miranda, Barinas, Monagas, and Falcón; while in Caracas, the Venezuelan capital, power cuts will be made in the Libertador, Baruta, Chacao, El Hatillo, and Sucre municipalities.
Another measure to curb energy consumption is modifying the time zone. From May 1, the country will move the clocks forward 30 minutes.
The energy saving plan also requires that public officials like governors and mayors not work on Fridays during April or May.
On Wednesday, April 6, Maduro had made a last appeal to Venezuelans to save electricity by not using appliances and or hair dryers.
During the television program "Con el Mazo Dando," hosted by ruling-party legislator and former President of Congress Diosdado Cabello, Maduro asked Venezuelan women: "The hair dryer during these 60 days should be at medium use. Can you do it women? What do you think?"
"I believe a woman looks more beautiful when she combs her hair with her fingers and then, lets her hair dry naturally," he added.
A Power Grid in Ruins
Venezuelan newspaper Correo del Caroní published a report in which experts refuted the official version that excessive droughts are the cause of the power crisis.
They added that "the decision to increase rationing in the provinces under the veil of maintenance failures, blacking out shopping malls, reducing working hours, and suspending Siderúrgica del Orinoco (Sidor) has only deepened the negative impact on the Gross Domestic Product (GDP) in a country that is immersed in its worst economic crisis."