Evidence Confirms Chavistas Tried to Steal Venezuela's Legislative Election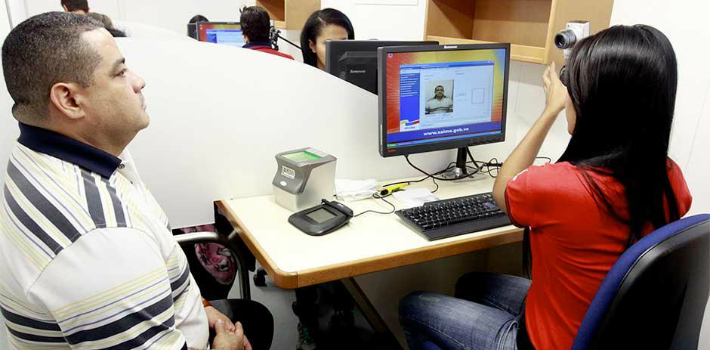 EspañolNew evidence has surfaced that fake national identification cards were issued prior to the parliamentary elections in Venezuela, which were held on December 6.
Iris Molina, an independent political activist, discovered an illegal national ID center being operated by the United Socialist Party of Venezuela (PSUV) in the district of Tovar on election day. She has since taken her evidence to judicial authorities in the state of Mérida.
Both Yván Pulitti, mayor of Tovar, and Alexis Ramírez, governor of Mérida, denied the charges before the media. However, Molina assures that the falsification of official documents was indeed taking place.
[adrotate group="7″]
Venezuela's Autonomous Department for Identification, Migration and Immigration (Saime) is in charge of emitting identification documents. All of its transactions must be published both on its official webpage and in the media. Prior to the December 6 election, however, there was no information regarding a mobile office that was issuing national ID cards in a PSUV-operated office.
"I'm not a Saime official," Mayor Pulitti said. "It wasn't my responsibility. I visited voting centers since the early morning on Sunday."
For his part, Governor Ramírez stated that "there is not one piece of evidence" concerning the Tovar fake ID accusations.
But the PanAm Post obtained the list of people who received their IDs at the PSUV office. Each national ID card number listed can be verified on the CNE webpage. The PanAm Post also received a photograph showing two laptops used to issue the documents. One belonged to the Electoral National Council (CNE), the other to Saime.
Although rumors of electoral fraud have emerged before, this is the first time that there is proof of irregularities committed with false identification documents on the day of an election.
Among those who received documents illegally are the Mérida governor's official photographer, Pulitti's bodyguard and his nephew, and the head of Saime and her husband. This not only contradicts the statements made by the governor and the mayor, it also implicates them as accomplices.
Those involved must explain why there was a hidden center operated by the PSUV that was issuing national ID cards. They must also clarify why the majority of people who received an official document there are government supporters or functionaries. Lastly, they must account for the presence of a CNE computer at the office.
The evidence shows that, on December 3, the Tovar center issued an official ID to a deceased person, who is identified with number 8,080. On the list, however, that ID number corresponds to a Douglas José Roa Contreras, who signed in order to obtain that document on that date.
Iris Molina, the plaintiff, told the PanAm Post that, although she made the accusation on December 6, the Public Ministry has not visited the site in question in order verify the charges. She says that no due process has been followed.
Both Chavistas and opposition groups have been silent on the issue, despite frequent accusations of electoral fraud against the ruling party.
Media reports about the illegally issued national ID cards led to strong street protests, during which 13 people were arrested for setting fire to vehicles. These cars belonged both to Councilman Miguel Marrufo's wife and to the mother of María Alejandra Castillo, a PSUV candidate. Presumably, Castillo's mother was inside the PSUV center in Tovar.
On Friday, December 11, prosecutors charged the protesters with "resistance to authority," after which a Mérida court granted them conditional liberty.