Survey Finds Chileans Conflicted on Human Rights, Apt to Discriminate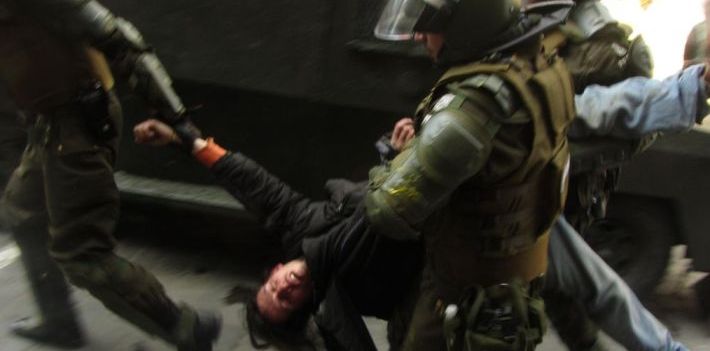 EspañolAround 50 percent of Chileans believe that protecting human rights interferes with law enforcement, according to a survey released by the National Institute on Human Rights (INDH) on Sunday, October 17.

The Third National Survey on Human Rights notes that while a majority of Chileans value human rights as a concept, many find it difficult to put it into practice.

The poll shows that 91.5 percent of Chileans believe human rights are "fundamental" in their everyday lives, a five-point increase compared to the last survey two years ago. In contrast, 43.5 percent of those surveyed support vigilante justice, and agree with "stripping, beating, and insulting" criminals if caught in the street.

The biannual poll aims to measure public perception on human rights in Chile, their infringement, and how state institutions go about enforcing them.

The survey also reveals that 42.3 percent of respondents believe the executive is in charge of enforcing human rights, while 32.7 percent attribute the responsibility to the state as a whole.

Regarding jails, there is widespread disbelief in their effectiveness as reform centers. The vast majority (71.2 percent) say prisons fail to rehabilitate criminals.

"It's a mistake to think that human rights are incompatible with fighting crime," Socialist Congressman Raúl Saldívar told CNN on Sunday.

Saldívar stressed his disagreement with vigilantes: "In a civilized society, punishment is not brutality, but justice."
Little Tolerance with Diversity
The survey also reflects the attitudes of Chileans toward immigration and diversity. Almost half of those polled (46 percent) believe that the government should restrict the influx of migrants.
Chileans also admit to engaging in discriminatory behavior based on physical appearance (61.3 percent), socioeconomic status (57.1 percent), and clothing (52.4 percent).
The director of the National Institute on Human Rights (INDH), Lorena Fries, told Chilean daily La Tercera that the country is experiencing a "divorce between the high regard for human rights and the low tolerance for migrants and sexual minorities."
Fries says public sentiment is the result of education that is not based on respect and tolerance.
[adrotate group="8″]
The INDH official called on the government to design anti-discrimination policies, since Chilean society "is not polite with those who are different."
Some 60.2 percent of respondents still regard democracy as the best form of government. However, one out of five respondents say that it makes no difference whether the government is democratic or authoritarian. Fries says these attitudes stem from an "authoritarian matrix" within Chilean society.
She believes the government should actively promote human rights in school curricula and launch campaigns to educate people.
Ecuador to Advise Chile
On October 17, Ecuadorian Justice Minister Ledy Zúñiga said her office would assist Chile to create a Secretariat of Human Rights, in order to "guarantee the respect of citizens' fundamental rights."
Ecuador, however, along with Venezuela and Cuba, leads the list of the worst human-rights violators in the region. Earlier this year, the United States released its annual survey on human rights in Latin America. It labels Venezuela and Cuba as repressive governments, and singles out Ecuador as one of the worst violators of free speech.
In particular, the US State Department accused the Ecuadorian government of resorting to restrictive legislation to target and punish independent media outlets.
This week, during the 156th session of the Inter-American Commission on Human Rights, Ecuador will be under heavy scrutiny for the government's role in intimidating and attacking indigenous and environmentalist activists.