Anti-Correa Protest Could Land Students 7 Years in Prison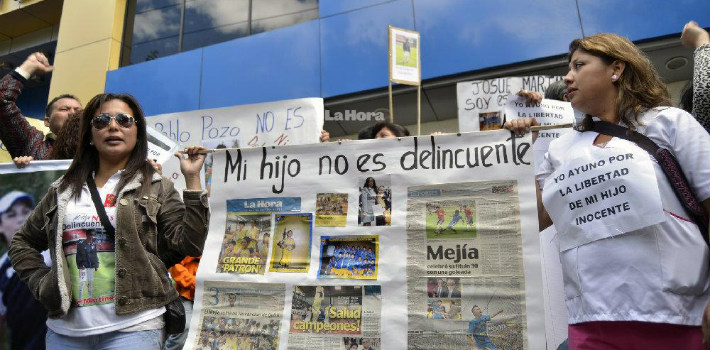 EspañolStudents of the traditional Mejía Institute in Quito, Ecuador, have joined the nationwide protests against the government of President Rafael Correa that have gained momentum over the last two weeks. Three of those young protesters, however, have been accused of "sabotage," and face up to seven years in jail if convicted.
During the evening hours of Friday, June 19, local media reported violent protests in the vicinity of the Mejía Institute, an important public high school founded by former president Eloy Alfaro in the late 19th century.
However, student demonstrations had in fact begun three days earlier, when roughly 500 Mejía students took to the streets to protest against a proposal to shut down afternoon classes.
Colonel Marco Garnica told El Telégrafo that Friday had been the most violent day of protests, in which a civilian and a policeman were hurt. Interior Minister José Serrano confirmed on Saturday via Twitter that police arrested eight people for "vandalism and violent actions."
"Regarding the criminal acts reported last night, the police did not use force; they acted professionally and prudently. No to impunity," he wrote.
Moreover, the minister uploaded a video of a police motorcycle on fire, allegedly burned by a group of students during the demonstration. He further blamed opposition politicians, such as legislator Andrés Páez and presidential candidate Guillermo Lasso, for what happened at the institute.
Ya basta de VIOLENCIA! Paez, Lasso, Carrion, Orbe responsables, anoche en Quito incendian moto policial pic.twitter.com/VdwzBEosW3

— José Serrano Salgado (@ppsesa) June 20, 2015

"Enough violence! Páez, Lasso, Carrión, and Orbe are responsible for what happened last night in Quito: a police motorcycle was set on fire."
Hours later, authorities released five of the detainees, all of them underage. However, Judge Diana Tapia issued a preventative detention order of 30 days for the remaining three, each between 18 and 19 years old. Prosecutor Paola Solís charged the students with the crime of sabotage, established in Article 345 of Ecuador's Criminal Code, which carries a punishment of between five and seven years in prison.
Sabotaging Ecuador's Democracy?
Gonzalo Realpe, defense lawyer for the detained students, says the charges in this case are "disproportionate." Realpe argues that his clients are being accused of sabotage "in order to destabilize the democratic life of the country," and should not be prosecuted for anything more than damage to public property.
The Federation of High School Students in Ecuador (FESE) released a statement demanding the immediate release of the arrested students.
"High-school students are worthy heirs to the legacy of Eugenio Espejo, Eloy Alfaro and Juan Montalvo, of that rebellious spirit that the current government intends to break. We have raised our voice against the anti-popular policies of the government, and for the rights and interests of the Ecuadorian people and its studious youth," the statement reads.
"FESE demands the release of our peers who are still detained, as well as respect for the afternoon session in all public schools, and an end to the regime's terrorizing and monitoring of students."
Meanwhile, President Correa denounced the student protests during his weekly Citizen Link broadcast. He accused the now extinct Democratic People's Movement party (MPD) of having organized the demonstrations.
¿Chicos de 18 años tendrán q pasar de 5 a 7 años en la cárcel por salir a protestar a la calle? ¡Basta de abusos! #Solidaridad3DelMejia

— Silvia Buendía (@silvitabuendia) June 21, 2015

"Eighteen-year-old boys will have to spend 5 to 7 years in prison for protesting in the street? No more abuses!"
For the Ecuadorian lawyer and activist Silvia Buendía, authorities in this case are criminalizing the right to protest, and the students have been accused of a crime they did not commit.
"A person who commits sabotage aims to disrupt the economic environment or public order of the country. The detained students protested violently; two people were injured, and a motorcycle was burned.… How is it possible, under the law, that a prosecutor can say this constitutes sabotage?" Buendía tells the PanAm Post.
"To describe what took place at Friday's protest as 'sabotage' is so disproportionate, it doesn't take a lawyer to understand it."
Buendía argues that the defendants should at most be charged with damage to third-party property, which only carries a possible sentence of two to six months in jail. She adds, however, that authorities could have easily brought much lesser charges for which the students would spend no more than 30 days in jail.
"It is clear to me that, amid the climate of protests and street demonstrations that we are living, the government aims to apply a heavy-hand to the protesters, even at the expense of manipulating the judicial system to their convenience, and in such clumsy way," the legal expert concludes.
Social-media users in Ecuador are using the hashtag #Libertad3delMejía to raise awareness and voice their opposition to the legal action against the Mejía Institute students.