Chile Takes Water Dispute with Bolivia to International Court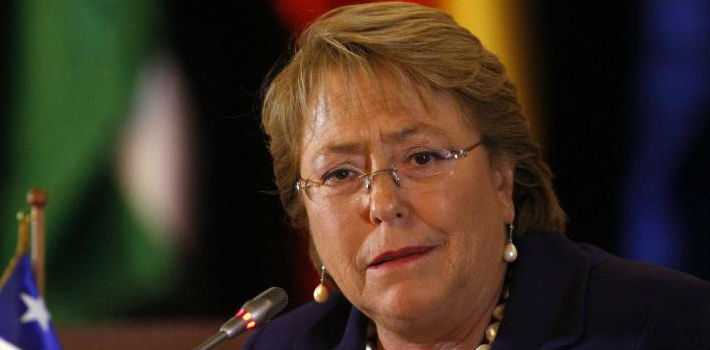 La Chilean President Michelle Bachelet announced the lawsuit the week of June 6 (Los Tiempos)
EspañolChilean President Michelle Bachelet announced Monday, June 6 that Chile will be filing a lawsuit against Bolivia in the International Court of Justice (ICJ) at the Hague to determine whether the waters of the Silala River have international use.
The suit was presented to the court by Ximena Fuentes, Director of the Borders and Boundaries sector of Chile's Ministry of Foreign Affairs.
"We have decided to take the initiative," the President said.
The Bolivian government said in March that it would be suing Chile in the same court for making use of the river.
"Chile cannot sit back and let the Bolivian government conduct itself in a way that ignores our rights," Chilean Chancellor Herald Muñoz said, "and so we are suing Bolivia before the international court at the Hague."
"Chile can't allow Bolivia to continue using international law as a vehicle for political harassment," he added."
Muñoz said that the objective of the lawsuit is to "determine whether the Silala is an international river and, therefore, a body of water Chile has some right to."
Chile maintains that the Silala is a river that starts in the Bolivian city of Potosí and flows through the border to the Chilean region of Antofagasta, therefore making the river international. However, Bolivia alleges it has a 100 percent right to all of its waters.
On May 11, Bolivia enacted Supreme Decree No. 2760, which created a program called the Strategic Defense of the Silala Mineral Springs and All Water Resources on the Chilean Border.
The council will be in charge of carrying out studies for the eventual start of the international lawsuit against Chile for the supposed illegal use of  its waters. The council's creation came three days after the President of Bolivia Evo Morales denounced the creation of a Chilean military base within 10 miles of the Silala.
Morales said Chile has made "unilateral and illicit" use of the river, which begins in Bolivian territory and supplies water to Chile's northern region "for free."
In 2009, Chile and Bolivia reached a pre-agreement that would established shared use of the waters of the Silala. Bolivia submitted the pre-agreement for referendum in Potosí that came back negative, according to Chile, with the request that Chile incorporate some form of "historic debt" that the Chilean government found unacceptable.
Chile insisted it has wanted to resume talks about the dispute, but that the possibility of doing so was cut short by Bolivia's rejecting the idea of the waters being international. The situation was not helped by Morales' consistent claims that Chile's use of the waters was a "robbery."
Bolivia, which does not have access to the Pacific Ocean, sued Chile in 2014 in the ICJ for its own route to the ocean. The process has been open and in line with the Hague's schedule, with the final ruling coming at the start of 2018.
Source: Emol