Argentinean Unions Announce Strike over Macri's Veto of Anti-Layoffs Law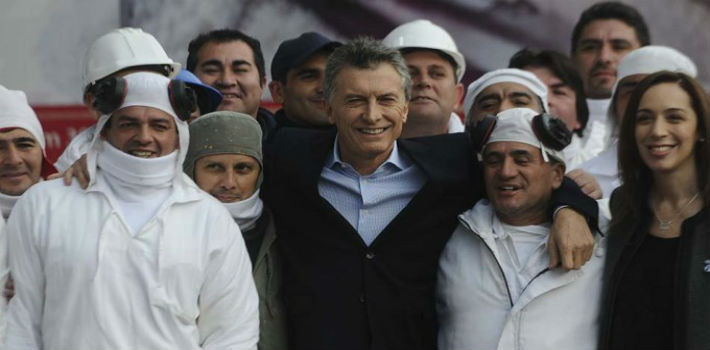 EspañolOn May 20, barely 24 hours after the Argentinean Congress had passed the controversial Anti-Layoffs bill, President Mauricio Macri announced that he would not sign it into law.
The unions' response was also swift, two days later: a national strike.
The bill, which would have banned layoffs across the nation for 180 days and mandated double compensation, "goes against all Argentineans," according to the president.
"Today, using the constitutional authority that I have, I will veto the bill that for me goes against jobs. It's a law against Argentina, a law that shows that we do not trust our future," Macri said on Friday during an event in the province of Buenos Aires.
The Argentinean president strongly criticized the opposition bloc in Congress, including officials from the previous administration, who spearheaded the anti-layoffs bill.
"Those who ruled us until recently are proposing laws that freeze job creation, barriers to hiring; they don't care about those working in the black market or who have no job. They don't care that this law will bring those people more poverty," he said.
President Macri made the announcement during an event at a poultry plant that was about to close after declaring bankruptcy in December but decided to remain in business with government support.
Macri pointed out the fact that former President Cristina Kirchner rejected a similar anti-layoffs bill in a 2010 video that has gone viral.
"Today we can all watch on our cellphones [videos of] the former president and the former chief of staff saying that these laws are bad, just a couple of years or months ago. They used to say that this kind of laws are not good for progress. Why are they behind it now? Because politically speaking they want to sabotage us. They do not want us to have these new opportunities," Macri argued.
He insisted that his administration inherited an economic crisis and that no quality jobs were created in the country during the past five years.
With 147 votes in favor, 3 against, and 88 abstentions, Argentina's House of Representatives approved on early Thursday the controversial initiative, which also had the support of the trade union sector.
After failing to introduce modifications to the bill, ruling party legislators abstained in the vote, knowing that the president would not sign the bill into law and that the opposition does not have the required two-thirds majority to overrule the veto.
Anticipating the backlash from unions, the Macri administration agreed on Thursday to gradually increase the minimum wage from AR$6,060 (US$429.96) to AR$8,060(US $571.86) over the following months.
National Strike
Faced with the veto, Hugo Yasky, secretary general of the Argentinean Confederation of Workers (CTA), assured that there would be a backlash from labor unions, who strongly supported the bill.
told local TV station C5N on Sunday, after a meeting with other union leaders. "Macri's arrogance is in shameful bad taste," he had previously commented on Friday.
Meanwhile, Andrés Rodriguez, head of the Nation's Union of Civil Personnel (Upcn), said that the president's decision is "totally negative."
The Peronist Party led by José Luis Gioja and former presidential candidate Daniel Scioli also rejected the veto. "The president shows once again his little respect for institutions," they said in a statement.
"The Justicialist Party will not remain silent or be a silent witness when they intend to steamroll the institutional order and much less when they attempt to harm the workers of Argentina, because wherever there is need we Peronists will defend the rights of those most in need", reads the letter issued just after Macri's veto announcement.
Source: Clarín, La Nación, La Nación.