Venezuelan Court Bans Protests Near Electoral Body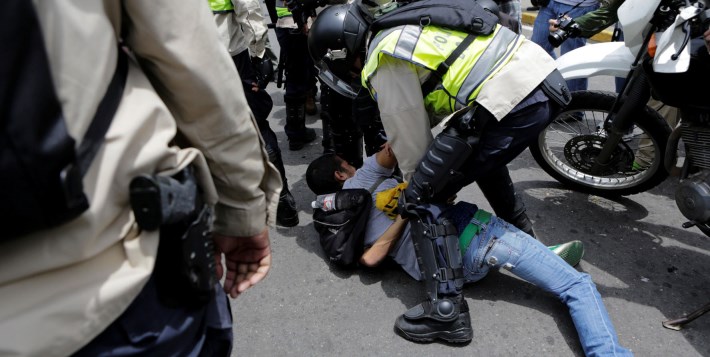 EspañolIn a new prêt-à-porter sentence against the Venezuelan opposition, the Supreme Tribunal of Justice (STJ) issued an order preventing protests in the vicinity of the National Electoral Council (CNE), arguing that workers must be protected from "acts of violence."
The ruling, issued as an appeal from the Chamber of Contentious Administration, leaves the Venezuelan opposition without many options. It has tried three time in the last two weeks to march to the National Electoral Council building in an attempt to push forward the presidential recall referendum that received more than 1.8 million signatures.
The court ruled in favor of four CNE employees that requested an injunction to prevent themselves from being subjected to further violence that saw seven young Venezuelans in Caracas attack a picket line of civil servants.
In response, the Venezuelan Supreme Court established a new category called "predelictual," while pointing out in its ruling that, "the aggressions suffered by security members on behalf of the protesters convening against the National Electoral Council allows us to presume that workers in general as well as the president risk becoming victims to similar actions."
The ruling also said demonstrations by the opposition can generate "psychological disturbances" to workers of the Electoral Council and Venezuelan society in general.
Meanwhile, the seven young Venezuelans who attacked the picket line in Caracas have been detained in the dungeons of the National Intelligence Service building, where they have been severely beaten, according to opposition representative Edgar Zambrano.
According to Venezuelan media, the torture is most likely aimed at former Head of Opposition Security Ángel Rodríguez, who was arrested on Thursday near his house in Caracas after the Minister of Interior and Army General Gustavo González Lopez accused him of bribing the seven people into carrying out the assaults.
The seven had to be brought to court on Friday, but, according to local media, were so severely beaten that they could not make it.
In total, there were 44 arrests last Wednesday, according to the Foro Penal Venezolano, an NGO defending human rights. Some of them were released after a few hours, but most have not been to court, according to lawyer Alfredo Romero.
President of the National Assembly Henry Ramos Allup said because those four people are afraid, they are prohibited from moving to the offices of the CNE to ensure the recall is not sabotaged.
This new ruling by Venezuela's Supreme Court is in line with previous decisions that have come over the last few weeks, some of which have taken away the control and power of the National Assembly.
But the ailing justice system during the "Bolivarian Revolution" is not new. Between 2005 and 2015, the Supreme Court issued more than nine thousand sentences without a single one weighing against the state, according to the book, El TSJ al servicio de la revolución.
Next week, all demonstrations will pick back up anyway, according to opposition leader Henrique Capriles Radonski.