Mass Protests Back the Hunger Strike of Venezuela's Political Prisoners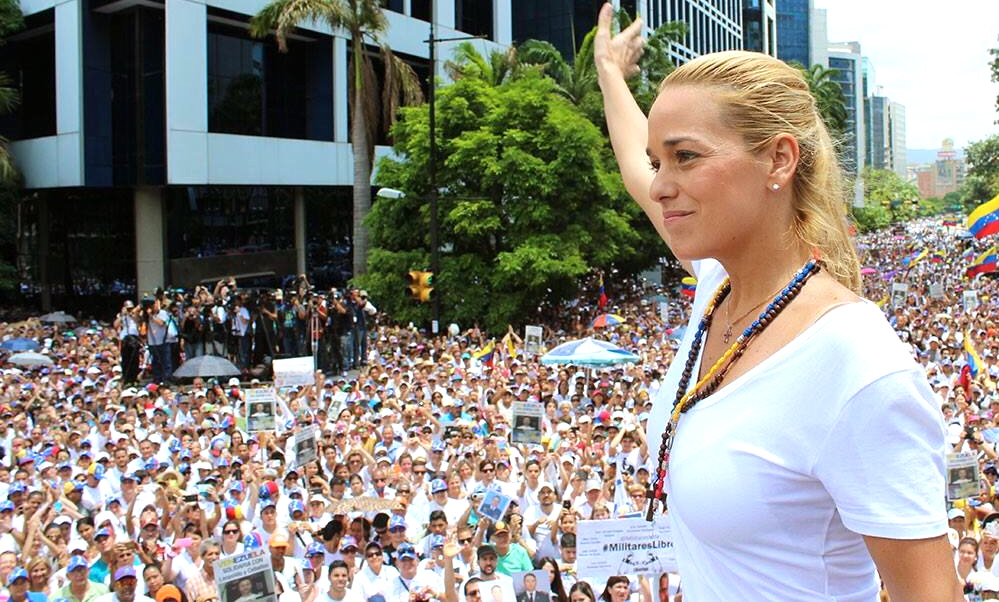 EspañolVenezuelan political prisoners, with Leopoldo López and Daniel Ceballos taking the lead, remain adamant in their hunger strike. It will not end until the National Electoral Council sets a date for congressional elections this year, and until the 79 political prisoners in the South American nation are freed.
That was the message conveyed by López's wife, Lilian Tintori, during the #30MVamosTodos (let's go everyone) mass demonstration on Saturday, May 30. The show of support took place in Caracas and at least 10 other cities in Venezuela, along with more than 20 other cities throughout the world. Venezuelans and sympathizers gathered to call on the international community and the regime of Nicolás Maduro to respect the rule of law.
Tintori was one of four speakers at the Caracas demonstration — alongside Patricia de Ceballos, mayor of San Cristóbal and wife of Ceballos; Mitzy Capriles, wife of political prisoner and Caracas Mayor Antonio Ledezma; and opposition leader María Corina Machado — and she announced an upcoming day of fasting as a show of solidarity with Venezuelan political prisoners: "Neither Daniel nor Leopoldo have eaten anything in the about a week now, and we shall stand with them."
Tintori called on Venezuelans to "be on alert for actions to be announced. All will be peaceful, and we do not want anyone to close the streets or set fire to tires. We shall go home peacefully, and return to streets peacefully again in the coming days."
Prior to the event, Tintori requested that participants dress in white and carry flowers, since Maduro's officials constantly accuse the opposition of having a violent agenda.
Now she wants to see a united front among campaigners for the rule of law and democratic accountability: "The regime wants us to fragment. I pledge to unity, pledge to peace, pledge to freedom for Venezuela."
Beyond López and Ceballos, eight other individuals in Venezuela are engaged in the hunger strike, including one lady. She began her fast on Saturday, across from the headquarters of the headquarters of the Organization of American States in Caracas.
"I call on three women," Tintori said, "Dilma Roussell, president of Brazil, Michelle Bachelet, president of Chile, and Christina Fernández, president of Argentina — that they come to Venezuela and help in this social, political, and economic crisis."
The name of the Argentinean head of state, in contrast to those of Brazil and Chile, drew an echoing boo throughout the crowd of approximately 10,000 — gathered on Francisco de Miranda Avenue, in the east of the Venezuelan capital.
The gathering also highlighted the "marcha de las cabezas rapadas" (march of the buzz cuts), in support of Ceballos. Prison officials transferred him a week prior to the dangerous Ramo Verde Military Prison, away from where he was in touch with López and 110 kilometers from Caracas.
The former mayor of San Cristóbal (succeeded by his wife) has completed his one-year sentence, but continues to be held. With his arrival at the new prison, guards had his hair cut down to a zero, as occurs with many common inmates.
At the protest, therefore, Freddy Guevara of the Caracas municipal council had his hair cut down to a full buzz cut. He called on others to do the same as an act of solidarity.
Adding clout to the event, ex-presidents Andrés Pastrana of Colombia and Jorge Quiroga of Bolivia, attended in person. They had sought to visit with the two prisoners, but were not permitted by Chavista authorities. Quiroga called on the local media to make their presence felt when it came to the suffering of the political prisoners.
The political party of López and Ceballos, Popular Will, sponsored the event, which did not receive the support of other opposition parties in the Democratic Unity Roundtable. The other parties permitted freedom of conscience for members to attend, and opposition leader and Miranda Governor Henrique Capriles had announced his presence. However, he did not show, or at least was not among the lineup of speakers.
Both the demonstrations and the hunger strike have come with four demands: a date for congressional elections this year; observation of the elections by the Organization of American States and the European Union; the release of all political prisoners; and an end to all repression and political persecution of the opposition.
Venezuela "Is a Dictatorship"
Patricia de Ceballos, sporting a shortened haircut of her own, called attention to the case of her husband, in his eighth day of hunger strike: "Daniel is stuck in a dump, and they are violating his rights. We call for respect towards the dissidents, a free press, and until then we will not stop the hunger strike."
"One must say clearly," she added, "this is a dictatorship!" and the demonstrators echoed the cry.
In a call for support from the rest of the Democratic Unity Roundtable, the mayor said "we don't want unity in the cemetery, when we are burying my husband. We want unity now … there is no time to get caught up in chitchat."
Machado joined the chorus and proclaimed that "the transition has already begun, because the regime is crumbling." She wants people to participate in this process and concern themselves with the reconstruction of the nation: "We are not going to abandon the streets, nor shall we let go of the peaceful battle."
"We Are Tired"
The PanAm Post, present at the Caracas demonstration, sought the views of various attendees. One was María Auxiliadora García, a bio-analyst at a public hospital. She shared that she was tired of having to queue for everything, and that the regime had "destroyed the nation."
"It feels like being in prison in Venezuela, because now you cannot even travel abroad. When I graduated 30 years ago, I earned a salary of about US$2,000 per month, and now about $15. There is no rule of law here."
On the other hand, Joicy Yanes (who preferred to withhold his real name), works in the Caracas municipal office of Libertador, which is headed by Jorge Rodríguez, one of the highest Chavistas on the totem pole: "Sixteen years have passed fighting against this, and never has this nation been worse. Now people are invading the building next to my own house, and crime is overwhelming. Right here, we feel fear. I want a nation in which my children don't have fear, in which they can study and dream of a future better than what I have."