El Salvador Ups the Stakes, Declares Street Gangs Terrorists
After what was one of the bloodiest weeks in El Salvador since the 1980s civil war, on August 24 the Supreme Court of El Salvador declared street gangs such as MS-13 and Barrio 18 and their financial backers to be terrorists.
The ruling expands the terms outlined in the 2006 Special Law Against Acts of Terrorism to deem terrorists all those groups that challenge the state's use of legitimate violence, disregarding standard international definitions.
"Terrorist groups are the gangs Mara Salvatrucha or MS-13 and Gang 18 or Mara 18, and any other gang or criminal organization that seeks to arrogate the exercise of the powers belonging to state sovereignty," ruled the supreme court.
The new definition encompasses any criminal organization that endangers the democratic system, state safety, or international peace; that exerts territorial control; that propagates collective fear; that affects physical or juridical personal goods; and that restricts the free flow of peoples.
Magistrates based part of their reasoning on the premise that any person who becomes part of a gang "seriously manifests their disposition to commit crimes" and to participate in the crimes ordered by the gang's leadership.
The ruling also declared as terrorists all collaborators, financial supporters, and apologists of such groups, no matter their political, criminal, or economic motives.
In another game-changing decision, the court ruled out any possibility to negotiate with the street gangs as the government has in the past:" It would be inadmissible, from the standpoint of the rule of law, "to use unofficial mechanisms that imply negotiations with the crime in general, even less so with organized crime."
Previously, Attorney General Luis Martínez had publicly stated that if gang leaders really had the will to stop violence, state prosecutors could consider legal options to reduce the sentences of those who collaborated.
A breakdown of a truce between Barrio 18 and MS-13 has submerged El Salvador in heightened levels of violence in recent weeks. In just a span of three days during the weekend of August 14., the police registered 125 homicides.
Despite efforts by President Salvador Sánchez Cerén to crack down on criminal gangs, the country registered 3,840 homicides in 2015 through August 19.
Related Posts
Guatemala's Pérez Molina Apologizes for Corruption but Won't Back Down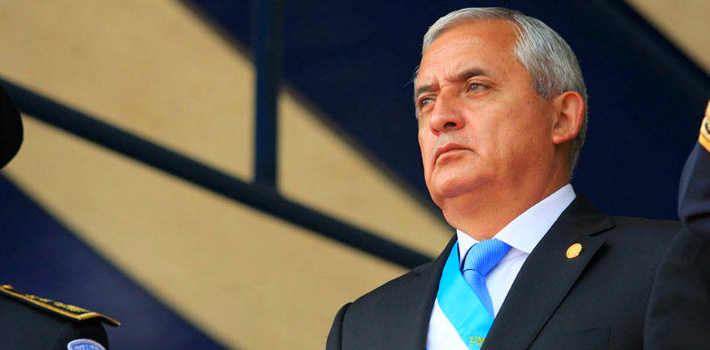 EspañolThe arrest of former Vice President Roxana Baldetti on Friday, August 21, over her alleged involvement in a major corruption scandal has rekindled Guatemala's political crisis. After three ministers and the Police Reform commissioner resigned on Saturday, August 22, President Otto Pérez Molina addressed the nation on Sunday to make clear he would not resign his post as president. "Know that I will not quit, and that I will courageously face and will abide by any process deemed necessary by law," the president said on national radio and television. His statements come as a reaction to a request from the Public Ministry and the International Commission against Impunity in Guatemala (CICIG), who have called for a preliminary hearing against Pérez Molina. The request calls for the president to stand trial for corruption and accuses him of being the ringleader in the customs-fraud scheme known as "La Línea" (the Line). "I categorically reject any link to ["the Line"] or having received any money from this customs-fraud operation. My conscience is clear," the president said. Meanwhile, angry citizens have filled the streets of Guatemala City in the past few weeks to demand Pérez Molina's resignation, even though the presidential election, scheduled for September 6, is only days away. "With the same strength and character with which I deny my involvement, I must admit this situation has unfolded under my watch," he said. "Close officials, or officials I have appointed, have been involved. For this, I must make a public apology. From the bottom of my heart, I apologize to the Guatemalan people." Baldetti to the Bench The hearings against Baldetti, during which prosecutors aired incriminating audio recordings from wiretaps of the former vice president, began on Monday morning. The hearing was held at the national court, with judge Miguel Ángel Gálvez presiding. Baldetti is charged with conspiracy, customs-tax evasion, and passive bribery. The investigation into the case began in 2014 and led to the arrest of dozens of government officials. Once information relating to the corruption scandal emerged in April and May this year, Baldetti resigned as vice president. Since then, investigators have zeroed in on Juan Carlos Monzón as a prime suspect, who was Baldetti's private secretary for many years. The audio evidence presented during Baldetti's hearing revealed that certain members of the corruption network were aware of the investigations being carried out by the Public Ministry and the CICIG. During the hearing, Baldetti sat next to her lawyer, Mario Cano, and took notes while prospectors made their case. Guatemala Heats Up Guatemalans took to the streets to celebrate as soon as news broke that prosecutors had arrested Baldetti. [adrotate group="7"] Guatemala City residents gathered at the main square and chanted slogans against the president, accompanied by banging pots and pans, fireworks, and banners. Guatemalans also made their voices heard on social media: the hashtag #YoNoTengoPresidente (I Don't Have a President) was a local trending topic for several hours following the vice president's arrest. According to reports from Prensa Libre, representatives from various social groups blocked 12 different roads in the country on Tuesday in an effort to apply more pressure on Pérez Molina, demanding his resignation and reforms to electoral law. Translated by Vanessa Arita.