Venezuelan Paramilitaries Wreak Havoc with Cuban, FARC Support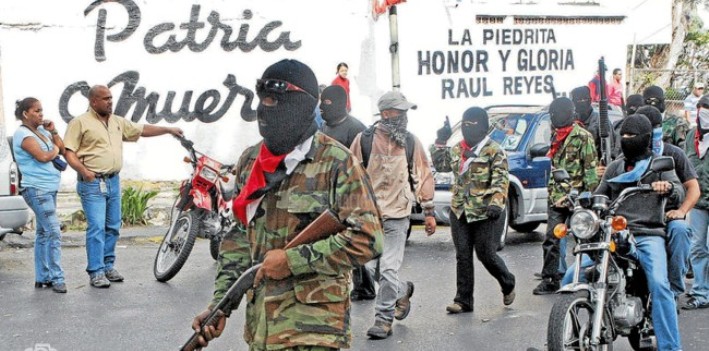 EspañolStudies released by the Institute for Cuban and Cuban-American Studies (ICCAS) at the University of Miami have revealed that the Cuban regime is training Venezuelan paramilitary groups, including Los Tupamaros, La Piedrita, Simón Bolívar, and Alexis Vive. These groups have killed more than 25 students during protests, and injured over 300.
These studies show that for years the Venezuelan government has sent regime supporters to Havana to learn repression tactics in order to help their leaders stay in power. Furthermore, there is evidence that the Revolutionary Armed Forces of Colombia (FARC), a group designated as a terrorist organization by the US government, also trains these groups on Venezuela's border with Colombia.
Since 1999, and Hugo Chávez's rise to power, Venezuela has maintained a close political and economic relationship with Cuba. Even today, in the midst of economic crisis, Venezuela continues to send oil to Havana, while the Castro regime continues its unconditional political support for Venezuela. Around 7,000 members of Cuba's Interior Ministry are scattered throughout Venezuela, but studies suggest that the figure rises to 40,000 when counting the medical personnel and staff from other areas.
Since Chávez's time in office, Venezuela has sent hundreds of supporters to Havana to learn the tactics of the Castro regime that are used today in Venezuela by militant groups called "colectivos." These groups are heavily armed and travel by motorcycle, and have been widely criticized by the international community for their abuses.
They have also been witnessed helping the National Guard suppress peaceful student protests in recent years, an issue that various NGOs in the country have reported and denounced.
Uberto Mario, a journalist and former Cuban intelligence agent, has attested to the training of colectivos in Cuba. He has openly stated that the Venezuelan Tupamaros, for example, were trained how to kill on the island, in the Cuban provinces of Pinar del Rio and Havana.
He says Cuban generals provided Los Tupamaros a Marxist-Leninist education, with courses that last up to three months. It's in these training sessions, Mario contends, that the members of these paramilitary groups learn how to attack and defend, as well as how to provide escort and security to Venezuelan mayors and governors of the ruling party.
According to the ICCAS studies, General Raul Castro currently has several high-ranking officers providing strategic and tactical training to these groups. His instructors include General Leonardo Ramón Andollo, second in command of the Ministry of the Armed Forces (Minfar), Commander Ramiro Valdés, head instructor of Cuba's Interior Ministry (Minint), and General Carlos Fernández Gondín, deputy commander of the Interior Ministry.
Colectivos Do the Regime's Dirty Work
Jairo Libreros, a Colombian security expert and international analyst, explains that the only way Nicolás Maduro can stay in power is through the actions of these groups.
"Maduro is aware that the only way for him to stay in power as a representative of Chavismo is through repression, and for this to be effective he needs units that are not directly linked to the Bolivarian Armed Forces," he says. "The logic behind the repression on the streets has one purpose: to guarantee his power, even against democracy and human rights."
While these groups are self-appointed as "guardians of the Venezuelan socialist revolution," the ICCAS studies demonstrate that they are in fact endorsed by the government, which provides them the weapons and training they use to attack "rebel" citizens.
"Cuba has even created a contingency plan in case there is a change of government in Venezuela. They have prepared groups that are ready for action to prevent that change in politics," lawyer and researcher Pedro Roig asserts.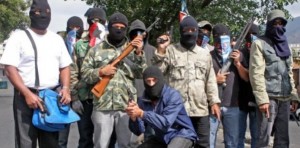 Roig sayst Cuba cannot afford to lose the oil they receive from Venezuela — around 50,000 barrels per month, and roughly 100,000 before the economic crisis — and that is why they train these Chavista groups.
"Cuba needs to protect the oil that comes from Venezuela. For Cuba, this is vital, and they are doing what they need to do in order to keep it," he adds.
The ICCAS estimates that between 5,000 and 10,000 young Venezuelans have been trained by members of the Cuban regime. However, colectivo members do not need to travel to the island to receive their training, given the many "sanctuaries" within the country, especially along the Colombian border.
Guerrilla Lessons
In 2011, the International Institute for Strategic Studies (IISS) in London, on behalf of the Colombian Defense Ministry, conducted an independent analysis of the computers of Raúl Reyes, a member of FARC's Central High Command who was killed in an ambush in 2008. The investigation revealed important intelligence material on the guerrilla, including information that linked senior members of the Venezuelan army with drug trafficking.
The IISS also found evidence of that the FARC had trained Venezuelan colectivos in exchange for the campgrounds Hugo Chávez allowed the guerrilla to establish on the border.
"There is clear evidence that on the Colombian-Venezuelan border, where the main authority is not the state but the FARC, they have been involved in the formation of these colectivos," says Libreros.
According to the IISS study, it is through this tacit agreement between the Venezuelan government and the FARC that the guerrilla trains these groups in terrorism tactics and asymmetrical warfare, given their expertise in these areas.
Related Posts
Leopoldo López Declares Successful End to Hunger Strike
EspañolOn Tuesday, June 23, Venezuelan opposition leader Leopoldo López put an end to his 30-day hunger strike. The National Electoral Council (CNE) announced on Monday a date for this year's legislative elections — one of the hunger strikers' key demands. Lilian Tintori announced her husband's decision to end his protest the following day during a press conference and read a letter from López in which he explained his decision. As López's health worsened in the last few days, he received letters from his father, wife, and the Caracas archbishop, Cardinal Jorge Urosa Sabino, urging him to abandon his strike. https://twitter.com/liliantintori/status/613179404299149312 "My beloved Leopoldo, we've done it! I love you with all my soul!" López launched the hunger strike alongside his former cellmate at Ramo Verde, fellow opposition leader Daniel Ceballos, and received both domestic and international support. In the end, more than 100 Venezuelans joined the protest, and together, the hunger strikers called for the Nicolás Maduro administration to set a date for legislative elections, secure international observers for the polls, and release all political prisoners. The protesters were able to claim a partial victory on Monday with the CNE's announcement, as well as commitments from the European Union, Organization of American States, and UNASUR to send volunteers to observe the upcoming elections set for December 6. The CNE, however, has so far only authorized UNASUR to travel to Venezuela for the polls. The Vatican, United Nations, former Latin-American presidents, the European Parliament, and the legislatures of Colombia and Brazil expressed their concern over the humanitarian crisis in Venezuela and condemned the presence of political prisoners in a democratic country. They also promised to follow up on the advances made by the Venezuelan government. Furthermore, Human Rights Watch and the Club of Madrid urged Pope Francis to intercede on behalf of Venezuelan political prisoners. Although the Maduro administration did not respond to the request for the release of political prisoners, Ombudsman Tarek William Saab said jailed protesters whose health conditions have worsened would receive medical care. Timeline of a Historic Strike 1. On May 22, authorities transferred Daniel Ceballos to a maximum-security prison. He later announced he would begin a hunger strike to demand freedom for all political prisoners and a set date for legislative elections. 2. After releasing a video recorded inside his cell on May 24, Leopoldo López announced he would join the strike. Two days later, political prisoners Raúl Baduel and Alexander Tirado joined as well, and invited the Venezuelan people to support them and follow suit. As the days passed, other political leaders, teachers, students, and ordinary citizens also joined the call. 3. On Saturday, May 30, Popular Will called for a massive march in Caracas to show support for the political prisoners and demand the government fulfill their requests. The opposition coalition, Democratic Union Roundtable (MUD), then announced a schedule of events to support the protesters. 4. On June 5, two Venezuelan councilmen began their hunger strike in solidarity from Rome. The councilmen reportedly ended their strike the following week after meeting with a representative of the Vatican and expressing their concerns over the human-rights crisis in Venezuela. 5. On June 10, three Venezuelans who joined the strike outside the UN headquarters in New York met with a high-ranking UN official who listened to their concerns and promised to travel to Venezuela to verify their complaints. 6. On June 11, Daniel Ceballos was forced to abandon his hunger strike due to his rapidly deteriorating health, and was transferred out of the maximum-security jail. 7. On June 15, Ombudsman Tarek William Saab announced his office would request humanitarian measures for prisoners on hunger strike with poor health conditions. Abuse, Torture, Death Threats Defense lawyers for López and Ceballos claim the Venezuelan government attempted to sabotage the protester's efforts. They say prison authorities told the hunger strikers they would be deprived of certain rights while in jail unless they dropped their protest. They also claim López was refused treatment from a trusted physician until it was almost too late, a violation of the World Health Organization Malta Declaration. Other activists and students from across the country who joined the protest say they faced various kinds of threats and abuse. Translated by Daniel Duarte.