Venezuelan Opposition Announces Schedule for Renewed Protests
EspañolThe Venezuelan political coalition Democratic Unity Roundtable (MUD) announced on Monday, January 19, a schedule of protests to be launched against the economic policies of President Nicolás Maduro.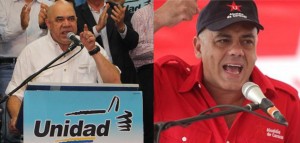 The MUD, headed by Secretary General Jesús "Chúo" Torrealba, called for a "March of the Empty Pots" in a symbolic demonstration of discontent over widespread shortages affecting the country. The protest is scheduled for Saturday, January 24.
In a press release, the opposition coalition also called on the Venezuelan people to protest loudly by "honking and smashing pots" during Maduro's speech before the National Assembly on Tuesday, January 20. The Board of the National Assembly, however, has postponed the session for the following day.
Opposition lawmakers said that the noisy protest is meant to counter the "insults and threats uttered by the president against his own party colleagues, against the opposition, and against the Venezuelan workers and businessmen" after returning from his overseas trip.
The schedule of protests will also include a "very special message to the nation" set for Friday, January 23, where opposition leaders will provide their views on the crisis and propose solutions to solve it.  The opposition made clear that all protests aim to secure a peaceful, democratic, constitutional solution to the problems facing the South American country.
Responding to the call for renewed protest, Jorge Rodríguez, Chavista mayor of the Libertador municipality in Caracas, announced that government supporters will also march on Friday. He further stated he will not authorize MUD protests in his district and issued warning: "If the opposition plans to protest, the people will await them in the streets."
Source: El Nacional.