Outrage over Missing Students Fuels Protests across Mexico
Protests intensified throughout Mexico over the weekend, after Attorney General Jesús Murillo Karam announced three detained members of the Guerreros Unidos cartel confessed to the murder of the 43 missing students. Murillo says the gang members told authorities they burned the students' bodies and deposited the remains in a landfill.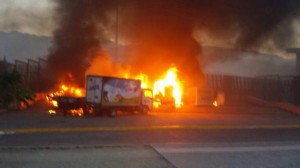 On Saturday, after thousands of demonstrators marched peacefully through the streets of Mexico City, a small group of roughly 20 protesters attempted to tear down the doors of the National Palace and set fire to the building. Civil society groups report security forces detained 18 individuals, 15 of which were released on Monday.
The following day, protests moved to Chilpancingo, capital of the state of Guerrero. There more than 300 protesters burned 10 vehicles, and threw firebombs at the state government headquarters.
On Monday, hundreds of students, parents, and teachers from Guerrero's teachers union blocked access to Acapulco's international airport. Demonstrators kept passengers from entering or exiting the facility for roughly three hours. Acapulco, located 125 miles south of Iguala, is the main port of entry for US American tourists in the country.
Mexican President Enrique Peña Nieto became the target of criticism, as he traveled to the Asia-Pacific Economic Cooperation Summit while victims' families demand greater support in the search for their missing children.
#YaMeCanseDelMiedo
"Enough, I'm tired," said Attorney General Jesús Murillo Karam before a packed room of journalist at the tail end of an hour-long press conference. The phrase has quickly become a rallying cry for protesters and activists on social media.
The hashtag #YaMeCanseDelMiedo (I'm tired of fear) became a global trend on Sunday. Other social media users took to the phrase to further criticize the Mexican government, posting messages such as "Enough, I'm tired of injustice," or "Enough, I'm tired of impunity."
Roughly 300 demonstrators gathered at Attorney General Murillo's office, writing "#YaMeCanseDelMiedo" in white paint across the outside walls of the building.
Source: El Universal.