Journalists Covering Venezuela's Protests Face Brutal Repression from Maduro Dictatorship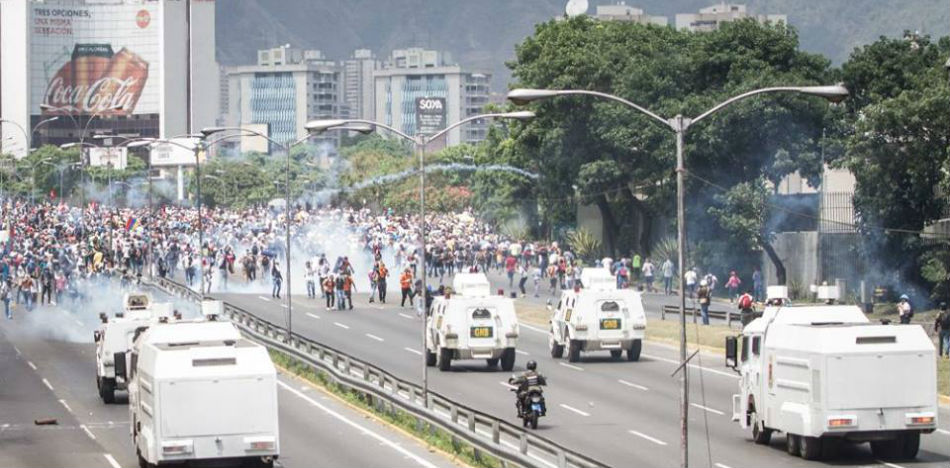 EspañolProtests continued in Venezuela this Monday, June 5, with a plan by the opposition to plant themselves in main avenues and roads in the country's capital of Caracas. This time, however, the repressive forces of the dictatorship were able to prevent citizens from organizing.
They also seemed to pay more attention to members of the media trying to cover the event, displaying equal aggression to them as to protesters.
The repression began at eight in the morning on the Francisco Fajardo motorway, which was taken by members of the Bolivarian National Guard. That location has become known as a gathering point for protests, but on Monday, it was empty.
The brutality of law enforcement was especially bad this time around, many witnesses said, but also unique in that much of the repression was focused on the press trying to cover the event.
"Get out of here or we'll treat you like protesters," some members of the National Guard told journalists at Francisco Fajardo motorway. Many of them were brutally beaten and attacked.
#5Jun | Militares impiden trabajo de prensa y amenazan con agredirlos #PlantónContraLaConstituyente https://t.co/OPpg51H8kn (-@vivoplaynet) pic.twitter.com/iBHXbXHhj5

— PanAm Post Español (@PanAmPost_es) June 5, 2017
Venezuelan media outlet Globovisión had its cameras thrown off the freeway by the Bolivarian National Guard. Another journalist for RUNRUN, Francisco Zambrano, had his phone confiscated as well.
A journalist from Crónica Uno was reportedly shot in El Paraíso.
#ALERTA GNB dispararon tuerca a periodista @Yohanamarra de @CronicaUno, en la Av. Páez, de El Paraíso #5Jun Video: @RobertoPatino pic.twitter.com/YshIz3XFwd

— Marco Ruiz (@mruizsilvera) June 5, 2017
#ALERTA GNB intenta impedir que equipo de @vivoplaynet grabe cuando lanzan bombas lacrimógenas contra edificios en El Paraíso. #5Jun

— SNTP (@sntpvenezuela) June 5, 2017
"I was robbed of my cell phone and gas masks," journalist Mary Mena of TV Venezuela said. "They tried to hit me but I raised my arms and I didn't let them."
El Cooperante reporters also had their cameras, phones and tripods taken away.
A member of the Bolivarian National Guard told members of El Nacional to leave the area, beating them and taking their equipment.
Vane Tarantino, a photographer for El Pitazo, was shot with a pellet while covering the protest.
#ALERTA A la fotógrafo de @ElPitazoTV, @vanetarantino, le dieron un perdigonazo en el CCCT mientras cubría la manifestación este #5Jun pic.twitter.com/CidLN9BCMM

— SNTP (@sntpvenezuela) June 5, 2017
Faced with brutal repression and attacks on the press, opposition leader María Corina Machado, said: "Every time they rob, repress and insult us, they unite an entire country around one purpose: their exit now! We will regroup, we will not leave."
Hoy estos GN, como delicuentes, deshonran el uniforme militar: roban a la gente, se ensañan contra periodistas y destruyen bienes #5Jun https://t.co/bsxZcWIxTE

— María Corina Machado (@MariaCorinaYA) June 5, 2017
Opposition leader Henrique Capriles Radonski claimed President Nicolás Maduro ordered law enforcement to stifle the press.
ALERTA Que el mundo vea cómo PNB agrede a valiente periodista d @TVVnoticias, @MENAMARY y a su equipo en CCS.Fuerza,seguimos adelante! #5Jun pic.twitter.com/CIbrvKSgQK

— María Corina Machado (@MariaCorinaYA) June 5, 2017