Venezuela's Latest Crackdown on Opposition Protests Includes Launching Tear Gas from Helicopters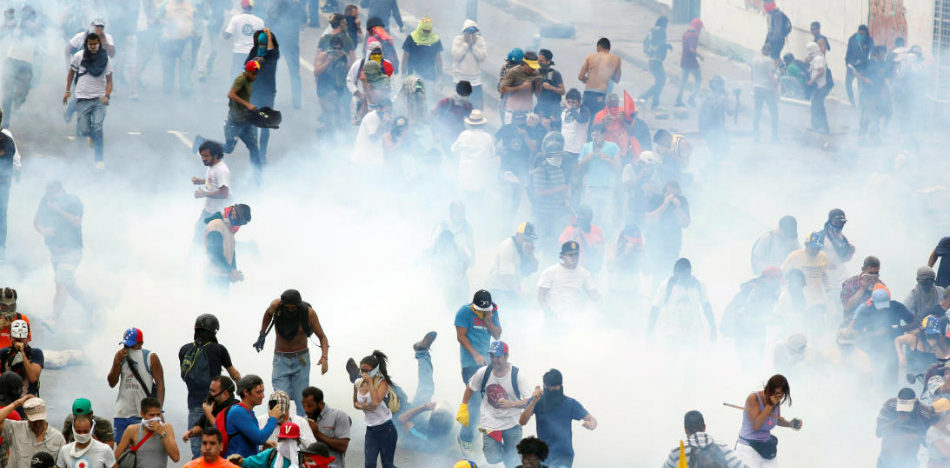 EspañolVenezuela's repression of protests increased this week, as the Bolivarian National Guard made use of a helicopter to spray demonstrators with tear gas Monday, April 10 in the capital city of Caracas.
State officials threw tear down gas with the intention of dispersing a reportedly peaceful demonstration — the fourth one in as many days.
URGENTE – VIDEO | Desde helicóptero de la GNB lanzan bombas lacrimógenas contra manifestantes opositores que protestan en El Rosal pic.twitter.com/5cQ1ZOnNdY

— Alberto Rodríguez (@AlbertoRodNews) April 10, 2017
Tweet: URGENT – VIDEO GNB launches tear gas from a helicopter against demonstrators protesting in El Rosal.
While demonstrators were concentrating in El Rosal, Chacaito, a National Guard helicopter passed and dropped several rounds of tear gas, causing citizens to run immediately.
Maria Corina Machado, leader and coordinator of the Vente Venezuela movement, stated that this action was a violation of Venezuelan laws and international treaties.
Han violado todas las leyes vzlanas y tratados internacionales: es una banda d criminales q han desatado su represión. Se tienen que ir ya. https://t.co/j4DM7J3lOz

— María Corina Machado (@MariaCorinaYA) April 10, 2017
In this regard, professor, broadcaster and former media director Marcos Morin Aguirre said aggression by the Venezuelan government has reached a new level: "Two serious violations today: launching tear gas from helicopters, and into a clinic with babies inside."
Philosopher Erik Del Bufalo said that "launching tear gas from a helicopter is attempted murder, which is not surprising coming from drug traffickers and murderers."
Una bomba o cualquier objeto lanzado desde la altura de vuelo de un helicóptero puede matar a una persona. Es fuerza potencialmente letal.

— Gonzalo Himiob S. (@HimiobSantome) April 10, 2017
Tweet: Tear gas or any object launched from a helicopter can kill someone. It's a potentially lethal force.
Prohibición de lanzamiento de objetos desde aeronaves. Art. 141 Ley Aeronáutica Civil, Gaceta Oficial # 39.140 ❗ pic.twitter.com/ZWEdTjjqHT

— Proiuris (@Proiuris_Ve) April 10, 2017
Tweet: Launching objects or substances
Article 141: Whoever launches objects or harmful substances from an aircraft or anywhere that uses airspace will be punished with prison for six to eight years, with the exception of what is stated in technical regulation. Prohibition of launching objects from aircrafts. Art. 141 Civil Aviation Law.