Repression in Venezuela Targets Protesters to Prevent March Even Taking Place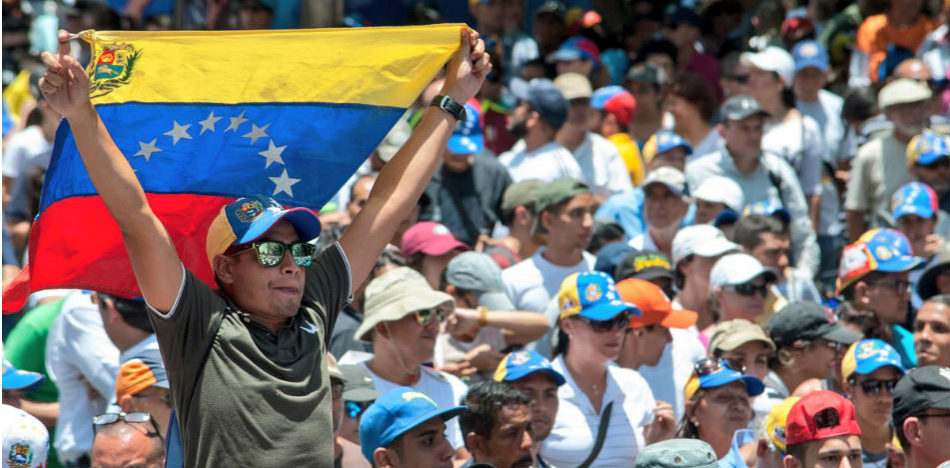 Though the massive march came to an end March 19, those opposing President Nicolás Maduro's adminsitration did not leave the streets to protest against repression in Venezuela.
Brutal repression, death, injury and arrests the day before only inspired the country's political opposition party The Democratic Unity Roundtable (MUD) to announce that they would keep to the streets to demand restitution of constitutional order.
Repression of the demonstrations began early in the morning in the state of Carabobo, where police began shooting pellets inside San Joaquin building complex around 10 a.m. Protesters in the capital of Caracas wouldn't gather until an hour later, starting in the neighborhoods of Altamira and Santa Monica.
Joven desnudo se montó sobre una tanqueta para exigir el cese a la represión #20Abril pic.twitter.com/uM6gsJImK0

— sosvenezuelatv (@sosvenezuela_tv) April 20, 2017
But the Bolivarian National Guard did not wait for opponents of Maduro to gather in big numbers and organize. At all expecting meeting points, they began shooting tear gas to break up demonstrations.
Ultimately, protesters in Caracas were able to concentrate in Santa Fe and Caurimare, as routes to La Candelaria, El Paraíso and San Bernardino were broken up and too heavily guarded.
Mayor of El Hatillo David Smolansky met demonstrators in Caurimare, rallying the crowd there to remain organized and civil.
"We are gathering to protest in a peaceful and non-violent way," he said.
Manifestantes se defienden como pueden mientras se dispersa el gas https://t.co/LiXghLRzLg #BlogPanAm pic.twitter.com/XdFqPDqSQt

— PanAm Post Español (@PanAmPost_es) April 20, 2017
But it was Maduro's troops that turned the day violent, as paramilitary forces arrived in Santa Monica, El Paraiso and part of downtown Caracas just after midday with shotguns and tear gas.
Thirty minutes later, members of the opposition began to gather on the Francisco Fajardo Expressway and the Prados del Este Expressway while continuing to march along Rio de Janeiro Avenue. In minutes, they blocked the highway surrounding Las Mercedes.
.@AmericoDeGrazia: Las instrucciones son permanecer en la calle. #20Abril #EnVIVOplay https://t.co/HEiech6blw pic.twitter.com/qKWsymXdo8

— VIVOplay (@vivoplaynet) April 20, 2017
But there was confusion and lack of organization. Many of the protesters did not seem to have a definite plan or concrete objective, which caused stalling and then clashes between police and protesters on Avenida O'Higgins. Police ambushed others in Chacaito with tear gas and shotguns. Helicopters flew over the highway, and are expected to drop tear gas, as they did a week before.
The Bolivarian National Guard began to repress protestors on the Francisco Fajardo highway, and the march slowly started to disperse from there.
So far, two deaths have been counted — a 17-year-old male and a 24-year-old female — both of which were the result of paramilitary violence.