Live Blog: News and Analysis of Donald Trump's Inauguration as 45th President of the United States
Donald Trump is set to become the 45th President of the United States today at 11 a.m. EST. The PanAm Post staff will have minute-to-minute coverage of the events right here on its live blog. Watch the live feed below and keep up with our analysis throughout the day!

The Ceremony
12:30 pm The ceremony is finishing up, Trump has headed back inside. Entertainment should begin soon.
12:20 pm Rabbi Marvin Hier, founder of the Simon Wiesenthal Center, speaking now, followed by two additional religious figures.
12:01 pm-12:20 pm Trump gives his inauguration speech. Some notable quotes:
"We are now joined in a great national effort to rebuild our country and restore its promise for all of our people. Together we will determine the course of America and the world for many many years to come," Trump said, and thanked Obama for assistance during the transition.
"We are transferring power from Washington DD and giving it back to you, the people."
"Washington flourished but the people did not share in its wealth," he said. "The jobs left and the factories closed."
A very strong speech by @POTUS. He means it.

— Nigel Farage (@Nigel_Farage) January 20, 2017
"What truly matters is not which party controls our government but whether our government is controlled by the people."
"We've defended other nations' borders while refusing to defend our own and spent trillions and trillions of dollars over seas while americas infrastructure has fallen into disrepair and decay. We've made other countries rich while the wealth strength and confidence has dissipated over the horizon. One by one the factories shuttered and left our shores without even a thought about the millions and millions of American workers that were left behind. The wealth of the middle class has been ripped from their homes and redistributed across the world."
Inaugural speech times:

TRUMP: 16:14
'13: 18:21
'09: 18:37
'05: 21:07
'01: 14:25
'97: 21:55
'93: 13:59
'89: 20:33
'85: 20:40
'81: 20:03

— Ryan Struyk (@ryanstruyk) January 20, 2017
"We will rebuild our country with American hands and American labor."
"Two simple rules: Buy America and hire American."
So, that was a giant middle finger to the Washington establishment. Populist to the core. His core supporters had to love this speech.

— Matthew Dickinson (@MattDickinson44) January 20, 2017
Trump talking about "radical islamic terrorism," which he put in contrast to "the civilized world." That might be the first time a US President has used the phrase "radical islamic terrorism." Obama certainly didn't use it.
I'm watching inauguration with a group of immigrant student activists, some undocumented, at UC Berkeley. pic.twitter.com/5HHrwgzzVG

— Sam Levin (@SamTLevin) January 20, 2017
Trump finishes his speech by saying, "We will make America great again," and says "God bless America."
12:00 pm Trump sworn in. He is now the President of the United States.
11:58 am Mormon Tabernacle Choir sings "America the Beautiful."
11:56 am Mike Pence sworn in as Vice President of the United States, using the Reagan family bible.
11:49 am Now that the Missouri State University chorale has finished, Chuck Schumer takes the mic.
His speech is going right after the ideological divisions in the US today — in the media, in the government, and between its citizens — which is normally not so directly addressed during an inauguration. Makes sense that he would reference the Civil War, and the First Battle of Bull Run, the largest and bloodiest battle in US history up to that time.
11:40 am Republican Senator Roy Blunt of Missouri speaking now.
His opening remarks emphasize the peaceful transfer of power, referencing George Washington's remarks about the second inauguration being far more important than the first. It seems directed at the Democrats, many of whom have declined to attend. But then he shifts to discussing bipartisanship and maintaining positivity in leadership, which seems more directed at Trump.
Now a prayer from Cardinal Dolan. He leads a prayer, during which Trump apparently didn't bow his head. Following him is Paula White-Cain, a Christian televangelist.
11:35 am Trump is announced, coming down mouthing "thank you" to the crowd. He shakes hands with Obama again, actually gives him a kiss too (wow!) and then shakes hands with several others. But no handshakes with the Clintons. It's unclear whether that is a mutual choice, or if one of them gave the other a cold shoulder.
11:28 am Trump on his way down through the Capitol, and not with the happiest of expressions on his face. In fact, none of the Republicans look particularly excited. Vice President-elect Pence, however, gives a big smile and wave to the crowd as he is introduced ahead of Trump.
 11:25 am Obama and Biden are heading out now as well. Obama is chatting with people as he walks by. He seems cheerful now, and relaxed. Much more than when he got into the car with Trump. Obama gets a nice applause from the crowd when he appears. He shakes hands on his way, and takes a moment to talk to George W. Bush, who literally seems giddy to be there.
11:20 am Michelle Obama coming down the steps now. She still looks…not the happiest. Melania is being escorted down now as well.
11:18 am Inauguration should be starting any minute now. Light music playing in the background. The politicians are chatting and taking photos. The crowd seems anxious and excited. There's definitely a mixture of positivity and negativity in the air. It's unclear how they will react when Trump actually gets inaugurated and starts speaking. Cheers and boos expected.
The Morning Of
11:10 am Crowd chanting "lock her up" upon seeing the Clintons. They crowd is really getting into it now.
11:00 am 
Check out that new presidential limo: "The Beast." It's heavily armored, and features a tear gas cannon and shotguns. It also, reportedly, has viles of the president's blood stored inside should he be severely injured.
There were five other versions of the vehicle that were initially rejected before this model — the "Cadillac One" was approved. It reportedly cost $1.85 million.
10:51 am Vice Presidential Wives coming out together from the White House, followed by Michelle Obama and Melania Trump and then Pence and Biden, and finally Barack and Donald. Each couple will ride to the Capitol together. Michelle did not look pleased, and Barack and Donald are having what looks to be quite a serious conversation.
It will take about 15-20 minutes for them to get to the Capitol Building.
10:45 am Protests have reportedly gotten pretty bad in some parts of the city. We're hearing the chants "Fuck Donald Trump." Some of them have gotten violent, breaking windows and fending off police officers, who are reportedly using a spray against them.
10:40 am NYT saying Omarosa Manigault, the first winner of Trump's show "The Apprentice," has just arrived. Haven't spotted her yet. Corey Booker, however, has just walked out onto the main stage.
There's going to be a lot of big faces in the crowd now as we are only 20 minutes away from the start of the inauguration. The tea reception is finishing up right now. There were, reportedly, 15-25 people — including the Trumps and Obamas.
10:38 am Bernie Sanders spotted in the crowd. He's making his way to his seat.
10:35 am Hilary and Bill Clinton have just arrived to the Capitol Building. And there's Speaker Paul Ryan.
10:30 am Former Vice President Dick Cheney has arrived. So has former Mayor of New York Rudy Giuliani. He was one of the more early vocal supporters of Trump. It didn't earn him a cabinet position, though.
10:25 am Major figures close to the Trump administration, including Conway and Bannon, are talking inside the Capitol Building. Some mentioned Saturday Night Live, and there's a lot of laughter and banter for now.
10:15 am Former House Speaker Newt Gingirch has arrived, and is taking his seat. This week, it was reported that he was one of the main advisers to Trump's administration in creating a plan to cut more than $10 trillion in federal spending in the next 10 years, which involves firing 20 percent of the federal workforce and dismantling arts programs, shrinking research in the sciences and reforming medicare.
10:07 am Still looking a little empty, but politicians are slowly starting to take their seats for the inauguration. Trump National Security Advisor Lt. Gen. Michael T. Flynn has reportedly arrived. Missouri Senator Roy Blunt has also been spotted. He will serve as the inauguration's master of ceremonies.
Some reporters have tweeted recently that the mall is actually looking a little "thin" for such a big day, especially in comparison to Barack Obama's inauguration. Trump also had some trouble getting any bands to perform at the ceremony. The main acts are 3 Doors Down and Toby Keith, but Moby, Elton John, R Kelly and the B-Street Band (a Bruce Springsteen cover band) all said no.
10 am Kellyanne Conway and Steve Bannon have both arrived to the capitol. Conway was the first woman in United States history to run a successful presidential campaign as the leader advisor. She told Good Morning America that American needs to prepare itself for a "shock" once Trump becomes president. "You'll know almost immediately that there's new sheriff in town," she said.
9:55 am Despite the massive amount of protesters, there look to be plenty of supporters from all walks of life.
As a gay man, I proudly welcome Trump as the 45th POTUS. His AG will protect my rights & he'll protect me from terror. #InaugurationDay pic.twitter.com/WAI1wEur1s

— Scott Presler VA (@ScottPresler) January 20, 2017
9:50am Former President George W. Bush and his wife Laura have just arrived to the Capitol Building. He reportedly said his parents, who were both in the hospital this week with shortness of breath, are doing much better.
9:45 am Donald Trump arrives to the White House, greeting Barack and Michelle Obama on the front steps. Now they have all headed inside.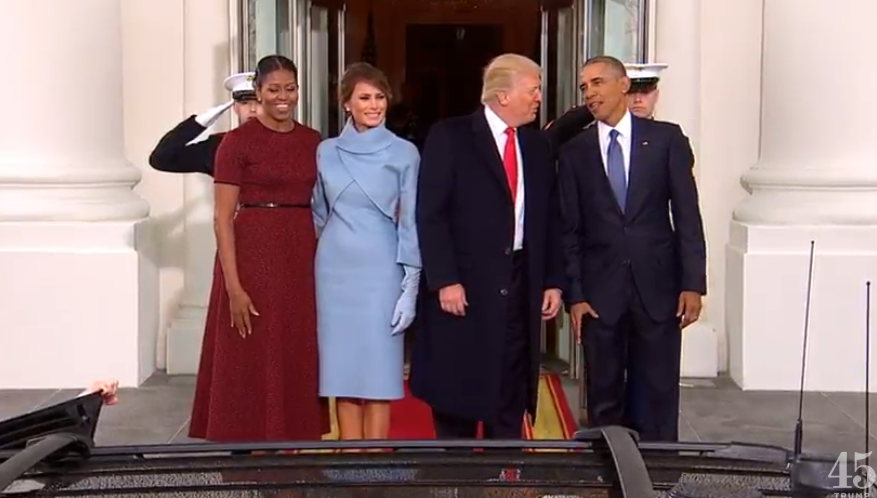 9:40 am Politico reports that members of Black Lives Matter have been protesting nearly all morning, some of them even sitting in front of the entrance to the national mall so people can't enter to watch the inauguration.
Protesters in D.C. chant "not my president" before the start of the #inauguration https://t.co/6d0GJYGLxS pic.twitter.com/D6HRYTRQBv

— POLITICO (@politico) January 20, 2017
9:35 am Donald Trump has reportedly left the church service. Meanwhile, Barack Obama appears to have left the White House. Per tradition, he will leave a letter for Trump on the desk in the Oval Office.
.@POTUS takes his final walk down the White House colonnade. pic.twitter.com/dIC1cukzVl

— Jeff Mason (@jeffmason1) January 20, 2017
.@realDonaldTrump and future First Lady Melania Trump leave St. John's Church to head to the White House. #InaugurationDay #voainaug pic.twitter.com/7ggk2GD4kV

— The Voice of America (@VOANews) January 20, 2017
9:15 am President Barack Obama had some last-minute tweets as Commander in Chief, both thanking the American people as well as pledging to continue working for them as a citizen.
I won't stop; I'll be right there with you as a citizen, inspired by your voices of truth and justice, good humor, and love.

— President Obama (@POTUS44) January 20, 2017
He asked the American people to keep believing in hope and change.
I'm still asking you to believe – not in my ability to bring about change, but in yours. I believe in change because I believe in you.

— President Obama (@POTUS44) January 20, 2017
9:13 am There's been plenty of sightings of high security in the capitol as Donald Trump's inauguration nears.
8:58 am It's pretty early, but people have already gathered around the Capitol Building.
The excitement is building ! Only 9am 🇺🇸 #MAGA #Inauguration pic.twitter.com/bQznfHw4OZ

— Inaugural EddieT🇺🇸 (@MrEdTrain) January 20, 2017
8:48 am Donald Trump heads to a prayer service with his family and Vice President-elect Mike Pence at St. John's Church.
President-elect Donald Trump​ and Melania Trump​ arrive at St. John's Church for a prayer service ahead of his #inauguration. #Trump45 pic.twitter.com/ySs8NtO544

— Fox News (@FoxNews) January 20, 2017