How Long Will the World Turn a Blind Eye to the Cuban Domination of Venezuela?
Venezuelan dictator Nicolas Maduro relies heavily on Cuban intelligence agents to prop up his brutal regime.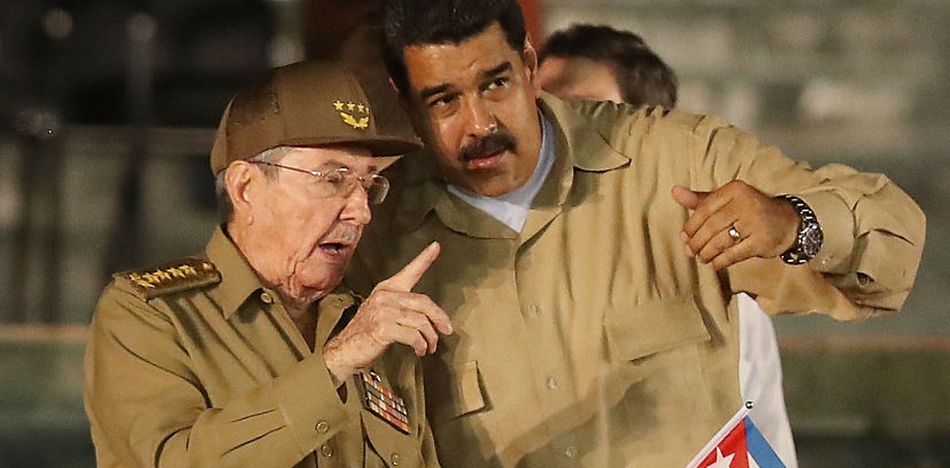 Nicolás Maduro is celebrating and rejoicing with the recent arrival of two Russian military aircraft to Venezuela, after his recent visit to Moscow to seek fresh money and military aid. Meanwhile, the Venezuelan dictator continues to allow the Castro regime the almost imperceptible but pervasive domination that has infiltrated each and every one of the Venezuelan institutions over the course of the past twenty years.
Like an empire, Cuba has come to dominate Venezuela, in pursuit of its own interests.
And that began – lest we never forget – thanks to the absolute permission granted by Hugo Chávez, who in 2000 signed a framework agreement with Cuba through which oil was exchanged for Cuban specialists in different fields. The framework agreement allowed Cuba to place it's operatives throughout the Venezuelan State. It even allowed for Cuban security personnel to carry guns and make arrests within Venezuela.
The Cuban domination is now, after twenty years, beginning to be strongly denounced by the international community. In early December of this year, the OAS secretary general accused "the longest dictatorship in the continent of crimes against humanity and of exporting violence to Venezuela and Nicaragua." Luis Almagro denounced the presence of some 46,000 Cubans in Maduro's Venezuela, "an occupation force that teaches to torture and repression and serves the interests of Cuban intelligence."
However, this bold and brave denunciation has not yet managed to have an effect, because the words have not captivated the attention of the region's democracies. Castro's Cubans, of course, as expected, denied the accusation.
How is it that the world remains nearly silent as Venezuela has allowed Cuban domination of a former democracy, that has become more and more pervasive over the past twenty years? It is incredible that this still is taking place, since it is common knowledge that Cuban agents freely operate in the country, monitoring Venezuelans, their belongings, and their movements, for both opponents and supporters of the Chavista regime alike.
Even so, there are few voices inside and outside Venezuela that are calling attention to denouncing the Cuban intelligence penetration. Most governments and people with influence excuse themselves under the pretext of the difficulty in presenting evidence in this regard. Yet, they understand well that if there is something that Cubans have perfected, it is their ability to insert themselves into society without being noticed; it is even worse when they are able to do so from within Venezuela's institutions.
Such is the opacity of the Chavista-Madurista regime that it is not easy to document their corruption of power and the hands that move the strings from above.
In the midst of that regional and global silence on the part of our "democratic friends", it should be noted that the United States has expressed its growing concern, at least since Donald Trump took over.
White House spokespersons have said in recent days that they plan to increase "by any means, with economic, diplomatic, and political tools", the pressure on Cuba, in particular on Cuban military officials, who work with Madurista intelligence to strengthen and preserve the current Venezuelan regime.
And within Venezuela, without a doubt we must highlight and applaud the statements of María Corina Machado, who is one of the few political leaders who constantly denounces the Cuban presence in Venezuela. Everyone in the country knows of the powerful Cuban presence, from the business world, to their strong presence in each and every one of Venezuela's ministries and public offices, and even in Venezuela's own military barracks.
Today it is known that the Cuban military presence in Venezuela is  placed  within the top military command centers, air bases, border posts, and oil installations . Noteworthy journalistic and academic studies confirm this, such as Days of Submission, by young Venezuelan journalist Orlando Avendaño, who provides concrete data and evidence that outlines the submission of Venezuela to Cuba.
How long will the top Venezuelan military leaders continue to be subjugated by the Cubans? Is it so great the fear that they have? Or are they really afraid of losing the enormous perks they enjoy, ranging from access to dollars at a favorable rate, participation in the mining and extraction of gold and precious minerals, or smuggling of fuel?
Even more importantly, how long will the international community, especially in Latin America, continue to turn a blind eye to this Cuban invasion in one of the countries of the region? Or is it that that fascination with the Cuban Revolution, that has continued since the 1960s, still has a hypnotizing effect on the leadership of the continent?