Pathological Liar Rafael Correa Wants You to Believe His Word Is "Sacred"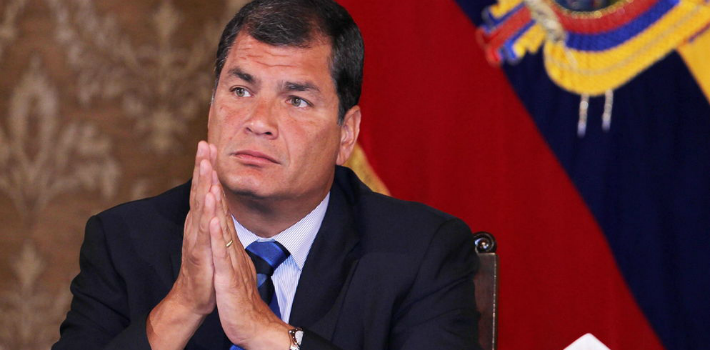 EspañolEcuadorians by now understand full well how the Rafael Correa administration will justify any behavior, even if illegal, if it serves the interests of the "Citizen Revolution."
One of the most telling examples is the case of Pedro Delgado, Correa's cousin, who became the director of Ecuador's Central Bank with a fake diploma in economics. Delgado went on to grant the Argentinean Gastón Duzac an unsecured loan, without complying with proper legal procedures.
Despite such blatant corruption, Correa continues to support Delgado, even going as far as to claim his cousin was the victim of a smear campaign by "opposition media."
Adding insult to injury, Delgado was allowed to flee the country in 2012 without any trouble. Correa insisted at the time that Delgado was only traveling to Miami to attend his son's wedding. The president said that if he did not return, he'd publicly denounce Delgado himself. However, to this day, Pedro Delgado remains a fugitive.
This was not the first time Correa tried to deceive the public with his forked tongue, insulting our intelligence. In 2008, he vowed to resign if a commission could prove he was aware of the government contracts his brother Fabricio had signed. The commission assigned to the case concluded that the president indeed knew of the contracts, but instead of fulfilling his promise, Correa sued the commission members for perjury.
Correa has similarly offered to resign on multiple occasions, but not once has he kept his word.
Unfortunately, the Citizen Revolution is an opportunity for Ecuadorians to witness habitual lying as state policy, a strategy used to either cover for corrupt government officials or to fabricate illusions through propaganda.
The "Ecuadorian Miracle" or "Ecuador, the Jaguar of Latin America" were nothing but bright flashes of petroleum wealth that is now fading away. And now, after running up the government's debt, the country is facing the harsh reality of a regime with insufficient funds to fulfill payment obligations to employees and contractors.
As a general rule, authoritarian regimes rarely hold any room for innovation and creativity. The underlying cognitive mechanisms of Rafael Correa's pathological lying are very simple and primitive: omission, denial, taking information out of context, and manipulating both the facts and how the media presents them.
All this is possible thanks to the wide array of media outlets at his disposal, whose main goal is to reinforce these lies until Ecuadorians begin to accept them.
Correa's mythomania knows no bounds. The president even erroneously claimed to have played a key role in the December 2014 release of five Cuban agents held in US prisons.
[adrotate group="8″]
To top it all off, during the broadcast of the 445th episode of his Citizen Link TV show, Correa actually had the nerve to say his word is "sacred." In no time, his claim became the subject of criticism and mockery on social media. If Ecuadorians are sure of one thing, it's how little value Correa's words really have.
Perhaps it was a slip of the tongue. Maybe instead of "my word is sacred," the president actually meant to say, "my lies are so sacred that they cannot be replicated."
In 2013, Correa emphatically told the press that he would not seek reelection, because he was much too exhausted. Flash forward, and Correa now plans to violate the Constitution and remain in power forever.
Otto von Bismark's words were not in vain: "People never lie so much as after a hunt, during a war, or before an election." Correa's lies will likely grow exponentially heading into the next election. The only question is how desperate and pathetic will they get.
Related Posts
Why Libertarian Daniel Raisbeck Has My Vote for Bogotá Mayor
EspañolElections are set for October 25 to choose a new mayor of Bogotá, and for the first time in Colombian history, the ballot will include a libertarian candidate. The candidate, historian Daniel Raisbeck, who also happens to be a fellow PanAm Post columnist, stands out from the pack for his youth, gravitas, dependability, knowledge, and the ideals for which he stands. Moreover, while Raisbeck awards the appropriate level of seriousness to the issues, he has also showcased a sense of humor, a novel touch in Colombian politics, which have always been quite dry. Daniel, along with the rest of us Colombian libertarians, have already won in my book. The way he and his dedicated group of volunteers have performed, based on ideas rather than political maneuvering or manipulation, truly shows a new way of doing politics. This campaign is very attractive to many people who weren't previously aware of their own preference for libertarian ideals. Raisbeck has been the strongest candidate on social media, demonstrating his popularity among young people, and among those who value alternative points of view and innovation. Consequently, the first libertarian campaign in Colombian history has already made great strides. First, the campaign was able to secure more signatures than necessary to register for the election. Second, after surpassing a few obstacles, Daniel has been able to present his ideas on a greater number of mass-media outlets. Third, he went from not appearing in the polls at all to achieving 1 or 2 percent support. Further, he recently successfully concluded his first fundraiser, using technology to collect donations from individuals. There is no room for pessimism when seeing results like these. Libertarian ideals are here to stay in Colombia. It will only be a matter of time before Colombians vote Daniel and other libertarians into office. I must confess that I used to believe this type of change could only from a shift in ideas, stemming from academia and debate. Now I realize that it is a group effort, and libertarians should recognize and thank Daniel and his supporters for the courage that they have shown. Confronting the traditional political machine in Colombia is truly an act of bravery. It could not have been easy to reach any of the goals mentioned above, especially considering how difficult it is to get these seemingly counterintuitive ideas across in a political context not known for its depth. This is possibly the most novel and refreshing part of the Libertarian Movement's campaign. Daniel Raisbeck bases his proposals on a consistent political philosophy, integrated with honest and sensible research into the realities of Bogotá. Meanwhile, other candidates attempt to fool the public, promising the moon and the stars, based on a limited understanding on the state's reason for being. Raisbeck's personal brand of politics is necessary — urgent, even — in Bogotá, where the public has continually voted for leftist, populist candidates, who have destroyed the little progress that was achieved years ago. Further, Daniel's proposals have brought about and encouraged debate: another achievement. Today, most candidates share a common vision on the legalization of drugs. Opportunism is likely what motivates them, or perhaps fear prevented them from coming out on the issue sooner, which only further proves how brave Raisbeck has been. The same goes for new technology, like Uber. Raisbeck has insisted on debating the subject and has brought it into the discussion. Similarly, Raisbeck is the only candidate that has openly said he would reject a referendum on banning bullfighting. In other words, he is the only candidate willing to stand up for the rights of the minority against the voracity of the majority. The only stance Raisbeck takes that I do not agree with is his position on running as a "nonpolitical" candidate. All politicians practice politics, but what matters is how it's done. Indeed, Raisbeck is the future of politics. He represents the sort of politician who creates proposals based on ideas, and not opportunistic calculations; one who works for the people, and not his own self interest. Meanwhile, we the people now have an opportunity to change the way politics is done in Colombia. We say all the time that we don't want more of the same, and that's why I will cast my vote for Daniel Raisbeck for mayor of Bogotá. Translated by Vanessa Arita.