Chile's Presidential Candidates Gear Up for Second Round with New Campaign Teams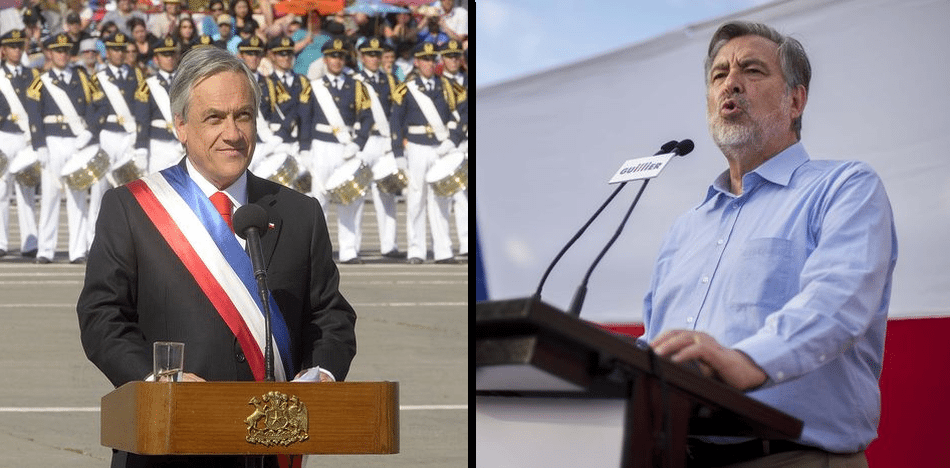 EspañolAlejandro Guillier and Sebastián Piñera have passed through the first round of Chile's presidential elections and are preparing to compete in the second round that will take place on December 17.
Though 14,300,000 registered to vote, only 45 percent went to the polls on Sunday, so the candidate who manages to flip those numbers in their favor could be the victor in the next round. Both candidates have already begun to move around their resources and make changes to their campaign strategies in hopes of gaining new supporters.
Alejandro Guillier has made the most radical shift by restructuring his campaign in order to attract voters on the center-left. He's brought in Álvaro Elizalde — President of the Socialist Party — to coordinate his campaign, and relieved Osvaldo Correa of the Radical Party.
The "high command" of his campaign is made up by the deputy and current senator Yasna Provoste; the Radical Party's representative for Antofagasta, Marcela Hernando; the independent senator of the Party for Democracy, Ximena Órdenes, and Roxana Pey, the independent and former Director of the University of Aysén.
The changes created discomfort within the Communist Party, which said they did not understand all of Guillier's decisions. However, the new coordinator of Guillier's campaign later said that it's necessary to announce new team members, and that the party will be part of the campaign "just like all the other parties that support Alejandro Guillier."
Changes in Piñera's campaign
Former President Sebastián Piñera also announced changes to his campaign after having obtained 36.6 percent of first-choice votes in Sunday's election, a percentage lower than expected.
Determined to win in the second round, Chile's Vamos candidate reinforced his campaign with the support of three senators elected by a large majority in last Sunday's election.
Felipe Kast, leader of the Evópoli party; Francisco Chahuán, of Renovación Nacional (RN), and Juan Antonio Coloma, from the Independent Democratic Union (UDI), are the the newest additions to the campaign team.
"All three have been integrated into the heart of our campaign," Piñera said. "They will be part of the strategic council and are a good fit both intellectually and intuitively."
Piñera added former Interior Secretary Rodrigo Ubilla to his team in order to lead a new commission that will seek to improve a mobilization strategy adopted by Lucas Palacios.
Both Guillier and Piñera claim that victory is certain, but their destiny is still in the hands of the voters.
Piñera has tried to rekindle the spirits and hope of his followers, ensuring that, despite not having obtained the results expected by his supporters, it is still possible to win in the second round.
"This result is very similar to that of 2009," the former head of state said.
Felipe Kast, the newest member of the Piñera campaign, said that, while "Guillier's government program is 'everyone against Piñera,' Piñera's strategy is to have the country see better days."
Sources: La Tercera; 24 horas; TV y Farándula; Cooperativa; Economía y Negocios; T13; La Tercera; El libero; Cooperativa; TVN.