Keep Your Guantánamo Problem away from Uruguay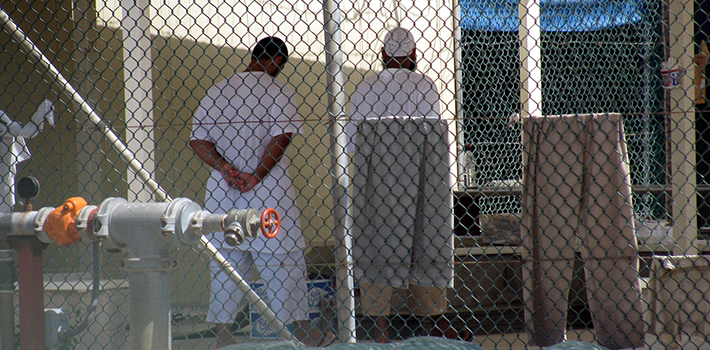 EspañolUruguayans are worried, and they have reason to be. As the world watches in horror as the Islamic State in Iraq and Syria (ISIS) commits horrifying atrocities, we find out that Presidents José Mujica and Barack Obama have made a secret arrangement for Uruguay to receive six prisoners from the US prison at Guantánamo Bay.
It is important to remember that ISIS is an off-shoot of Al-Qaeda. They consider themselves the "second generation" of the organization. Manuel R. Torres, professor at Pablo de Olavide University in Sevilla, Spain, estimates that Al-Qaeda and its affiliates currently have 20,000 members, including a number of Westerners from countries such as England, Germany, France, the Netherlands, and Italy.
Torres says Islamic terrorism is complex and multifaceted. "Al-Qaeda Central" and its regional extensions still exist, but there are also cells and networks that operate independently, although they are inspired by shared grievances. Perhaps most concerning is that these groups continue to attract isolated individuals, despite the fact that these people have no shared extremist religious ideology with the the terrorist groups. They join the fight for different reasons, or to, "launch their own terrorist initiatives."
It is no secret that this issue has alarmed the developed world. But it is also true that in Uruguay this fear does not exist. For this reason the vast majority of Uruguayans don't understand the agreement: why are we meddling in someone else's affairs?
Uruguayans' concern is exacerbated by secrecy and lack of transparency on the part of Mujica and US Ambassador to Uruguay Julissa Reynoso.
On the other hand, the Guantánamo prisoners are the most prominent symbolic victory Al-Qaeda has been able to win in their effort to weaken the republican and liberal democracy of the United States. Since September 11, 2001, the free institutions of this once great country have been rapidly deteriorating. The Patriot Act was one of the biggest mistakes.
Uruguayans' concern is exacerbated by secrecy and lack of transparency on the part of Mujica and the US Ambassador to Uruguay Julissa Reynoso. The agreement, for example, has yet to be approved by Parliament. The Uruguayan population have not been properly informed, despite the gravity of the situation. No one knows what the condition of the prisoners will be when they arrive. Will they be able to move freely throughout our territory? Will they be free to come and go? Can their families live here? How do we know their relatives are not members of extremist Islamic organizations?
According to the latest poll, 58 percent of Uruguayans disagree with the prisoners being brought to Uruguay. And the issue is further complicated by the fact that Mujica has very little time left in office. National elections will be held at the end of October, and the new president will take power on March 1, 2015.  Opposition leaders have criticized Mujica for not having consulted other presidential candidates prior to agreeing to the prisoner transfer, and they have demanded that the agreement be approved by Parliament.
Luis Lacalle Pou, the National Party presidential candidate — who has a very good to chance of winning — has come out against the prisoner agreement, expressing outright "disgust" for Mujica and Ambassador Reynoso.
If these prisoners are "refugees," this means they are escaping a tyrannical government — from a place where due process and human rights are not respected.
The US embassy has offered veiled threats. The ambassador said the Obama administration's "positive disposition" toward Uruguay could, "be affected by a change in position" on the issue. "Perhaps what could occur is that future relations would not be on the same level," she said.
To quell any fears, the United States claims the prisoners are "low risk." But it should be noted that the US government will not allow them into US territory. This is the reason Obama is attempting to transfer them to other countries. Since the George W. Bush administration (2001-2009) justified the invasion of Iraq with the "story" that Saddam Hussein possessed "weapons of mass destruction," the credibility of authorities in this country has depreciated greatly.
Now it is said the prisoners will come as "refugees." This classification speaks to the truth of the matter. If these prisoners are "refugees," this means they are escaping a tyrannical government — from a place where due process and human rights are not respected. A place where, to paraphrase Mujica, certain people are treated like "trash." Have US authorities fallen so far that they don't even realize the "label" they so willing accept? Have they no shame?
The issue of the Guantánamo prisoners has been twisted for many years. US government officials created the situation, and it is up to them to resolve the issue according to the rule of law. These people should be subject to a fair judicial process, carried out by impartial judges; and if they are declared innocent, they should be treated as free men, and compensated for all the damage they have suffered.
Translated by Alex Clark-Youngblood.