Vicente Fox Stumps to Legalize All Drugs Worldwide
Español"We human beings do not respond to prohibition; we respond to reason," boomed the voice of the mustached Mexican on stage, the voice of not just any man from south of the border.
Former President Vicente Fox (2000-2006) traveled to Washington, DC, for the weekend of February 14-15, to greet young liberals and libertarians from around the world. His message, beyond advice and inspiration for aspiring leaders: end the War on Drugs now.
"It's been a total failure, [an] absolute failure," he said to eager applause.
Along with economist Deirdre McCloskey of the University of Illinois at Chicago, Fox gave one of the final featured presentations during the Sunday portion of the 2015 International Students for Liberty Conference. The former head of state came to the right place for sympathetic ears, as the audience of approximately 400 gave him a standing ovation.
Given the younger demographic, Fox devoted the first half of his speech — approximately 30 minutes in total — to underlying values of leadership and to what makes for a successful nation. The two pillars, he asserted, are freedom and democracy, and he even leaned on natural rights and quoted various US Founding Fathers.
You just need to look at Latin America to see what goes wrong without them, he opined: "We went through the 20th century in [the] hands of dictators … in [the] hands of authoritarian governments. And the consequences are what we see today. It is a region that is lagging way behind … in education, in access to opportunities, in income … in having a closer distance to happiness."
He cautioned the assembled "freedom fighters" not to remain on the sidelines, that the menace of authoritarianism is constant: "If we stay only on the purpose side … on the ideas, it will never be enough. A purpose has to have performance, [it] has to take you to action."
As Fox transitioned into the War on Drugs, he took on a poignant tone. "What the hell is going on with Mexico?" he said, as he expressed sadness at the tens of thousands of young people murdered there each year: "Those kids, like you … were not born criminals.… And yet they die, and yet they [are] killed … on this so-called War on Drugs."
He wanted the audience to know that Mexico is neither a major drug producer nor a major drug consumer. So Mexicans are caught in a trap, Fox said, between the producers in South America and the consumers in the United States worth tens of billions of dollars.
"The way, I see, for coming out of that trap, is legalization … taking away a business that is run by criminals, to be run by entrepreneurs."
His outlook on this happening was optimistic, and he praised Portugal as a noble example of success, along with many US states. In case there was any doubt, he also affirmed that his logic for freedom of choice, with responsibility and education, applies across the board: "I'm an activist in trying to promote the change, worldwide if possible, and for all drugs."
To hit home the urgency of the matter, Fox called on the aspiring leaders to be weary that drug money has enabled a synergy between cartels and corrupt officials in Mexico and across Latin America. He wants a "crusade" against this, since "corruption is an evil, a cancer that we must eradicate."
Still, he sought to end on a positive note, and expressed great enthusiasm for the event. He also took the opportunity to promote his presidential library and policy institute in Guanajuato State, Centro Fox, and to invite young people to come for a visit or even to hold a Students for Liberty event there.
"We want to promote this kind of youth in our nation… [and] we have plenty of tequila and enchiladas," he said with a grin.
Latin-American student leaders present, of EsLibertad, have been similarly interested in forging a relationship with Centro Fox, and joined the former president in a private meeting.
Gonzalo Mellado Montes, a member of the EsLibertad executive board and Chile director, shared Fox's vocal concern for the "current decline of freedom in Latin America."
"It is necessary," Mellado says, for other ex-presidents and public figures to follow Fox's lead and "take responsibility for the trajectory that continues in their nations after their terms end, particularly when it comes to supporting the ideas of future generations."
Related Posts
Honduras Takes Libertarian Honors for Student Activism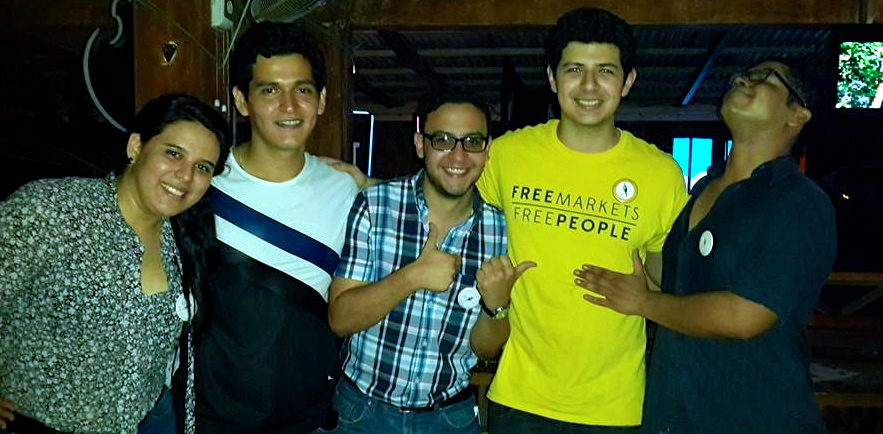 EspañolEach year the who's who of young libertarian and classical-liberal activists descend on Washington, DC, and they recognize their most successful peers. The highest honor of the 2015 International Students for Liberty Conference, for an individual "alumnus" or role model, went to whistleblower Edward Snowden, but the budding Honduran branch of the international organization garnered victory for the event of the year. The final awards ceremony of the three-day event was on the evening of Valentine's Day at the Marriott Wardman Park Hotel, with the two remaining prizes for the student and group of the year: Ana Jakšić of Belgrade, Serbia, and the African Liberty Student Organization at the University of Ibadan in Nigeria. The specific student activism that earned recognition, "We Want Classes," took place in San Pedro Sula. The initiative merited attention because it foiled a hijacking of the Valle de Sula campus of the National Autonomous University of Honduras (UNAH-VS), and it attracted new allies. https://twitter.com/esLibertadOrg/status/566764275726028800 "EsLibertad Honduras just won Event of the Year in the Students for Liberty annual awards!" San Pedro Sula-based Jorge Colindres is a local coordinator for EsLibertad, the Latin-American wing of Students for Liberty, and he received the award in-person. "I'm very grateful to Students for Liberty for empowering such a meaningful movement in Latin America," he says, and he admires "how the UNAH-VS students stood up bravely against the Marxist students." He detailed the story on the PanAm Post blog in November 2014. After two overtly Marxist student unions had previously succeeded in closing the university for more than two weeks, he and his fellow EsLibertad members came to the aid of university administrators. In addition to metal cutters to remove the chains placed on various campus gates, the strategy was to stand in visible opposition to any new shutdown, and to recruit fellow students who just wanted to continue with their classes. To identify themselves, students wore EsLibertad badges, and an unaffiliated but prominent opponent of the shutdown soon joined their ranks. Colindres, who is also a legal analyst for the Eléutera Foundation, shared that they then ran out of badges, as their support swelled to more than 200 individuals and overshadowed the gathering Marxists. EsLibertad allies chanted "¡Queremos clases!" (we want classes), as another shutdown was being attempted. // Post by Estudiantes por la Libertad Honduras. "The result was incredulous silence," Colindres wrote. The Marxist Federation of Student Associations and the Revolutionary Student Movement Lorenzo Zelaya "had never before faced opposition apart from university authorities." Despite a caustic standoff with brief skirmishes, the Marxist students eventually dispersed. The presence of clear opposition had undermined their claim to be representing students, and the successful initiative received an SFL nomination and positive press coverage from national daily La Prensa. EsLibertad Honduras's award has brought praise from throughout the Americas. Mark Lutter, a George Mason University PhD student now based in Tegucigalpa, was at the ceremony and says their work is particularly important "because economic freedom is the single best way to lift people out of poverty." The result also gave considerable pleasure to Claudia Amaya Martell, a lawyer and liberal political activist back in San Pedro Sula: "This is a young group, but they have demonstrated that concerted efforts can bring great results." The president of the Federalism and Liberty Foundation Honduras says "the local work they do to defend liberty transcends borders," and she both congratulates them and wants to see more peaceful dialogue and tolerance as solutions to conflicts.