Clashes in Colombia: Guerrilla Wanted for Extradition is Now a Congressman
For Colombian President Ivan Duque, Jesus Santrich is a gangster who should not be in Congress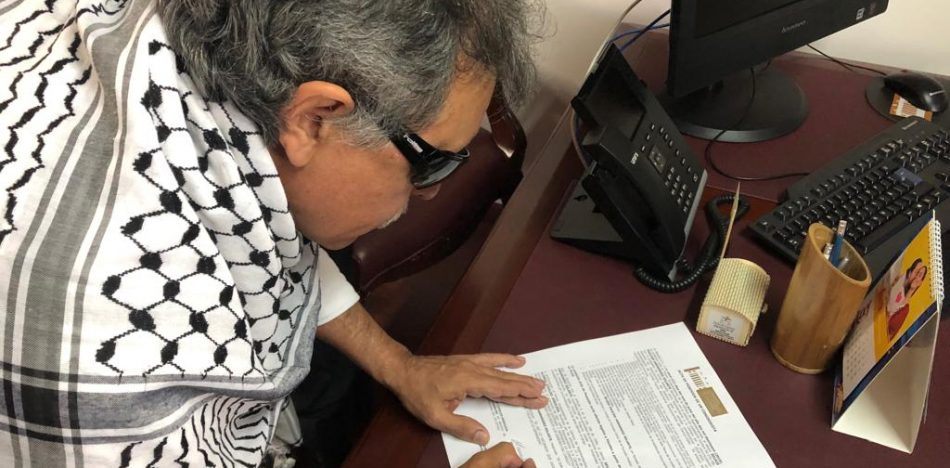 The court case of the FARC's guerrilla leader, Jesús Santrich, took a turn in his favor. After a series of judicial decisions, he has regained his freedom. Although he is under investigation for conspiracy to commit crimes and drug trafficking, today, he took Office as a Colombian congressman.
Meanwhile, president Ivan Duque has declared that he cannot permit a mafia member to assume Office as a member of Congress. Duque is certain that Santrich has been trafficking cocaine after Santos and the FARC signed the agreement.
Duque asked the Attorney to intervene
In an attempt to stop Santrich from holding Office in the House of Representatives, the president asked the Attorney General's Office to suspend the guerrilla leader.
"It seems to me this video proves that Jesus Santrich is a member of a criminal organization as we have been saying. How can a country accept in Congress, a man who has accusations of participation in drug trafficking along with evident testimonials? The Attorney General should at least suspend Santrich. We hope that the justice system pronounces a proportional, exemplary and effective penalty for these acts of drug trafficking," Duque said during his visit to Argentina.
A pesar de los montajes, de la campaña de odio fascista desatada desde las más altas esferas el poder, Jesús Santrich se posesionó como Representante a la Cámara por Atlántico, en cumplimiento del Acuerdo de Paz.
Gran noticia para quienes luchan por una Colombia mejor. ✊ pic.twitter.com/jdSTAs19NU

— #SantrichLibre (@SantrichLibre) June 11, 2019
Duque seeks to annul the decision of the House Accreditation Committee that endorsed the Congress seat for Santrich. Three out of the five members of Congress on this committee accepted Santrich's documents and gave the green light for his role as a congressman from The Common Alternative Revolutionary Force  (FARC) political party.
The Attorney General's Office has played a vital role in the judicial trial of the chief guerilla. It was the only institution that participated in discussions about the decisions of the Special Jurisdiction for Peace (JEP) which granted freedom to Santrich. The Office also requested the Supreme Court to arrest Santrich once again. In its decision to release Santrich, the JEP stated that the videos and the evidence provided by the Attorney General's Office were not conclusive. However, contrary to the JEP's decision,  there is substantial evidence that incriminates Santrich for the crime of drug trafficking.
It is worth remembering that the guerrilla leader arrives in Congress to occupy the seat that until last Monday was held by the other of the FARC leaders, Benedicto González as everyone assumed that Santrich would not take his position because he was arrested.
Marlon Marin, the primary witness accusing Santrich
Although the JEP said there was no conclusive evidence of Santrich's drug trafficking business, the arrest of Marlon Marín, nephew of FARC leader Iván Márquez, was crucial for unraveling the legal mess against the now "honorable congressman" guerrilla leader. Marín became a protected witness for the U.S. authorities.
In the USA, Marin testified that Santrich was the principal accomplice in an operation to smuggle ten tons of drugs.
Estas son las evidencias enviadas por la Fiscalía General de la Nación a la JEP en el caso Santrich.

Audio 2: Conversación entre Marlon Marín y Fabio Simón Younes – 14 de agosto de 2017.

(Hablan del pago de 5 "televisores" en referencia a droga) pic.twitter.com/L3azw9vTfI

— Fiscalía Colombia (@FiscaliaCol) May 15, 2019
In the court proceeding, Marín asserted that Santrich met the alleged emissaries of the Sinaloa Cartel to negotiate the shipment of cocaine. He also confirmed that the first contact with the suspected drug traffickers, who were, in fact, undercover agents, was in August 2017, adding that the business proposal was to buy the drug, transport it to Central America, and then to countries such as England and Canada.
Further, he explained that they used code words such as "televisions" and "hectares of corn" to refer to the drug in the conversations that the district attorney's Office made public. In short, Martin revealed that Santrich received 6800 USD (22 million COP) to send the first five kilograms of cocaine and the payment supposedly happened in cash inside a mall.
Reactions
There was widespread criticism of the decision to allow Santrich to take his post as a congressman despite being wanted for extradition in the USA on charges of drug trafficking. Many associate the case of the guerilla leader with that of Pablo Escobar, the kingpin of drug trafficking. The Colombian drug lord also set foot in the Congress when he was elected to the House of Representatives in 1982. However, he held his place as a congressman only for a year until proof emerged of his role in the illegal businesses.
Rafael Guarin, Presidential Advisor on National Security, compared the presence of the guerilla leader with Pablo Escobar's time in the 1980s. Three decades later, Colombia is once again witnessing a similar chain of events. According to Guarin, the existence of the mafia groups delegitimizes the institutions of a nation.
Vuelve otro Pablo Escobar a la Cámara de Representantes. Deslegitima a las instituciones que mafiosos lleguen al Congreso, reincidentes en el delito, que fueron cabezas de aparatos de matar que siguen delinquiendo, aún con la impunidad que les dio el Acuerdo de La Habana. pic.twitter.com/KaE0hXA1Qq

— Rafael Guarín (@RafaGuarin) June 11, 2019
Conveying a similar sentiment, some Twitter users also declared their annoyance with Santrich holding office:
Alguien que, por favor, me explique la diferencia que hay entre Jesús Santrich y Pablo Escobar:
Los dos mataron, contrabandearon, violaron, se opusieron a la extradición y se posesionaron en el Congreso.#SantrichCongresista

— Lauri Puentes Vela (@LauriPuentes) June 11, 2019
Colombians expressed their indignation through social media platforms such as Twitter using the hashtags #SantrichNARCOngresista and #SantrichVerguenzaMundial, which were soon trending. Santrich's entry into Congress is a blow to democracy and the credibility of Colombian judicial institutions, especially the JEP.