Leopoldo López Awaits High-Stakes Ruling on Potential Release
EspañolLeopoldo López's future could change in just a few hours. His defense team expects a Venezuelan court to rule on Tuesday regarding a October 8 resolution from the UN Working Group on Arbitrary Detention that demands his immediate release.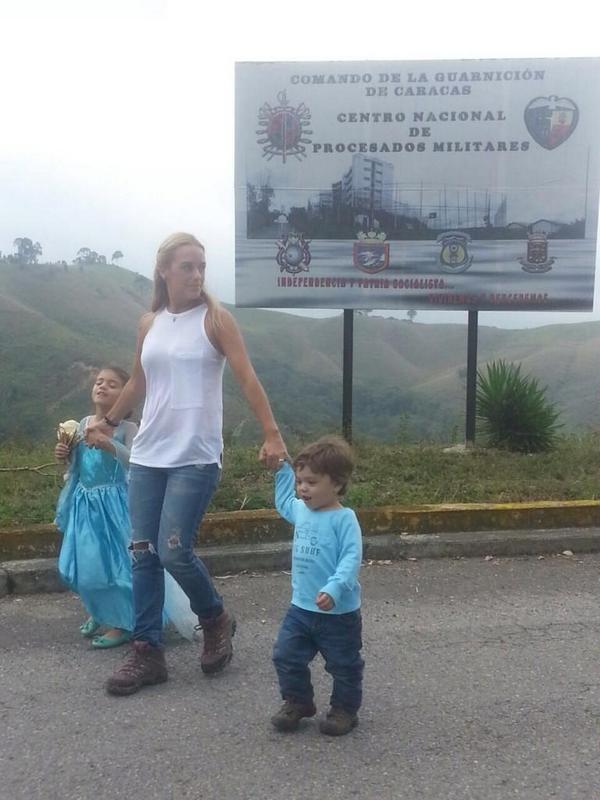 The opposition political figure has been held without trial for more than nine months in a military prison outside Caracas. Authorities arrested López for his role in a series of protests that erupted on February 12 when thousands of demonstrators gathered to demand the release of detained student activists.
The judge in the López case, Susana Barreiros, scheduled the eighth hearing of public oral arguments for Tuesday, October 28. The hearing is also being held for student activists Marcos Coello, Christian Holdack, Angel González, and Demian Martínez.
It is not known whether Judge Barreiros will accept the provisions in the UN resolution. López's lawyers say the Barreiros court indefinitely suspended its operations on October 14 as a way of delaying its response to the UN resolution.
According to López's attorney, Roberto Marrero, the court resumes its session on Tuesday and must now issue a response. "Hopefully, he is cleared, and the judge makes the decision that Venezuela and the world is hoping for," Marrero told the PanAm Post.
The Working Group's resolution found the Venezuelan government committed "serious violations" of Articles 9 and 14 of the International Covenant on Civil and Political Rights relating to arbitrary detention and the right to a fair trial.
"The detention of Mr. Leopoldo López constitutes an arbitrary detention.… Consequently, we recommend that the Bolivarian Republic of Venezuela immediately release Mr. Leopoldo López," declared the UN-mandated body. The resolution also claims López's right to fair trial was violated, and suggests Venezuelan authorities arrested him for exercising constitutionally protected rights to speech and protest.
Marrero said that although the United Nations does not have coercive power in this case, signatory nations tend to abide by recommendations of this nature. "Not accepting it … would reflect very badly on us as a state. If we accept a seat on the Security Council, we are part of the Group on Arbitrary Detentions, and the Human Rights Council. Today, the world knows what all Venezuelans know, that Leopoldo López is innocent."
The Working Group also demanded the immediate release of Daniel Ceballos, former mayor of San Cristóbal, Táchira, who has been jailed since March 19. However, the judge in his case, Yhosmar González, used the same strategy that Judge Barreiros employed and postponed his October 21 hearing.
On October 20, UN High Commissioner for Human Rights Zeid Ra'ad Al Hussein requested the release of Venezuelan political prisoners. "I urge the Venezuelan authorities to act according to the opinions of the Working Group, and immediately release López and Ceballos, and all those that have been arrested for exercising their legitimate right to peaceful expression and protest," Al Hussein said.
Two days later, Venezuelan Foreign Minister Rafael Ramírez responded by calling Al Hussein's comments "interventionist" and "foolish," and accused the high commissioner of exceeding his authority.
"It is troublesome that the high commissioner attempts to turn the opinions of the Working Group on Arbitrary Detention into legally binding decisions, forcing states to comply with the ruling," read a statement from the Nicolás Maduro administration.
López to Be Transferred as He Awaits Sentencing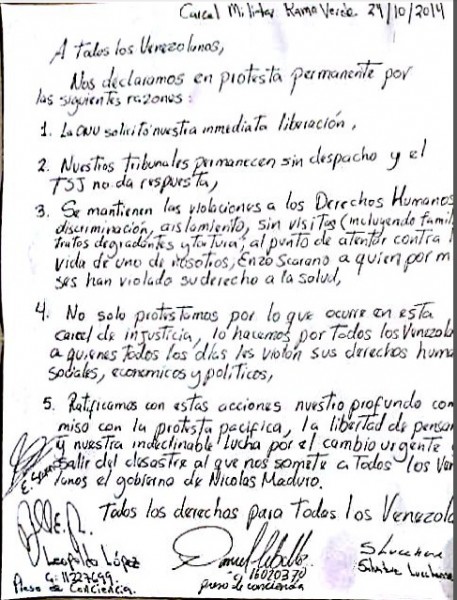 On Saturday, Colonel Homero Miranda, director of Ramo Verde military prison, where López, Ceballos, and other political prisoners are being held, told López's family and lawyers that he would be transfered to another detention center within the next few hours.
Marrero told the PanAm Post that judge Barreiros should have been the one to authorize the prisoner's transfer. However, he doubts that was the case, since the court is still adjourned to avoid dealing with the UN resolution
López's wife, Lilian Tintori, denounced the decision as a punishment for López's "permanent and peaceful protest." On Saturday, López and other detainees initiated a protest they are calling a "barrotazo," according to a handwritten manifesto released on Friday.
The manifesto explained that they are protesting the cruel treatment they have experienced, including isolation and deprivation of their basic rights, and the suspension of court proceedings following the release of the UN resolution.
They said their protest "is not only for what has occurred in this jail, but for all Venezuelans whose human rights are violated everyday."
Translated by Alex Clark-Youngblood.