How Not to Fix Argentina's Inflation Problem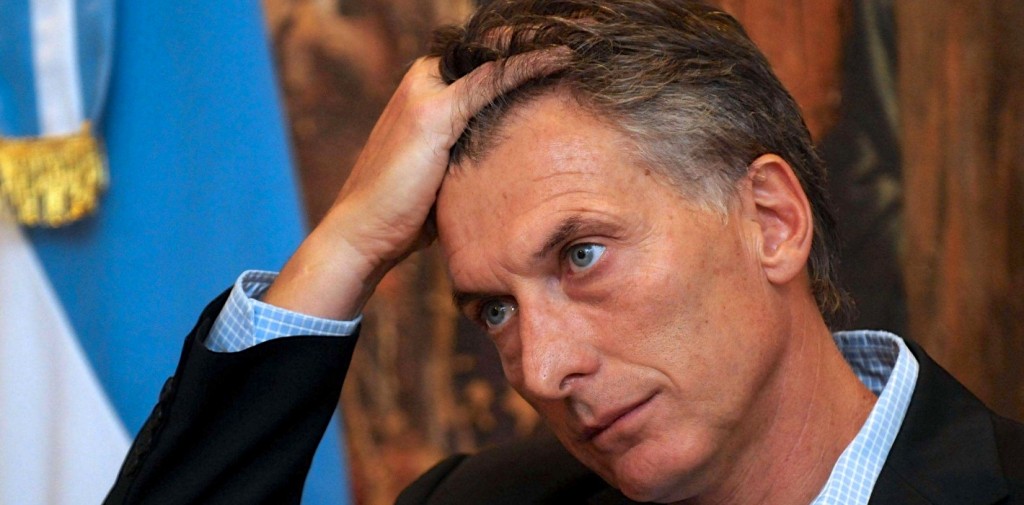 EspañolIn a world where high inflation is no longer a problem, Argentina's inflation is still the population's main concern. Only Spain and Venezuela show inflation rates above 20%, with the principle concern being that this trend has continued for more than ten years.
For this reason, and in parallel with the completion of the new government's first three months, the Buenos Aires economic newspaper El Cronista Comercial asked expert analysts to offer their opinion and advice on how to lower inflation.
While among this analysts we can find accurate points of view related to budgetary imbalance and uncontrolled monetary emissions that deteriorate the currency's purchasing power, the fact remains that among their "advice" are lots of misdiagnoses, followed by absurd proposals.
Economist Augustine D'Atellis, a member of the "GraN MaKro" group (N and K are capitalized in honor of former Argentine President Nestor Kirchner), suggested that:
"… Market freedom in price formation leads to increasing inflationary dynamics, to the detriment of the wages' purchasing power."
But this statement is clearly false. In the table below you can see the world's economically freest countries. That is, those where D'Atellis said the free market "forms prices."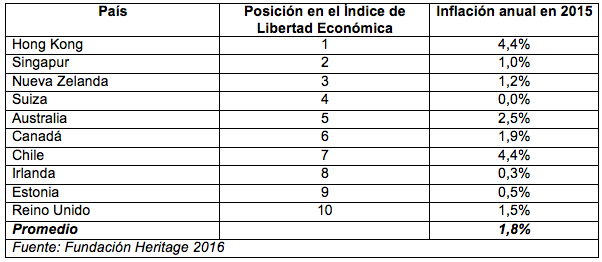 What his "analysis" recommended is the opposite of true. Where there is a free market, inflation is not high, but considerably reduced — with an annual average of 1.8 percent. That is, no less than 94 percent lower than what Argentina had in the same year.
Therefore, inflation has nothing to do with the free market.
Another person who gave his opinion was public accountant, congressman and former Economic Policy Secretary Roberto Feletti.
"The effective anti-inflationary policy is one that combines market regulation, essentially in those monopolistic supplied goods and rigid demand, and with price and wage agreements," he said.
The problem with this analysis is that it confuses inflation with the high prices placed by a company. That is, if a monopoly sets a price of US $100 for its product, but that price is kept for 10 years, does it really have to do with inflation? Since it is a monopoly, we can probably agree the price will be high, but high prices are not the same as inflation, so price control over monopolies is by no means an "anti-inflationary policy."
Mercedes Marco del Pont, former President of the Argentina Central Bank between 2010 and 2013, said "the Central Bank's decision to minimize interventions [in the foreign exchange market] in order to promote the free float does not seem consistent with its objective of controlling inflation."
According to this view, a type of free trade and market defined by the Central Bank with inflation-targeting is a bad idea. However, it is what a lot of countries in the region such as Peru, Colombia, Chile and even Brazil have done.
In all these countries, the monetary authority left the exchange rate float. And to the surprise of Marco del Pont, they hold a free exchange rate with very low inflation compared to that of Argentina or Venezuela, who opted for exchange control as an anti-inflationary strategy.
Misdiagnoses as to the inflationary phenomenon abound in our country. The fault falls on business traders, the free market or the the dollar. Elements such as an overwhelming public spending or frenzied monetary emission should never be part of these specialist analyses.
No wonder, then, that, in providing answers, they advise to do everything that has already failed on multiple occasions in the past.
That leaves us with one thing to make clear: if we follow their prescriptions, we will repeat past mistakes and, even worse, not lower inflation. The best thing the new government can do is turn a deaf ear to such recommendations.
Related Posts
Widespread Blackouts Loom As Venezuela's Dams Run out of Water
EspañolAlthough the Venezuelan government blamed the decrease in size of the Guri dam — the fourth largest artificial lake in the world — on El Niño, engineers said recently that the crisis was actually caused by mismanagement of resources, thermal system malfunction and drought. The Simon Bolivar Hydroelectric Plant, second in the world for electricity production, recently saw its water levels decrease to just 3.56 meters above total collapse. "The waters in Guri have not reached the floodgates," said Luis Motta Domínguez, head of Venezuela's Electricity Ministry, during a press conference on Monday. "We are working to manage the vital fluid." But some energy specialists said they believe the country was at the brink of a national blackout. In addition, they said Venezuela has failed to make the necessary investments in thermal-generation plant systems for more than 15 years. The thermoelectric power system is at 247 meters above sea level, said member of the National Electricity Commission Joel Carrillo. Turbines shut down at 244 meters, which would result in increased electricity rations for more of the population. https://twitter.com/LMOTTAD/status/708539897431330816 At an average decline of 15 centimeters per day, this shutdown should occur sometime between 21 and 25 days, unless it rains, Carillo said. José Aguilar, Professor of Engineering at the University of Los Andes, told the Venezuelan newspaper Correo del Caroní that current levels are only 18 percent of the reservoir's expected capacity, creating a vulnerability that is bringing the country close to the brink of needing to do heavy rations. Aguilar explained that the  reservoir's rapid decline threatens the "already battered quality of life of Venezuelans." [adrotate group="7"]Miguel Lara, former director of the Interconnected Systems Planning Office, warned that "the worst is yet to come," adding that the government will have to disconnect electrical loads in larger volumes, and also deepen power rationing in the country. On Saturday, President Nicolas Maduro announced the country's public administration will not work during Holy Week as a measure to ration the electricity supply. The national government also reduced working hours in the public sector for the same purpose.