Has Bogotá's Marxist Mayor Seen the Light?
Gustavo Petro, the current mayor of Bogotá, will leave his term of office on December 31 rather bruised, politically speaking.
Aside from ending his four years in the second most important political post in the country with a dismal approval rating that hovers around 18 percent, Petro also leaves the Progressives, the independent movement he created in 2011, with just a single local Council member. Only four years ago, Petro's Progressives tied for first place as the largest party in the city government with eight councilmen.
What is worse, the candidate whom Mayor Petro chose as his successor, Clara López of the Alternative Democratic Pole, the mayor's old party, came in third place with just over 500,000 votes. It was basically the same amount that she received in the capital during last year's presidential elections. As columnist Luis Guillermo Vélez writes, "this is the grand total of the hard left's vote in Bogotá, with local government contracts and political machinery included."
Petro's and the Progressives' defeat in the Colombian capital is particularly ignominious since, as La Silla Vacía points out, election winner and now Mayor-elect Enrique Peñalosa based his entire campaign on a hard, anti-Progressive message. "Let's Take Bogotá Back," went Peñalosa's slogan, which practically meant: "let's kick out the loony left after 12 chaotic years of misrule and return to the glory days of my mayorship."
As I see it, Petro's current gloom stems from the fact that he didn't want to govern Bogotá in the first place; he's not even a native of the city, and he has never had much of an interest in carrying out the mundane tasks of city government, such as paving roads, regulating informal street vendors, or putting an end to flyposting.
Rather, after a generally successful stint in the Senate opposing former President Álvaro Uribe with winged words, which are his specialty, Petro sought a steppingstone from which to hop into the Colombian presidential palace. The office of mayor of Bogotá seemed to suit that purpose perfectly.
Petro, however, interpreted his election victory in 2011 not as a mandate to govern the city, but rather as a blank check to wage ideological war on his nemeses.
On the one hand, these include private-sector mafias, a real problem which Petro has done well to identify. On the other hand, the mayor continually rails against the oligarchy and "neoliberalism," the typical straw men of paranoid statists, such as the caudillos in charge of Venezuela, Ecuador, Bolivia, Nicaragua, and other countries in the region, whose rhetoric of resentment Petro has sought to match in extravagant sessions of demagogy on the City Hall balcony.
The scope of Petro's thoughts, however, extends far beyond Latin America.
"The economist Piketty," he wrote on Twitter on January 12, "says that the political changes to come in Spain and Greece will change Europe and the world."
El economista Piketty dice que los cambios políticos que vienen en Grecia y España, cambiarán a Europa y el mundo http://t.co/e9m74KXwsj

— Gustavo Petro (@petrogustavo) January 12, 2015
For Petro, global climate change is a bogeyman to match global "neoliberalism": "[There's a] march against climate change in London," he tweeted on September 21, 2014. "We're responsible, let's save the planet."
Marcha contra el cambio climático en Londres. Somos responsables, salvemos el planeta pic.twitter.com/IS8P8oWvvl

— Gustavo Petro (@petrogustavo) September 21, 2014
All of which is very well, one might say, but it's a pity for Petro that his cosmic concerns offer little consolation to the Bogotá manual worker, student, or housewife who just wants the bus to run on time.
In theory, Petro's slump — it's far too early to speak of his demise, and he's already speaking of his presidential campaign for 2018 — is welcome news for anyone who is in favor of economic freedom. His hostility to free markets and private enterprise is both recurrent and innate; he is, after all, a former communist guerrilla leader. Recently, Petro boasted — yet again, on Twitter — that, according to his own poll, only merchants and entrepreneurs disapprove of his government.
Solo entre empresarios y comerciantes hay una mayoría que otorga baja calificación al gobierno de Bogotà Humana pic.twitter.com/gaeghDP8Mb

— Gustavo Petro (@petrogustavo) November 7, 2015
In Petro's delirious, zero-sum view of the world and the economy, arousing the disapproval of wealth-creators is a matter of pride, as if the behemoth of a city government over which he presides could finance itself without entrepreneurs' taxes. The reason why his prompt departure is only theoretically good news for free marketeers is that his successor, Peñalosa, is a formidable statist in his own fashion.
All of which makes one of Petro's recent announcements truly shocking in the most encouraging way possible. On October 20, the mayor said that he intends to make a joint-stock company out of Transmilenio, the local Bus Rapid Transit system, which, until now, has been operated — to the city's detriment — by a handful of private, politically connected contractors.
"We are looking for 200,000 citizens of Bogotá to buy stocks and become co-owners of Transmilenio and its services," Petro said, thus formulating what, in my view, is the most important economic news to come out of Colombia in at least two decades.
The statement is remarkable not only because it expresses a fabulously good idea — an idea which I, incidentally, presented time and again during the recent campaign. The proposal is also tremendous because it comes from Petro himself, the unchallenged big shot of Colombia's statist left.
Could it be that, in a Damascus moment, this pied piper of the "anti-neoliberal" interventionists recognized the inherent superiority of the free-market system? Did he suddenly come to think — rightly, I may add — of the joint-stock company as an infinitely more transparent and more democratic mechanism than the state's monopoly over public services?
Surely, Petro always had the right instincts against cronyism. In his battle against Bogotá's private trash collectors, for instance, he identified the problem of bloated contracts correctly, but his solution — involving the city's purely state-owned water services company in residential waste removal — was disastrous.
But now, at the very end of his mayorship, he mysteriously seems to have become enlightened by the economic theories of the Austrian school.
It certainly comes late. But at least we libertarians, whenever neo-Marxists accuse us of being wicked privatizers for proposing to make state-owned enterprises go public on the stock market, can reply in a debonair manner: "We're just being Petroists."
Related Posts
700 Cuban Refugees Storm the Nicaraguan Border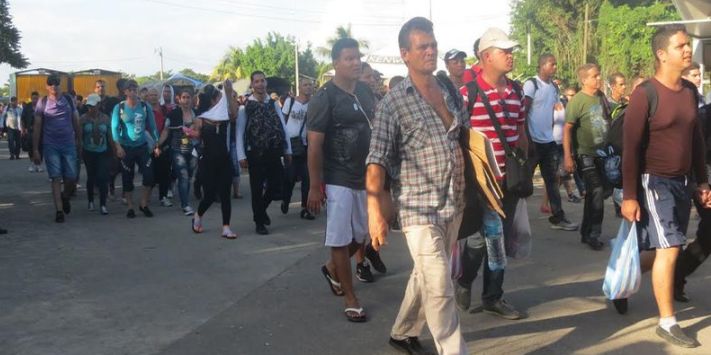 EspañolOn their long journey to reach US soil departing from Ecuador, Cuban migrants must overcome many obstacles, including the Castro regime's allies. On Sunday, November 15, the Nicaraguan government deployed the military and police and ordered them to close down the border, preventing nearly 1,000 Cubans from continuing their travels. The migrants had entered Costa Rica the day before using special transit visas. Despite the Nicaraguan government's best efforts, around 700 Cubans still managed to cross the border. However, nine kilometers into Nicaraguan territory, the group of migrants clashed with a small battalion of Nicaraguan security forces in anti-riot gear, who then expelled them from the country. Cuban migrant Évora Benítez told Costa Rican daily La Nación that the Nicaraguan forces "started shooting in the air to frighten us. Then they started throwing tear gas canisters everywhere, without thinking of the pregnant women and children, like my 22-month-old daughter Julia." Currently, the border between Nicaragua and Costa Rica remains open for tourists and trade, but approximately 1,100 migrants remain stuck at the border in Peñas Blancas, according to the Costa Rican Foreign Ministry. The Costa Rican government has set up a nearby facility to shelter the Cuban exiles. In a joint effort with the International Committee of the Red Cross and the United Nations, they have also provided them with medical assistance and food. Nicaraguan Congresswoman Silvia Nadine, of the opposition Sandinista Renewal Movement (MRS), tells the PanAm Post that, in August, Nicaraguan police detained five Cubans traveling north and deported them back to the communist island. However, "this is the first time that the military has been put in charge of stopping migrants," she says. Diplomatic Quarrel In a press release, the Nicaraguan government blamed Costa Rica for causing a "grave humanitarian crisis" in Central America by awarding transit visas to "thousands" of Cuban migrants. [adrotate group="8"] "We emphatically denounce the government of Costa Rica for breaching our national sovereignty, and for failing to fulfill its obligations as a state … to respect the borders, and the rights of those who go through the border, amid this era of intense human mobilization," the release stated. Costa Rican Minister of Foreign Affairs Manuel González replied that it was "unfortunate" how the Nicaraguan government used hundreds of Cubans for political purposes. According to González, Nicaraguan President Daniel Ortega used "an army with machine guns" to stop the migrants who had evaded border controls. "It's not a favor they are doing to Costa Rica; it's complying with an obligation. The rights of over 1,000 have been affected, because [Nicaragua] has addressed this as a bilateral issue between the two countries," González told local reporters. "This deserves the condemnation of the international community." Congressman Nadine tells the PanAm Post that the strained relationship between the neighboring countries stems from "the large number of Nicaraguan migrants living in Costa Rica." She called for a dialogue among other Central America countries to reach a common migration policy in the wake of the humanitarian crisis. "In the meantime, we should at least provide shelter and water at the border." Castro's Hand Ana Olema is a Cuban artist and activist who lives in Miami. Two years ago, she made the same journey across eight countries to reach the United States. "It was pretty hard, because I was thinking of turning myself in. That was the idea, and we encountered the [Nicaraguan] army, but they were the ones who attacked us," she tells the PanAm Post. "They stole our stuff, touched me, and pointed a gun at us." "We were strong. They wanted me to kneel, but I refused," she says. As for the relationship between the Cuban and Nicaraguan governments, Olema says she believes the repression that took place on Sunday was "coordinated" with Havana. "This is our biggest humanitarian migrant crisis, after the rafters, and it's happening after the normalization of relations with the United States." Olema adds that Costa Rica has offered Cubans asylum, but migrants have so far refused. She says their destination is Miami, a city that they consider "home." On social media, activists continue to use the hashtag #PasoLibreYa (Free Pass Now) to support Cubans on their journey. Translated by Adam Dubove.