Brazil's Libertarians Capitalize on Anti-Government Protests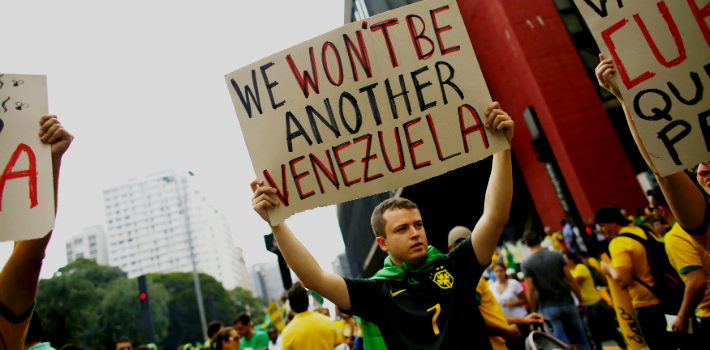 EspañolOver two million Brazilians took to the streets on Sunday, August 16, to call for the impeachment of President Dilma Rousseff, according to the Free Brazil Movement (MBL), one of three organizations that called for the nationwide protest.
Denis Heiderich, leader of the NasRuas movement, which organized the demonstration along with the MBL and Revoltados Online, says Rousseff's popularity in the country is fading. He claims the turnout on Sunday even surpassed the March 15 demonstrations, when Brazilians marched in 273 cities across the country.
[adrotate group=8]
Heiderich says that while the Brazilian Social Democracy Party (PSDB) has attempted to co-opt the protests, the activists involved in the demonstrations are not aligned with any party. He notes, however, that many of those who marched on Sunday loudly criticized the ruling Workers' Party (PT) and former President Luiz Inácio "Lula" da Silva.
"Bolivarians, get out of the PT! The PT's theft is coming to an end … Olé olé, I come to the streets to kick out the PT!" the crowds chanted in Sao Paulo.
The PanAm Post spoke with Fabio Ostermann, cofounder of the MBL and member of its National Board, regarding what he says was the second largest and most important protest in Brazil's history.
Why did so many people turn up? What are they demanding?
Protesters are asking for the impeachment of President Rousseff. Our organization filed an impeachment request against her in June 2014, which [Congress] will vote on next September.
What are the charges against Rousseff?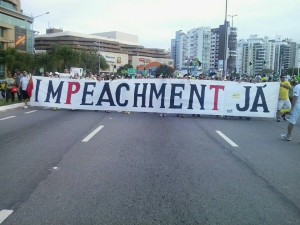 It is primarily that the president broke the fiscal responsibility law, which states that the national budget must have a minimum surplus. She attempted to skirt this limit by presenting doctored numbers that painted a better fiscal situation. The Court of Accounts is hearing this case.
In addition, she played an important — although indirect — role in the Petrobras corruption scandal. She served as chair of Petrobras's board for about eight years, during the Lula da Silva administration, on top of being president of Brazil for four years while the scandal unfolded.
If she didn't know [about the corruption], she had an obligation to know.
What are the chances impeachment goes through?
We think there is a great chance. Currently, we have 40 votes less than the necessary amount to approve the impeachment in Congress, but we believe that with every passing day it becomes more and more likely. It will probably happen in September or October.
Does Brazil enjoy a strong judiciary to prosecute corrupt politicians?
The judiciary in Brazil is reasonably independent. Sadly, the top judicial authority in the country, the federal Supreme Court, has been losing independence in recent years. Both Lula da Silva and Rousseff have appointed judges with strong ties to the ruling Workers' Party.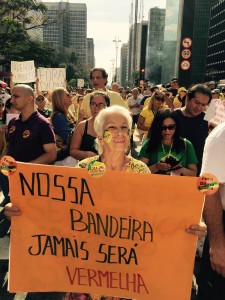 What does MBL have to say to those protesters who are asking for a return to military rule?
We absolutely reject those statements. It's like they lived in another country. They don't represent any movement, and they join our protests to garner attention. I didn't see anyone [on Sunday] carrying those kind of signs, but the press always manages to find them. Those who think that way are scum.
Is Brazil living a libertarian moment?
Yes, of course. It's a very special moment for classical liberal and libertarians ideas in Brazil. We are making the most of it to challenge the status quo. People are dissatisfied with this government, and we are trying to show them that there are alternatives beyond the PSDB. Libertarianism also has solutions for Brazil's problems.
Is there any political party channeling these ideas?
In Brazil, there is no party that embodies libertarian ideals. The one that comes the closest might be the PSDB, whose leader is [former presidential candidate] Aécio Neves. We hope to have a real liberal party in the future.
Neves supported the demonstrations, but he is still taking a cautious approach and continues to represent a very weak opposition.
He is very interested in running for president in 2018, so for the sake of his candidacy and his party, we expect the Dilma [Rousseff] administration to continue being quite poor, thus increasing Neves's chances of winning.