Push for Puerto Rican Independence Gathering Steam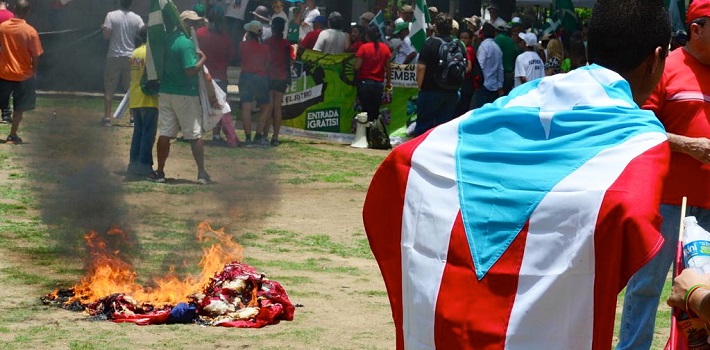 EspañolIndependence from the United States. That's what almost 2,000 Puerto Ricans in the island's capital of San Juan demanded on Sunday, June 14.
Protesters also called for the release of Oscar López Rivera, an independence activist and former member of the Armed Forces of National Liberation (FALN), who has been locked up in a US federal prison on conspiracy charges since 1981.
The march comes just days ahead of a meeting of the UN Special Committee on Decolonization scheduled for June 22, where nation members are expected to discuss the commonwealth's case, officially an unincorporated US territory.
The groups involved in organizing Sunday's protest included the Nationalist Party, the Workers' Socialist Movement (MST), New School, Caribbean and Latin American Coordinator, the Resistance Collective, and the Revolutionary Workers' Party-Macheteros.
At around 10:40 a.m. local time, the activists began their march on Ashford Avenue toward the Dos Hermanos bridge, and finished at Antonia Quiñones Plaza. Group representatives then gave speeches and artistic performances.
"We doubled our numbers this year," said Juan Dalmau, general secretary of the Puerto Rican Independence Party (PIP). "The march has been a resounding success. We demand independence, and this year we also demand that Oscar López be freed. Ashford Avenue has been flooded with patriotism and commitment to independence."
Héctor Pesquera, spokesman for the Hostosian National Independence Movement (MINH), says it's been a long time since an event for independence was so successful. "Necessity is forcing us to come together. It's the only way out for this country facing colonial collapse."
En marcha por la Independencia de Puerto Rico y libertad por Oscar López. ¡Viva Puerto Rico Libre! pic.twitter.com/VvVg60miGD

— Juan Dalmau (@juandalmau2016) June 14, 2015

"We march for Puerto Rico's independence and Oscar López's freedom. Long live Free Puerto Rico!"
Tantas atrocidades en contra de nuestro pueblo por parte del gobierno estadounidense y todavía hay gente que se atreve a defenderlos.

— Puerto Rico Libre (@MPPI_PR) June 14, 2015

"The US government committed so many atrocities against our people, and there are still people who dare to support it."
During the protest, activists burned a US flag, and Puerto Rican Senator María de Lourdes Santiago, vice president of the PIP, read a letter from Rivera: "The Puerto Rican diaspora should remain united and feel the power that it has the potential to achieve," said the activist, who has spent the last 12 years in solitary confinement.
"The same should happen inside Puerto Rico. We should see ourselves as 8 million strong, not divided in half. We cannot allow the colonial situation to last much longer." After reading Rivera's letter, the senator called on her fellow Puerto Ricans to join the independence movement.
Liliana Laboy, spokeswoman for the Independence Dialogue Roundtable, says the protest proves that several socialist organizations can work together toward the same goal.
Representatives of the Sovereign Union Movement (MUS) participated in the event, but did not play a central role. "Besides independence, we also need to demand sovereignty, and the sovereignty of free association is on the path toward independence," MUS member Rosa Bel Bayrón said.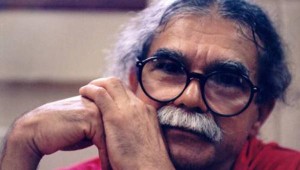 Who is Oscar López Rivera?
Since the 19th century, the Puerto Rican independence movement has oscillated between violent, revolutionary tactics and peaceful, institutional strategies to try and liberate themselves, first from Spain, and then from the United States.
In 2012, Puerto Rico carried out a referendum to determine whether or not residents wanted to become a US state. Only 5.5 percent of the population favored independence.
In total, 809,000 Puerto Ricans voted to integrate further with the United States, while 441,000 wanted the island to become a free associated state, and just 73,000 cast a ballot for full independence. Controversy erupted over the high number of blank votes.
In 1981, the FBI arrested López Rivera and accused him of seditious conspiracy, use of force to commit robbery, interstate transportation of firearms, and conspiracy to transport explosives with intent to destroy government property.
A federal grand jury sentenced Rivera to 55 years in prison the same year, later receiving an additional 15 years after he tried to escape from jail in 1988.
Before he was arrested, Rivera was an active member of the FALN paramilitary group fighting to bring independence to Puerto Rico. In 1999, he rejected a conditional pardon offered by former US President Bill Clinton.
For some, Rivera is a political prisoner and a revolutionary hero, while for others — such as the victims of FALN attacks and their families — a terrorist.
On June 10, the New York City Council, presided over by Puerto Rican Melissa Mark-Viverito, passed a resolution urging President Barack Obama to grant the 72-year-old clemency. "[Rivera's] continued incarceration is unjust and serves no legitimate purpose," Mark-Viverito said.
Related Posts
Mexico's Supreme Court Rules States Must Recognize Gay Marriage
EspañolGay marriage in Mexico is now effectively legal throughout the entire country, thanks to a Supreme Court ruling quietly issued on June 3 and made public on Friday, June 12. The court's decision makes it clear that any law that considers the purpose of marriage to be "procreation, and/or defines it as a union between a man and a woman, is unconstitutional." While the order does not abolish existing state laws banning same-sex marriages, it allows gay couples to turn to district courts individually. Judges are now obliged to grant gay couples a marriage license if they file an injunction with the court disputing the local ban. The first effort to expand marriage rights to same-sex couples came in 2000, when Enoé Uranga, a progressive Mexico City congresswoman, introduced a civil-union bill in the local legislature. The bill, however, stalled due to the influence of the conservative Head of Government of the Federal District Andrés Manuel López Obrador. It was not until November 16, 2006, under the administration of progressive Alejandro Encinas, that Mexico City passed the Cohabitation Law. The legislation went into effect in 2007 and recognized certain legal claims for all couples living together, regardless of sex, such as inheritances, Social Security benefits, subrogation, and child custody. In 2009, the same state legislature reformed its Civil Code, legalizing gay marriage and granting same-sex couples adoption rights. At the time, only the National Action Party (PAN) and the Ecologist Green Party of Mexico (PVE) opposed the bill, while five legislators from the Institutional Revolutionary Party (PRI) abstained. A Long Battle While the Supreme Court has previously ruled in favor of individual same-sex couples, enabling them to receive an injunction and get married, very few of Mexico's 31 states have legalized gay marriage within their jurisdictions. Since the 2009 landmark law when Mexico City became the first Latin-American jurisdiction to allow gay marriages, strong opposition has emerged to counter the move. In the past, both the PAN and PRI parties have attempted to collect enough signatures to have the law declared unconstitutional. The Catholic church in Mexico has also called for its repeal. At the time, the Archdioceses of Mexico called the law "immoral" and said "the Church does not condemn people, but [does condemn] homosexual acts and the marriage of two same-sex individuals." However, in 2010, the Supreme Court upheld the federal district's law and declared same-sex marriages in Mexico City valid throughout the entire country. In May 2015, several groups under the banner of  Todos Por la Familia (All Together for the Family) marched and collected signatures against a similar gay-marriage bill in Chihuahua. LGBT Celebration Several LGBT associations and Mexican civil-society groups have welcomed the Supreme Court's latest decision on the issue. "It's a historic step toward recognizing the rights of the sexual-diversity community," the National Council to Prevent Discrimination celebrated in a press release. Beyond marriage rights, the Supreme Court's ruling also forbids any policy that "discriminates against someone on the basis of sexual orientation." Translated by Daniel Duarte.