Ecuadorians Protest Ballooning Price of Socialist Revolution
Español"Correa Out!" was the cry in Ecuador this week, as hundreds took to the streets from Monday onwards demanding the resignation of President Rafael Correa, after he unveiled a series of new taxes on Ecuador's hard-pressed middle class.
Pro-government demonstrators meanwhile faced Correa's critics head-on, assembling parallel counter-protests under the banner of the ruling Alianza País party.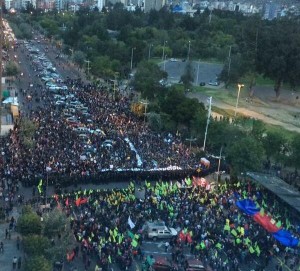 The controversy emerged after the president submitted a new law to the single-chamber Legislative Assembly — in which the government holds a wide majority — called the Organic Law of Redistribution of Wealth, better known by Ecuadorians as the Inheritance Law.
From Brussels, Belgium, where Correa is participating in a summit between the European Union and the Community of Latin American and Caribbean Stares (CELAC), he dismissed the protests.
"It's a shame they want to send us back to the past, manipulating people. We will respond with joy, with firmness, as we've always done," Correa told a press conference.
He further stated that fewer than 2 percent of Ecuadorians receive inheritances, asking European reporters: "Who among you has ever received a legacy in your life?"
Correa, at the helm of the Andean nation since 2007, said he agreed with Pope Francis's emphasis on greater redistribution of global wealth. "You can't have unlimited wealth. All unlimited wealth is unjust. That's why we've proposed a very reasonable system of taxes."
A heavy cordon of police officers meanwhile separated rival demonstrations in Quito, keeping the ideologically-divided groups from clashing. Opposition groups carried black flags as a "sign of mourning," Julio Clavijo, a parliamentary advisor to the opposition, told the PanAm Post.
Separated by only a few meters, the mobilizations traded chants and insults. Opposition demonstrators mocked Correa's supporters, alleging that they'd been paid by the government to attend the demonstration.
Elsewhere in the capital, rival groups of protesters clashed, while the authorities reported that opposition groups had attacked government sympathizers.
Anti-Correa demonstrators convened under the social media hashtag #FueraCorreaFuera, and called on motorists passing the meeting point between Los Shyris and República de El Salvador avenues to punch their horns as a show of support.
Mounting Tax Burden
With the price for a barrel of petroleum, Ecuador's chief export, remaining stubbornly below US$50, Correa's administration claims to have been left with no option but to make up the shortfall somewhere.
As a result, the president unveiled last Friday the Inheritance Law, which will charge a progressive tax rate on post-mortem inheritances or property donations worth over $35,400. Up until now, only those valued at more than $68,000 have faced taxation.
Despite the clear fiscal imperative for the taxes, Correa has claimed that their purpose is to "redistribute wealth."
Opposition leader Guillermo Lasso Mendoza was among the first to speak out against the new inheritance tax and in favor of the street mobilizations. Lasso also launched the hashtag #EstadoGallinazo ("Vulture state"), arguing that "the state doesn't only want to tax you when you're alive, but waits until you're dead to keep taxing you."
"The Correísta state is creating a sky-high tax, and it seems as though the guiding principle is to destroy the prosperity of the Ecuadorian family," Lasso added, saying the opposition could not accept "a model that tends towards the Cubanization of Ecuadorian society."
Este viernes 12 de junio a las 17H00 en el Parque Centenario de Guayaquil, vamos a decirle NO al #EstadoGallinazo. pic.twitter.com/3Pe1K4iOAX

— Guillermo Lasso (@LassoGuillermo) June 11, 2015

"This Friday, June 12, at 17:00 in Guayaquil's Parque Centenario, we're going to say no to the #VultureState."
Clavijo meanwhile announced that new marches would take place on Thursday and Friday in various locations across Ecuador.
Another polemical bill presented to the Assembly in recent weeks is the Capital Gains Law, a proposal officially dubbed the the Organic Code of Territorial Organization, Autonomy, and Decentralization.
The initiative, presented before the national congress on June 8, argues that surplus profits on the transfer of property are ripe for greater state taxation.
"If  you want to sell your property for $80,000, and originally the property was worth $60,000, the state is going to charge you around 75 percent of your $20,000 profit," Clavijo told the PanAm Post.
Correa argues that the tax hike will target "any additional value which isn't fruit of the direct activity of the owners of these goods, this illegitimate profit, and which normally comes from public resources."
As such, any Ecuadorian speculating with the sale of land will be forced to think twice, the Correa administration claims. The full text of the law of the Distribution of Wealth can be read below: