No More Dunkin' Donuts for Puerto Rico
EspañolThe most famous American donuts company, Dunkin' Donuts, will close all 18 locations in Puerto Rico after 13 years on the island. The decision was confirmed on October 9 after the company succeeded in getting a judicial annulment of the contract with the Florida-based Wometco Donas Inc., which has been operating the franchises on the island.
Michelle King, senior director of global public relations for Dunkin' Brands Inc. told EFE, a Spanish news agency, that the company is pulling out of the island's market and that it is the outcome of a litigation process.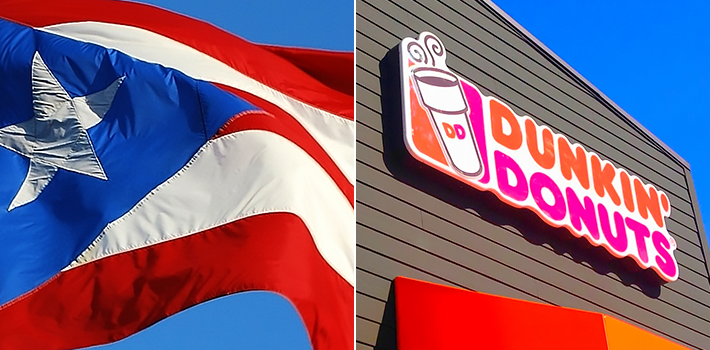 "Earlier this year Dunkin' Donuts filed suit to terminate the franchise agreement with Wometco Donas, Inc. The 18 Dunkin' Donuts shops in Puerto Rico, all of which have been operated by Wometco, were ordered by the Federal Court to cease operations by Sunday, Oct. 5," King explained.
Dunkin' Donuts claims that the reason behind the cancellation of the contract is the debts owed to them by Wometco — at least US$195,000 of unpaid franchise fees. The franchise chain sued Wometco in January for continuing to use the Dunkin' Donuts brand, even after the agreement between both parties had been violated.
"We apologize for any inconvenience this has caused our loyal guests," King said. "We are committed to Puerto Rico, and we look forward to serving people on the island in the future. As this matter involves pending litigation, we are unable to comment any further."
The operation's official Facebook page, Dunkin' Donuts Puerto Rico, only lists 17 stores — not 18 as was communicated by EFE — set to close. These include Route 66 outlets and various shopping centers.
Puerto Rico in Economic Crisis
Luis Davila — a lawyer, news analyst, and radio host in Puerto Rico — says that Dunkin' Donuts is leaving the island over a dispute, but that the economic downturn is an important consideration.
"These franchises that operate with local entrepreneurs are the ones who have to capitalize and expand. In this case, Dunkin' Donuts wanted more money and capitalization before the fierce competition of Kispy Kreme."
According to the analyst, Starbucks and Krispy Kreme are Dunkin' Donuts' direct competition, since they both offer pastries and coffee: "Both chains have expanded strongly in the island."
But the point beyond dispute, Davila says, is that the economic depression has played a strong role in the closure of the 18 locations on the island.
"It's a bit of everything. The [recession] began in Puerto Rico in 2001, and even in 2014 the government has not found a way out. There are so many closed businesses, [yet] government is adding more taxes and creating barriers to trade."
For the analyst, the economic downturn has caused more than half of Puerto Ricans to migrate to the United States: "Every year, about 75,000 people leave the island. While 3.5 million people currently live in Puerto Rico, 5 million [Puerto Ricans] reside in the United States."
He also added that "contrary to Cubans who escape from their island on rafts and without any visas, Puerto Ricans do it on a jet and with citizenship."
Finally, he said that given a contracting economy and a population that migrates and is getting older, it is logical to conclude that "businesses are suffering, especially cafes, restaurants, bakeries, and bars."
Puerto Rico is suffering an economic and fiscal crisis due to the fact that the island's debt is approximately $110 billion, according to a reported released in July by the local Association of Authorized Public Accountants (CCPA).
The board of experts have expressed their concern and issued a series of recommendations to overcome the magnitude of the crisis and develop an economic plan to achieve fiscal discipline.
"Raising taxes may be a part of the solution, but not the solution," the report says. "We must follow the pattern of other countries, where the crisis has been addressed with a substantial cut in public spending … That is to say, do not allow the tax system to obstruct the productivity of the country."