Jamaica Moves to Decriminalize Marijuana by Year's End
EspañolOn Tuesday, the Jamaican Minister of Justice, Mark Golding, announced the proposal of a new law that would decriminalize the medical and religious use of marijuana. Golding also seeks to change possession of small amounts of marijuana for recreational purposes to a misdemeanor offense.
The minister made the announcement as Parliament closed debate on a separate bill that seeks to clear the criminal record of convicted marijuana offenders. If passed, the new law would go into effect before the end of the year, reducing the penalty for possession of two ounces or less of marijuana to a small fine.
Golding told reporters that Jamaica is "well positioned to be a forerunner" of research into the therapeutic use of ganja, the local term for marijuana.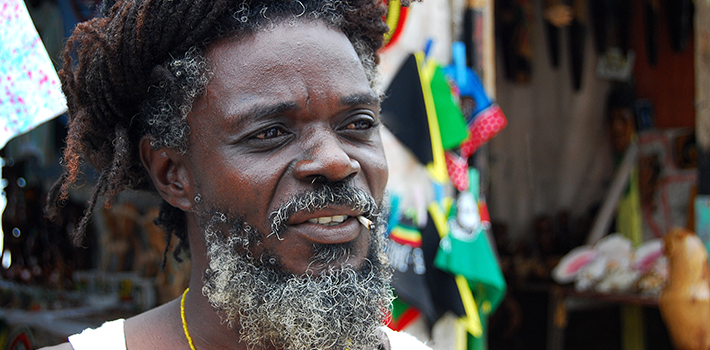 Golding also hopes to decriminalize marijuana use by Rastafarians, who consider the plant "a sacred herb." The Rastafari spiritual movement originated in the 1930s in marginalized neighborhoods in the country's capital, Kingston. Rastfarians say their way of life embraces the spiritual use of marijuana and the rejection of materialism.
The current Jamaican Law of Dangerous Substances prohibits all forms of marijuana use, including for scientific and medical purposes. In June, the Ministry of Justice published a report on the potential changes to this law. If the new legislation is passed, a government body would be created to regulate cannabis use.
The government's report said Jamaica will look to adopt legislative measures similar to those seen in countries like Canada, Argentina, Portugal, and the Netherlands.
"I wish to stress that the proposed changes to the law are not intended to promote or give a stamp of approval to the use of ganja for recreational purposes," Golding said in June. "The objective is to provide a more enlightened approach to dealing with possession of small quantities."
"It is not only wrong, but also foolhardy, to continue with a law that makes it illegal to possess ganja and its derivatives for medicinal purposes," Golding warned.
Clearing Criminal Records
On Tuesday, Minister of National Security Peter Bunting announced the proposal of a parallel law, in addition to the decriminalization measure. This second legislative initiative proposes clearing past minor marijuana convictions from the criminal records of those convicted.
The Council of Ministers has approved a new regulatory framework to allow the commercial cultivation of medicinal marijuana. According to Bunting, these measures are part of an effort to modernize Jamaica's treatment of marijuana. However, Bunting also said law enforcement will continue to combat large-scale commercial cultivation.
For Ethan Nadelmann, director of the NGO Drug Policy Alliance, news of decriminalization in Jamaica is a "big step forward." According to Nadelmann, it is a noteworthy development that Jamaica "is reforming policies relative to possession, as well as religious and medical use, more or less at the same time."
With the support of opposition parties, Prime Minister Portia Simpson-Miller has a majority in Parliament, and should not experience any major obstacles when attempting to secure the law's passage.
Critics Point to the "Myth" of Decriminalization
Luis Fleischman, principle advisor to the Menges Hemispheric Security Project at the Center for Security Policy, told the PanAm Post that this development is far from good news for the region: "Those who believe that decriminalization of one particular drug, or decriminalization of drugs in general, are likely to solve the problem of criminality are wrong. Too many countries in Latin America and the Caribbean are facing the challenge of anarchy as a result of drug trafficking."
For Fleischman, government officials and law enforcement have been victims of the corruption that causes the drug business, and therefore, the problems of extortion, vulnerability, and moral decline will not be solved through legislation.
"Countries where marijuana has been decriminalized and that don't yet face the kind of serious problems that countries of Central America and the Caribbean face, such as Uruguay, are going to become Meccas of drug addicts. I do not see anything positive in legalization. It is a libertarian myth and an illusion."
Translated by Alex Clark-Youngblood.