Embarrassment Looms for Brazil as Delays, Corruption Plague World Cup Preparation
EspañolBrazil is one month away from the start of World Cup 2014, when the host country meets Croatia in the city of São Paulo. However, with less than 30 days left to prepare, concerns mount over unfinished stadiums, allegations of corruption in construction contracts, an increase in inflation, a surge in violence in the favelas of Rio de Janeiro, growth rates lower than expected, and the declining public image of Dilma Rousseff.
The football tournament will cost the Brazilian public US$11 billion for the construction of 12 stadiums in major cities throughout the country. Four of the 12 stadiums are still under construction, including the inaugural stadium in São Paulo, and those in Curitiba, Cuiabá, and Porto Alegre.
A #Copa2014 movimenta a economia, gera emprego e torna o país um dos principais destinos turísticos do mundo! o/ pic.twitter.com/CxtKTJWYa3

— Rede do Esporte (@RedeDoEsporteBr) May 12, 2014
Jerome Valcke, secretary general of the International Federation of Football Associations (FIFA), said "we have been through hell in Brazil," referring to the delay in construction. He also expressed his frustration over having to negotiate with all three levels of government (federal, state, and city) in order to advance the work.
"We should have been delivered stadiums in December, and instead we're getting them on May 15," said Valcke.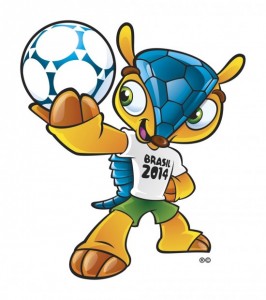 Lamartine Pereira da Costa, professor of Olympic Studies and Sports Management at Rio de Janeiro State University and the University of East London in England, has also criticized the organizational delays in preparing for the World Cup.
"Despite Brazil having experience in large projects, we have rarely seen delays like those in preparing for the World Cup," he said.
Organizers have warned that many of the new stadiums may experience problems with their wireless internet connections. Meanwhile, work continues around the clock to try and avoid the saturation problems experienced during the final of the FIFA Confederations Cup 2013.
At the same time, President Dilma Rousseff has dropped 8 percentage points in public opinion polls over the last six months. The president, however, is still expected to win reelection.
"Brazil can be a champion [at the World Cup], and I can lose the election. Brazil can miss it, and I can be reelected. The two are not linked. But make no mistake, I will be cheering for Brazil to be the champion," said the president.
[FOTO] Tudo pronto para o segundo evento-teste da Arena @Corinthians. pic.twitter.com/BDEnBuBTVZ

— Rede do Esporte (@RedeDoEsporteBr) May 10, 2014
Another issue presently on the table is the possible resurgence of mass protests that were experienced in June of 2013, when half a million Brazilians took to the streets to condemn what they regarded as excessive spending and "rampant corruption" leading up to the FIFA Confederations Cup 2013.
These concerns are coupled with a rise in violence in the favelas of Rio de Janeiro, where seven World Cup matches will be held, including the final. This may lead the government to put forth a strong police presence, including some military, in the interest of safety for tourists.
So far in 2014, six policemen has been killed by guerrillas allegedly linked to drug trafficking. As a result, the Rousseff administration will mobilize a record sum of 170,000 security force members during the tournament and will deploy 30,000 troops to guard its borders.
"The World Cup will mean a huge improvement to our security. We offer heavy security," she said.
Órgãos de segurança pública simulam escolta de delegações em Brasília. Confira como foi: http://t.co/1EPlUSR4Vl pic.twitter.com/bhvWkVsoub

— Rede do Esporte (@RedeDoEsporteBr) May 8, 2014
Investment and Growth or Inflation and Corruption?
Roberto Chiocca of the Mises Institute of Brazil denounces the large amount of taxpayer-funded spending in the organization of this event in a statement to the PanAm Post.
"All of the investment will not be recovered. The expenses in creating giant stadiums that hold over 30,000 people were made in cities where the average attendance to the tournament will not exceed 3,000 people."
Chiocca believes these stadiums will become "white elephants" in time, since these cities will not be able to maintain them.
The president, however, has assured that the work being put in for the World Cup will benefit the entire country even after the tournament ends, citing transportation and airports as examples.
Nonetheless, the economic growth that was expected as a result of the World Cup has not been realized. In an interview with Semana Económica, Hugo Perea, head of BBVA Economic Research Studies, said that "the economic impact was never expected to be very big, but it has been even less than expected."
Similarly, Sixto Otoya, an economic research analyst at Credit Bank, explained that since investment is mostly public, growth is less sustainable, and the World Cup will likely cause inflation in non-tradable goods, such as restaurant dining and other services.
However, figures from the Brazilian Ministry of Tourism estimate that, though mostly temporary, the World Cup will create 47,900 new jobs, a 35.2 percent increase compared to the previous year. Further, more than 600,000 foreign tourists are expected to visit the country during the football tournament, in addition to the 3.1 million domestic tourists.
The discovery of alleged corruption in the financing of political campaigns has also appeared to contribute to the outrage surrounding the World Cup in Brazil. A report by the Associated Press described an exponential increase in campaign contributions from those that won building contracts for the new stadiums.