Leopoldo López's Wife Visits D.C., Denounces His Political Imprisonment
EspañolOn Monday in Washington, D.C., Lilian Tintori, wife of Venezuelan opposition leader Leopoldo López, denounced the human rights abuses against her husband and urged the international community to pressure Venezuelan President Nicolás Maduro to release political prisoners.
"We are asking for solidarity. We do not wish upon any country what Venezuela is going through. We do not wish for anyone to live under a dictatorship. We believe in the value of foreign affairs, and we know what other countries have to say is important," said López's wife at a press conference held at the National Press Club.
Along with López's parents and his lawyers, Tintori has also visited Boston and Florida on her tour of the United States. She has previously made stops in Colombia and many European cities, including Madrid, Paris, and Rome where she was received by Pope Francis.
After visiting Washington D.C, she will then travel to South America in her attempt to deliver a call for her husband's release throughout the world.
Seguimos llevando al mundo que esta pasando en VENEZUELA. Como sistemáticamente se violan los Derechos Humanos! #LiberenALeopoldo

— Lilian Tintori (@liliantintori) July 22, 2014
We are showing the world what is happening in Venezuela. Human rights systematically violated.
Leopoldo López's trial is expected to take place on Wednesday, however, his lawyers do not believe he will be given a fair proceeding. Jared Genser, one of López's lawyers, has said that "the entire judicial process is a joke" in Venezuela. "We do not believe he will have a fair trial," he added.
His family believes that López has been unfairly treated while in prison as well.. His wife has stated on numerous occasions that his rights as a prisoner have been denied. She claims he has been isolated and denied any interaction with visitors or other inmates in prison.
Todos los abusos y toda Violación de los Derechos Humanos en la cárcel de Ramo Verde hacia @leopoldolopez ha estado registrado y denunciado.

— Lilian Tintori (@liliantintori) July 19, 2014
All of the abuses and violations in "Ramo Verde" military prison have been registered and denounced.
On Monday afternoon, Attorney General Luisa Ortega Díaz denied López is being held in isolation, claiming he was been allowed to "attend mass," among other reasons.
Quien será el valiente que desmentirá a la FISCAL general? Digan la VERDAD no sigan mintiéndole al pueblo de Venezuela.

— Lilian Tintori (@liliantintori) July 19, 2014
Who will be the brave one to confront the Attorney General? Tell the truth and stop lying to the Venezuelan people.
A photograph of López attending mass was released that same afternoon through a Twitter account named "Verdades Judiciales". In the photograph, López is seen attending what appears to be mass with other inmates, including the Mayor of San Cristobal Enzo Scarano, who was also taken as prisoner a few months ago. The account has only 18 followers and has only tweeted photographs that have damaged López's defense.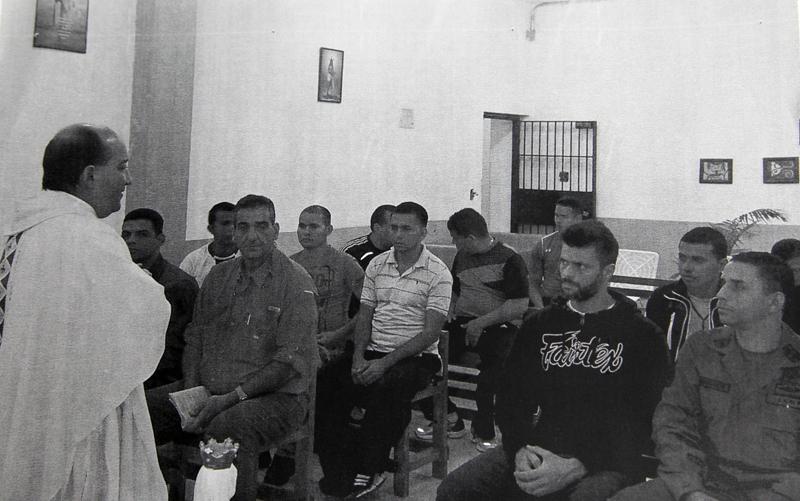 It wasn't until hours later that Juan Carlos Gutiérrez, one of López's lawyers, announced that prison authorities had revoked López's isolation.
Producto de las denuncias que presentamos por violación de Derechos Humanos durante estos 5 meses hacia @leopoldolopez

— Lilian Tintori (@liliantintori) July 22, 2014
It was the result of the many human rights violations we filed for five months for @leopoldolopez.
After a number of complaints and reports were filed by the defense in previous months, López and the mayors of San Diego, Carabobo, and San Cristobal, Táchira, Enzo Scarano and Daniel Ceballos, were finally able to exert their rights as prisoners.
López is a prisoner in the "Ramo Verde" military prison. He is facing charges of conspiracy and instigation of violence related to the protest marches he led on February 12 in Caracas.
Lopez turned himself in to authorities in dramatic fashion on February 18, after leading a march through Caracas alongside thousands of protesters.