Alejandro Chafuen Unearths the Christian Roots of the Free Market
EspañolCapitalism and the free market are routinely criticized throughout Latin America. Entrepreneurs are accused of being selfish, unethical, and enriching themselves at the expense of others.
In that sense, there is a widespread belief in Latin America that the free market is incompatible with Christianity. Therefore, very few Christians support free-market ideas, and those that do will, at times, come under fire from Christian leaders who question their morality. Some, like the theologian Rubén Dri, go as far as to say Jesus was the first socialist.
Faith and Liberty: The Economic Thought of the Late Scholastics by Alejandro Chafuen looks to dispel this misunderstanding. The book demonstrates that not only are Christianity and free-market economics compatible but that capitalism has been influenced by Christian thought from its outset.
At no point, however, does the book try to convert Christians to capitalist thinking.
Alex Chafuen is the president of the Atlas Network and founding president of the Hispanic Center of Economic Research (HACER). He is a member of the Mont Pelerin Society, and the Fund for American Studies (TFAS) awarded him with the Walter Judd Freedom Award 2014 for his tireless work in promoting classical liberal ideas.
In Faith and Liberty, the author studies the role of government leaders and the economy, while also analyzing the writings of diverse thinkers, such as Thomas Aquinas (c. 1224-1274), Cardinal Cajetan (1469-1534), Francisco de Vitoria (1483/86-1546), among many other Catholic exponents who developed economic theories long before Adam Smith.
The Scholastics
The book begins with an introduction to Late Scholasticism, or the Salamanca School (16th and 17th centuries), a theological-philosophical movement in Spain whose origins date back to St. Thomas Aquinas and St. Bernardino of Siena (1380-1444).
Late Scholastic writers focused on issues of morality, and most concluded human interaction cannot be separated from the study of ethics. They argued that the respect for freedom and rationality is essential for human interaction, including their economic activities.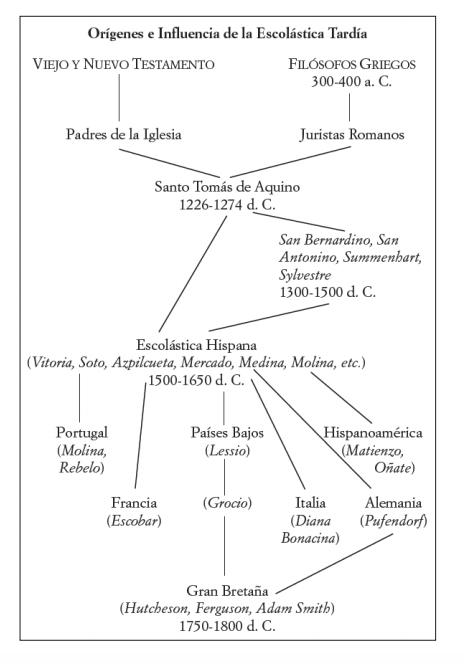 The Scholastics discussed diverse aspects of the economy and the relationship of human action with what is morally good. They dismissed the idea of private property as harmful, and demonstrated through Biblical and other purely logical arguments that private property benefits human development.
The Salamanca school also studied public finances, and considered the proper role of government in the economy. The theologian Juan de Mariana (1536-1624) believed that while governments limit freedom, they must be built on popular will in order to be considered legitimate.
De Mariana concluded that the state, necessary for human coexistence, must fulfill certain functions, and requires public financing to accomplish them. However, he noted that "revenue and spending should be balanced, and that funds come in as there is a need to verify payments." In other words, taxes should not be so high as to lead to excessive government spending.
The Late Scholastics also established monetary theories based on the works of Aristotle. Among their various conclusions, they wrote of the dangers a nation runs when its rulers can debase the currency.
Many of these thinkers, most of them virtually unknown these days, recognized the importance of individual freedom in achieving prosperity, even before the Scottish Enlightenment.
"I understand that any alteration in the currency is dangerous, and to devalue by law can never be good, nor to increase its value by law, since in itself and by common estimation it is worth less," said De Mariana.
The book also includes philosophical analysis of issues such as wage justice, the importance of trade to a nation, the foundations for the modern theory of value and prices, the distribution of wealth in relation to personal merit, and banking interest.
Through its 350 pages, the book presents the economic theories of Italian and Spanish philosophers belonging to this school with order and clarity. These were not brief commentaries on existing economic ideas, but rather advancements in the field.
For example, St. Thomas Aquinas continued Aristotelian thought and complemented it with his own reflections. Chafuen presents a detailed analysis of his teachings and confronts them with modern liberal approaches.
Faith and Liberty: The Economic Thought of the Late Scholastics is a great study on the depth with which these Christian philosophers drew conclusions on the free market. Many of these thinkers, most of them virtually unknown these days, recognized the importance of individual freedom in achieving prosperity, even before the Scottish Enlightenment.
This excellent book is required reading for those seeking to understand how Christian philosophy can provide a response to modern economic situations.
Translated by Rebeca Morla. Edited by Guillermo Jimenez.