Correa Takes on Market Forces with Slew of Employment Prohibitions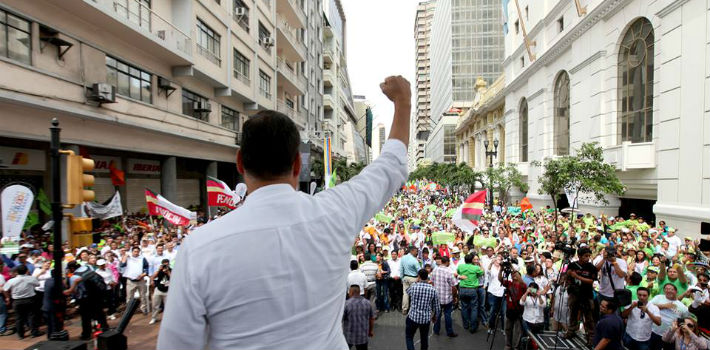 EspañolOn Saturday, Ecuadorian President Rafael Correa announced a set of wide-ranging reforms to the country's Labor Code. The proposal seeks a so-called modernization of the wage system, "democratization" of trade union representation, and a universal social-security system.
"This is about placing the dignity of the human being and his work above capital and the market," said the president.
Correa made the announcement during an event held by the ruling PAIS Alliance party in the southwestern city of Guayaquil. During the event, Correa presented the newly created United Workers Trade Union Federation (CUT), an organization established by the ruling party to unite public and private workers.
Gracias país! Qué maravillosa demostración de civismo, apoyo y convicción por nuestra Revolución.
Un abrazo interminable.

— Rafael Correa (@MashiRafael) November 15, 2014
Thank you to my country! What a marvelous demonstration of community spirit, support, and conviction for our Revolution! A never-ending embrace.
Correa's public speech took the place of his regularly scheduled radio and television broadcast. During the presentation, the president gave an overview of the labor reforms introduced during his administration, including ending the subcontracting of labor and the non-compensated dismissal of employees who have been under contract for more than two years. He also highlighted his policy of rewarding a year's salary to employees who have been fired based on race, sexual orientation, age, or disability.
"The demands of workers have been acted on like never before, because we are the government of the worker," said Correa.
Five-Point Reform
Correa submitted the five-point reform proposal to the president of the National Assembly, Gabriela Rivadeneira.
Conoce el proyecto de reformas laborales y de seguridad social: http://t.co/WFK3cs6OUe

— Gabriela Rivadeneira (@GabrielaEsPais) November 16, 2014
Get to know the social security and labor reform proposal.
The first point deals with strengthening job security, eliminating labor contracts in which a worker can be fired without compensation, as well as fixed-term contracts that do not provide employees with long-term job stability. The proposal also prohibits the firing of pregnant women and union leaders.
The second point establishes limits on the wage gap between the employees of a given company: the highest-paid employee can earn no more than 20 times the lowest-paid employee. If an employee's salary exceeds this limit, the excess amount must be given to the government in the form of a social security payment. If the payment is delayed, it will result in a fine for the company.
Correa is also proposing reforms that deal with the so-called modernization of the wage system. The government will allow both public and private sector workers to request their end-of-year bonus be instead distributed throughout the year as part of their monthly salary.
Furthermore, Correa aims to "democratize" private businesses, requiring that all employees be involved in the selection of the company's board of directors through a secret ballot.
The fifth and final point of Correa's proposed reforms mandates universal social security coverage. The objective is to extend coverage to 1.5 million domestic workers. Depending on each family's finances, the government would pay up to 90 percent of a household's health-care costs.
The law would also allow mothers to a receive a pension if they become disabled or if their husbands pass away, and would also provide life insurance payments to their children if they are orphaned.
Productive Sector Concerned
Luis Poveda, a representative of the Workers in the National Wage Council, believes Correa's reforms could lead to fewer jobs and reduced wage incentives. He told local newspaper El Comercio that the elimination of fixed-term contracts will reduce young people's access to these positions. "This will be harmful to young people who aspire to gain productive employment."
Richard Martínez, executive president of the Chamber of Industry and Production, agreed with Poveda that the elimination of the fixed-term contracts is detrimental to younger workers who tend to spend a few years trying out different types of jobs.
In an interview with Ecuavisa, Martínez added that trying to close the salary gap will remove the incentive to study abroad for many Ecuadorians. He argues that this will place an artificial limit on progressive wage increases and eliminate monetary incentives for the professional class.
Reelection on the Table
During his labor-reform speech, President Correa also mentioned the constitutional amendments currently before the National Assembly, placing particular emphasis on the issue of indefinite reelection. If the amendments are approved, Correa would be allowed to run for a fourth presidential term.
Although the president has previously spoken out against the prospect of indefinite reelection, he now considers it part of his "citizens revolution."
"I never wanted the amendment for the reelection, but we should be aware of the historical moment in which we live," said Correa.
On October 31, the Constitutional Court of Ecuador ruled that the National Assembly could vote on the indefinite reelection amendments. The opposition party hoped the issue would instead be put on a national referendum, since the ruling PAIS Alliance holds a controlling majority in the assembly.
Translated by Alex Clark-Youngblood. Edited by Guillermo Jimenez.
Related Posts
Striking Workers Plan to Spoil Walmart's Black Friday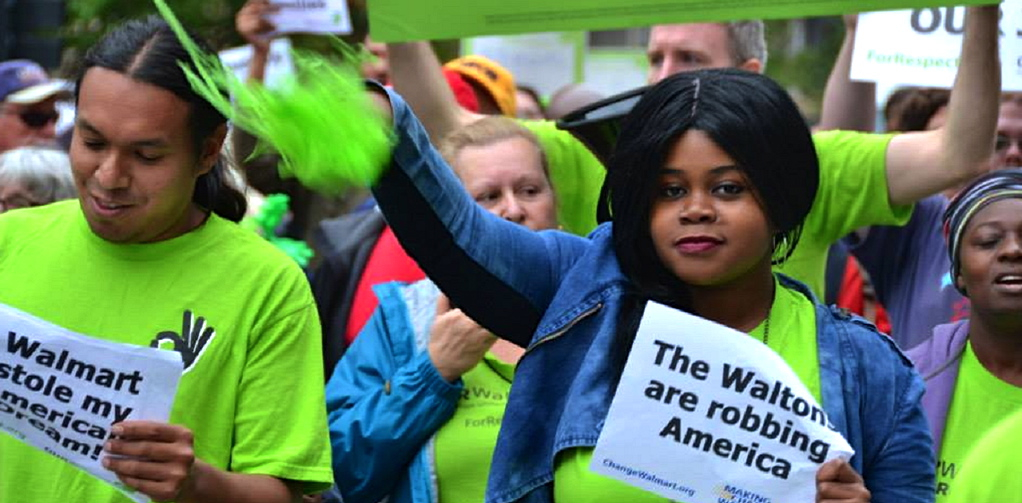 EspañolWalmart workers and labor groups are planning to protest at more than 2,000 stores on Black Friday to demand higher wages and better working conditions. Black Friday is the day most retailers expect to go from losing money — being "in the red" — to getting back "into the black" and turning a profit, and is largely considered the biggest shopping day of the year in the United States. The Organization United for Respect at Walmart (OUR Walmart) is coordinating the demonstrations, as it has in years past, to demand workers be paid at least US$15 per hour and be given greater opportunity for full-time work. The group says Walmart's yearly profits total over $16 billion and should allow the company to provide better wages for its employees. "Walmart can afford to pay us more, but instead, they manipulate our schedules and hours and pay most of us less than $25,000 a year. That's not enough for us to pay our bills," says the campaign website. While Walmart executives claim the average hourly wage for a store employee is $12.78 an hour, OUR Walmart says wages generally range between $8 and $10 per hour. "[The] wage rate does not take into account part-time average wage, which is up to 49 percent of the company's workforce," claims the labor group. The federal minimum wage in the United States is $7.25 an hour. https://twitter.com/AFLCIO/status/534037940083494913 The Black Friday protesters launched an online petition, which already gathered over 70,000 signatures, to demand a response from the Walton family, owners of the largest retailer in the world. "Income inequality is the highest it's been since 1928. Corporate profits are at an all-time high. Meanwhile, wages are at the lowest point since 1948 – even as productivity increases," says the petition. Demonstrations began this year on November 13, when roughly 30 Walmart employees carried out a silent sit-in protest at a store in Los Angeles, California. The Los Angeles Sheriff's Department later arrested 23 Walmart workers who protested outside a different store location. https://twitter.com/greenhousenyt/status/533090990664724480 Walmart Responds Walmart spokesman Brooke Buchanan said the company does not retaliate against workers who strike or protest for better working conditions. "The reality is that few Walmart associates participate in these labor-organized protests," she said. CEO Douglas McMillon said last October that only a minority of Walmart employees earn the minimum wage. "We only have a few thousand associates in the [United States], less than 6,000 of our 1.3 million associates in the [United States], that currently make a minimum wage, and it is our intention over time that we will be in a situation where we don't pay minimum wage at all," explained McMillon. In 2013, over 22 million people shopped at Walmart during Black Friday, and the company expects an even greater number this year based on price drops in electronics, games, and other products. OUR Walmart claims it disrupted company sales in over 1,200 stores on Black Friday in 2013. Fast-Food Workers Strike Earlier this year, fast-food workers protested across the United States and 33 countries around the world in response to social inequality and to demand a minimum wage of $15 per hour. The protests sprang up amid nationwide debate over income distribution, and a proposal from the Democrats to increase the federal minimum wage to $10.10 per hour. Republicans in Congress ultimately rejected the proposal. Goodbye Low Prices Walter Block, an economics professor at Loyola University New Orleans, explained to the PanAm Post that those who demand a $15 per hour minimum wage falsely believe salaries are based on employer generosity. "This is incorrect. The correct theory of wage determination is based upon productivity of the worker," said Block. "Why is it that a lawyer can earn $500 per hour, an accountant $200 per hour, a plumber $50 per hour, [and] a person who pushes a broom $10 per hour? Is it because of the different amounts of generosity of their employers? No, it involves productivity." Block claims increasing the minimum wage will lead to greater unemployment, because employers will not hire workers who are less productive than they are federally mandated to earn. "Suppose the productivity of a worker is $10 per hour, and the minimum wage is $15 per hour. Any employer who hires him will lose money. The firm will not hire such a person. He will become unemployed. Who gains from the unemployment of relatively low skilled, low productive people? Unions who compete with them. The minimum wage is an unemployment law." Best-selling author and investment broker Peter Schiff believes the minimum wage issue has less to do with whether or not the public wants an increase, and more to do with whether it is economically feasible. "First, say goodbye to everyday low prices! In order to stay in business, Walmart would have to start charging more, not less," Schiff told the PanAm Post.  "Because of the minimum wage, consumers miss out on the indirect benefits of free labor relations, including lower prices. Without a minimum wage, everyone ends up winning: producers, workers, and consumers," said Schiff. "The producer gets higher productivity, which yields a better bottom line. The worker gets a job which gives him money, on-the-job training, and work experience. Finally, the consumer — and we are all consumers — gets to spend less than he otherwise would have for the same goods and services," he explained. Translated by Adam Dubove. Edited by Guillermo Jimenez.