Corruption Revelations Haunt Mauricio Funes in Final Days as Salvadoran President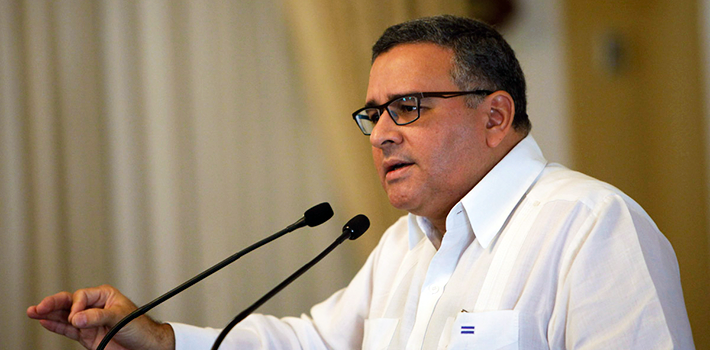 EspañolOn Saturday, the presidential term (2009-2014) of Mauricio Funes will come to an end, the first ever for the Farabundo Martí National Liberation Front (FMLN), aligned with 21st Century Socialism. Funes, however, is leaving his duties amid strong accusations of corruption and with a constitutional case against him pending with El Salvador's Constitutional Chamber of the Supreme Court. As this case awaits a decision, it prevents him from being a congressman of the Central American Parliament (PARLACEN), since that position would give him constitutional immunity.
El Faro, the main online newspaper in El Salvador, on Monday chronicled in great detail the corruption that has arisen during this presidential term. The article, "President Funes, a Chain of Favors and a Spa," examines the creation of crony relationships that have benefited Mauricio Funes as well to his close friends and collaborators, many of whom were part of the movement called "Mauricio's Friends."
I Get By with a Little Help from My Friends
This was a group formed by people supporting the Funes's ideals but who were not members of the FMLN. The objective of Mauricio's Friends was to complement the work of the political party in favor of Funes, to help him win the presidency.
One of the main leaders of this finished movement was Miguel "Mecafé" Menéndez, who, according to El Faro, gained many valuable government positions for his friends, business partners, and trusted employees. Among them was Ada Luz Sigüenza Guzmán, whose daughter Ada Mitchell Guzmán has been sentimentally involved with the president.
The article highlights at least one loan given to the private partnership Mecafé, owned by Menéndez, from Banco Hipotecario (mortgage bank), which is run by the Salvadoran government. The loan went to build and support a health spa under the administration of Ada Mitchell Guzmán.
El Faro writers Efren Lemus and Carlos Dada allege that this loan had been assigned to the Mecafé company but ended up with the newly formed firm Latin America Spas. This new firm proceeded to buy a house in an opulent neighborhood of San Salvador — at a quarter of the market price — and began to remodel the house.
At the same time, the Mecafé company purchased an unused plot in another wealthy neighborhood of San Salvador, upon which a luxurious mansion was constructed in seven months. Although initially advertised as available for rent, this house is not registered with the National Center of Registers.
Via a news release the president has denied El Faro allegations. However, other news outlets have since picked up the story and confirmed that Funes does, in fact, plan to live in this subsidized mansion when his term ends.
Funes Seeks Immunity of Central American Parliament
This month, Mauricio Funes also demonstrated his interest in a place in the Central American Parliament (PARLACEN). As a congressman there, he contends, he could continue to help El Salvador and Central America.
PARLACEN's mission is to represent the countries of Central America and the Dominican Republic, to exercise parliamentary functions of the community system of regional integration and to strengthen the union of the countries involved. Article 2 of this Constitutional Treaty provides that ex-presidents, if they wish, can become part of the Central American Parliament as congressmen. They can do so without competing in an election.
One of the main benefits that a member of the PARLACEN receives is constitutional immunity, at least during his five-year term. While Mauricio Funes has denied these corruption allegations, he is forging a path that would block prosecution on the matter.
Constitutional Chamber Delays Funes's Path to PARLACEN Congress

On Thursday, the Constitutional Chamber of the Supreme Court accepted a case against president Funes and his plan to become a member of the PARLACEN Congress at the end of his presidential term.
Five citizens have placed a request that seeks a declaration that Article 2 of the Constitutional Treaty is contrary to the Salvadoran Constitution. The argument is that these public officials have not been popularly elected to be part of the parliament.
The Constitutional Chamber, in accepting this request, has ordered the Supreme Electoral Tribunal (TSE) of El Salvador to abstain from conferring the credentials that would accredit Mauricio Funes as a member of PARLACEN, at least until the court comes to a resolution on the matter.
In an ominous development for Funes, however, Guatemala's Constitutional Chamber of the Supreme Court yesterday declared the automatic incorporation of ex-presidents to PARLACEN unconstitutional.