Mega-Gangs the New Plague in Venezuela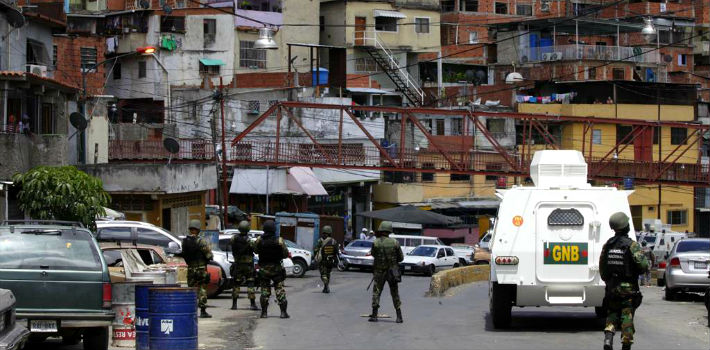 EspañolHeavily armed "mega-gangs" have taken over poor neighborhoods in Venezuela, according to the director of the Organized Crime Observatory, Luis Cedeño.
The sociologist says there are at least 10 mega-gangs currently operating in Venezuela, a product of prison culture transferred from jails to poor neighborhoods. Two organizations have become especially popular, and have had numerous confrontations with authorities: El Picure and El Juvenal.
Cedeño explains that "mega-gangs" are defined by the number men in the group and the firepower they possess. Each mega-gang is comprised of at least 60 members, and are known to carry AK-47 and AR-15 rifles, as well as explosives.
He says the government's failure to curb criminal-gang activity reached its peak with the creation of "peace zones," territories that are off-limits to police, where gang leaders are left to impose their will unabated.
"The Venezuelan government has been permissive in regards to crime. This stems from the justice system's role in creating impunity, as well as from the concoction of the so-called 'peace zones,'" Cedeño says. "The supposed intention was to diminish homicide rates by avoiding confrontations among gangs. But it backfired, causing other types of crime to increase in these areas that are now run by criminals."
The expert referenced events of Monday, July 13, when the military and police deployed over 3,000 agents to combat illegal activity in four areas of the country where large gangs operate. The government called it "Operation for National Liberation and Protection (OLPP)," according to Interior and Justice Minister Gustavo González.
During the operation, authorities apprehended 247 people, recovered 28 stolen cars, and killed 17 gang members. According to authorities, among those detained were 40 Colombians allegedly linked to paramilitary groups.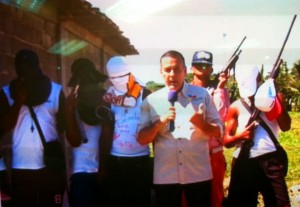 "We'll see if the government really intends to liberate all the areas that have been overtaken — not just by the gangs but also by armed colectivos — using the prison model which revolves around a leader that imposes his own rules, has a large number of followers, and makes crime a way of life," Cedeño said.
For lawyer and criminologist Fermín Mármol García, the rise of these mega-gangs dates back to 2012, when the National Pacification Plan was established during the Hugo Chávez administration. The government's plan was to have criminals give up their life of crime in exchange for work in the agriculture industry.
"That type of proposal simply does not make sense in Venezuela, since the criminal knows full well he will make more money in crime than by working in a field. This led to gangs becoming stronger, larger, and taking over entire areas of the country," Mármol García explained.
Camouflaging Crime
According to both experts, the increase in crime in poor neighborhoods, coupled with the government's neglect, has forced residents to adapt.
"Venezuelans have no choice but to get used to living surrounded by crime and violence, because the state has abandoned them and their duty to protect them, pursue criminals, and suppress crime. People have so many problems, that they don't have any choice but to adapt to survive," Mármol García said.
Cedeño says it is precisely this fear that has turned communities passive in the face of the rise of these criminal mega-gangs, which ultimately replace the state in these areas as the law of the land.
"People know there is no rule of law, and that whoever substitutes it is welcome," he says. "In the end, it is the lesser of two evils when compared to absolute defenselessness. People prefer to get used to living with an organized mega-gang, than to have several gangs spread out confronting each other."
Related Posts
How Latin America's Top Libertarian Party Plans to Win in Costa Rica
David Rodríguez is a 23-year-old running to be a councilman for San Rafael, a township in the city of Heredia, Costa Rica. An outspoken defender of capitalism, his youth is part of a strategy from what is likely the most successful libertarian party in the world — at least in terms of achieving representation in office. Since formation in 1994, the Libertarian Movement Party of Costa Rica has established itself as a resilient political force in the Central American nation. However, their representation in the Legislative Assembly, four out of 57 deputies, is down on previous years. The party leadership have thus decided to build from the bottom up, and bet on a wave of young candidates for the upcoming municipal elections, to be held in February 2016. Costa Rica has 81 municipalities, each with a mayor, vice mayors, councilmen, and local councilors. Already, the Libertarian Movement has confirmed a slate of candidates for 70 of the 81, and plans to have a complete list by October 2015. While the full list and makeup of candidates is still in flux, Rodríguez says the party is leaning towards candidates under 35 years old in the most electable positions. Libertarian ideas don't tend to be popular in the political sphere, at least in Latin America. What accounts for the Libertarian Movement's success? I think it can be explained by several reasons. The Libertarian Movement Party was established in 1994, and it managed to become the third political force in the country by 2010. In recent years, it lost support at the electoral level, so we have started a process of rejuvenation of the party. The movement needed a fresh breath of air. Therefore, we have a project that aims to bring in young people. From October 2014 to date, about 500 new young members have joined the movement, and in a small country like Costa Rica, that is significant. Following that, we are also including many young candidates on the ballot for the upcoming municipal elections, and our goal is that they will achieve as many positions for councilors and vice mayors as possible. The idea is that the libertarian Costa Rican youth will have a leading role in these elections, and we will promote new figures and strengthen the party, looking forward to the elections of 2018, mainly to increase the number of legislators we currently have (four). How do you convey the ideas of liberty in an effective way to attract these young people? We have a very aggressive message in our social networks. Our chief whip, Otto Guevara, is also well known, and we have Natalia Díaz, the second youngest legislator in the country. Both have a very consistent liberal message, and that has attracted young people. Liberals generally stay in the academia. However, in this case, we believe that the youth are attracted to the liberal ideas, given a consistent ideological basis for the party. This has allowed us to have a very controversial and polarizing message regarding the spin to the left the country took in 2014. We have managed to contrast ourselves with the discordant message of the left's agenda, and that has attracted many young people frustrated by Costa Rica's poor economic situation. What are the Libertarian Movement's proposals? We propose municipalities that are focused on attracting investment. We believe that local governments must take the lead. If the central government is driving away investment, local governments must attract it to their municipalities, to help its citizens succeed with their own projects. At present, some municipalities harass entrepreneurs, or impose an incredible number of obstacles to prevent people from trying to start a business with ease. That results in a very high mortality rate for these companies. We believe that municipal regulations cannot work against the private sector. Rather, they should be seen as things that go hand in hand, since private investment makes it easier for people to start businesses and succeed. Moreover, the municipality also benefits from it, not only because its residents have more job opportunities, but because the municipality's rate of productivity increases. Furthermore, the environmental situation is very important in our country. The left has tried to polarize this issue, saying that we must choose either the economy or the environment. We want to show that sustainable development is not apart from liberalism, and that private initiatives can help to protect the environment. The idea is to innovate and demonstrate that a libertarian government is possible. We can have municipalities with efficient and effective services, which will help people lose the fear they have towards liberalism. How does the Libertarian Movement respond when progressive parties brand it as "radical"? In Costa Rica, the left was not accustomed to being in power. When they finally took power, instead of improving, things worsened. This has allowed us to tell citizens that if they apply our policies, we would not have these problems. This government is giving a clear example of what not to do. For example, our party published the list of salaries of all the civil servants — who are 15 percent of the national workforce. We showed they can earn up to three times more than what people normally earn in the private sector, and that has upset the citizens a lot. Thus, we demonstrated that we must reduce public spending. People also no longer believe that libertarians want to make everyone poorer so they can get richer. They see that those in the public sector are the ones encouraging the social inequality they complain so much about. We are a consistent party, with a message contrary to the current government, and the facts have proved us right. As a libertarian phenomenon, what will happen in the coming years in Costa Rica will be very interesting.