Canada Warns Tourists: Watch Your Back in Mexico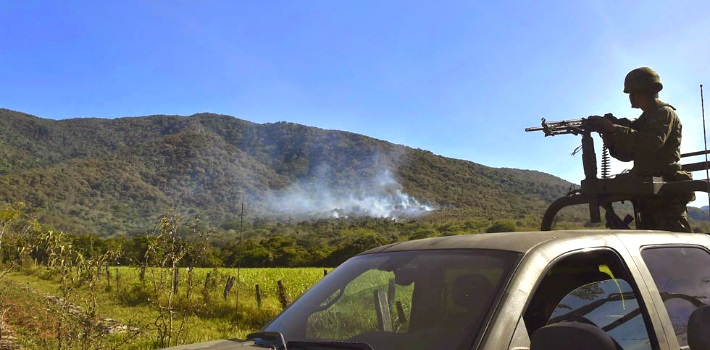 EspañolOn Monday, June 1, the Canadian government issued a warning for tourists bound for Mexico, amid a wave of violence between Mexican security forces and criminal gangs.
In a statement posed on the travel section of the Government of Canada website, Canadian authorities advise against overland travel through "potentially dangerous regions," instead recommending air travel.
Canada's advisory does not apply to Mexico nationwide, instead focusing on areas where cartels, police, and vigilante autodefensa groups are duking it out for control: the Pacific states of Jalisco, Michoacán, Baja California, and Nayarit, and the north-eastern states of Morelos, San Luis Potosí, Zacatecas, Veracruz, and Zacatecas.
"Some municipalities popular with Canadian tourists, including Guadalajara, Puerto Vallarta and Chapala in the state of Jalisco, are experiencing an increase in drug-related violence," Canadian authorities warned.
"As Mexican security forces battle against organized criminal groups, criminals have engaged in retaliatory actions such as arson attacks against businesses, gas stations and banks, shootouts, and blockades using burning cars," the warning explains.
Canadian media echoed the government's recommendation for citizens to "remain vigilant throughout [Jalisco] state and exercise extreme caution. Stay in tourist areas and follow local media closely. If you do venture outside urban areas, exercise extreme caution, including on major highways. Avoid travelling at night. It is not safe to travel near the border with Michoacán."
Authorities also advised Canadians to register on a database of citizens residing overseas.
Campaign Open Season
The warning comes after a similar advisory issued by the United States in May.
The US Department of State re-issued an alert following attacks on police carried out by the New Generation Jalisco cartel. Cartel members set up 39 roadblocks and took down a Mexican police helicopter with a rocket launcher on May 1.
Mexico is seeing a spike in violence ahead of June 7 elections, when millions of Mexicans will vote for over 2,000 offices, including for federal and state congressmen and local authorities. Nine Mexican states will choose their governors, while 17 will vote for local and national representatives.
Politicians have not been spared from the killing, with two candidates for office murdered in early May less than 24 hours apart. Enrique Hernández, a candidate for the mayoralty of Yurécaro, Michoacán State, was shot in front of dozens of people at a public square during a campaign rally.
Hours later a group of unidentified gunmen murdered Tabasco gubernatorial candidate Héctor López Cruz on his doorstep.
Canada's warning mainly recommends caution in rural zones. While regions most frequented by tourists such Sur de Vayarit, and cities like Tepoztlán, Guadalajara, San Luis Potosí, Xalapa, Veracruz, and Zacatecas remain relatively safe, the advisory urges travelers to remain alert to information issued by local Mexican authorities.
Related Posts
Venezuelan Political Prisoners Crack 10 Days of Hunger Strike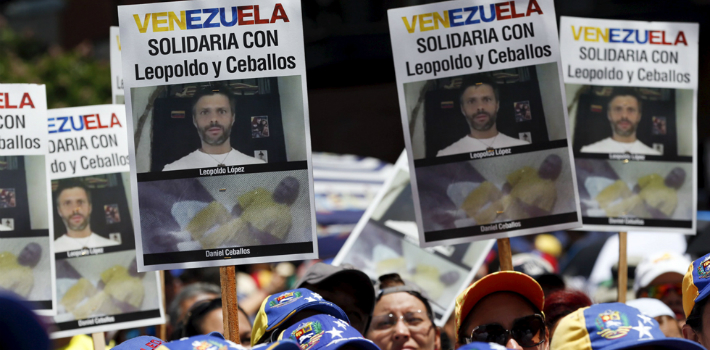 EspañolMonday, June 1, marked 10 days on hunger strike for Daniel Ceballos, while his neighbor in the Ramo Verde military prison, Leopoldo López, reached the same milestone Tuesday morning. Their demands remain the same, and are yet to be met. Both continue to be political prisoners, alongside dozens of other dissidents; the government continues to persecute the opposition; and the administration of President Nicolás Maduro is still yet to announce a date for parliamentary elections due to take place this year. https://twitter.com/Daniel_Ceballos/status/605344866852302848 "Alert! Daniel Ceballos has spent 10 days on hunger strike, Nicolás Maduro: respond to our request now!" Venezuela's National Electoral Council (CNE) has failed to explain why it has not set a date, beyond indicating that polls will take place in the final quarter of 2015. As a result, Ceballos and López have been joined by other opposition leaders outside of prison on hunger strike. Elections are due to see over 1,000 candidates contest the 167 seats of the National Assembly, but the opposition fears that the government is seeking to delay or even unconstitutionally suspend the ballot. Opposition leader and former presidential candidate Henrique Capriles Radonski argued that the delay in setting a date is due to the fact that the government "is not ruling out the possibility of suspending them." Capriles, current governor of Miranda State, has criticized the performance of Venezuela's electoral arbiter, branding top CNE official Tibisay Lucena the "commander in chief of abstention in Venezuela." According to opinion polls, the opposition is set to win the elections and triumph over the ruling United Socialist Party of Venezuela (PSUV). https://twitter.com/hcapriles/status/605544191746297856 "Will Ms. Lucena, chief of abstention, respect the country and the people and set an election day?" In recent Venezuelan electoral history, the CNE has never failed to announce the date of parliamentary elections less than six months in advance. On Monday, June 1, Public Ombudsman Tarek William Saab told press that polls will be held in late November or early December, following conversations with Lucena. Saab explained the delay in the announcement to "technical adjustments." The CNE chief is yet to confirm Saab's comments. Francisco Castro, director of the NGO Súmate, told the PanAm Post that the CNE hopes to time the announcement of elections in order to benefit the ruling party. "The CNE generated all of this uncertainty. We need only remember when it called parliamentary elections in advance in 2010, or when it delayed by several years calling mayoral elections, or when in October 2012 it called presidential elections due to political calculations about the illness of President Chávez. The CNE has made all of these political calculations only to benefit the PSUV," Castro argued. The NGO director explained that parliamentary polls involve a complex chronology of filing thousands of candidacies for the 169 positions in Venezuela's national assemblies. Adding to the intricacy is the fact that voting is done by individual voting in some instances and party shortlists in others, while candidates must also be nominated for three seats reserved for representatives of Venezuela's indigenous peoples. Castro added that anything less than six months of preparation prior to polling day would only reduce the ability of candidates to register, curtail campaigning periods, and diminish the time available for scrutiny of votes cast, thus weakening the elections as a whole. "There are no technical justifications or reasons of force majeure to delay the announcement of election day," he argued. Elections of Convenience? The civil-rights expert added that the CNE is apparently failing to act as an impartial electoral referee, instead "playing with the PSUV to demoralize the population so they don't turn out to vote." The Council is aiming to give as much political breathing space as possible to the government, and has delayed announcing the date "because the PSUV is weak in the polls." Castro explained that if Capriles's fears of a suspension of elections were to take place, this would violate the Constitution, which establishes that parliamentary polls should be held every five years. As such, the new parliament should begin session on January 5 of the following year. The Súmate director argued that any suspension of national polls would confirm the existence of a constitutional coup in Venezuela. He also denounced existing irregularities, such as the CNE allegedly manipulating the process of registration for new voters. The CNE has, he claimed, installed mobile registration booths in Chavista strongholds, and "hidden in various ways the registration points in other geographical areas." In addition, the authorities recently modified population growth estimates, and thus the relative voting weight of multiple districts in the country. PSUV-voting districts show a population explosion in time for December, and thus are allocated more representatives, while areas that traditionally favor the opposition see their population dramatically reduced. Both discrepancies are then revised to trend levels by June 2016. PSUV Falling in Polls According to a study carried out by the Andrés Bello Catholic University (UCAB) in conjunction with Venezuela Electoral Integrity Project, support for the PSUV is now a minority position, while distrust in the CNE has risen. A poll of 1,200 people suggests that 42.8 percent of the public identifies with the opposition, while only 31.8 percent support the ruling party. The study similarly shows that the majority of voters strongly distrust the president, his party, and the CNE. Some 60 percent of those polled didn't trust in the electoral arbiter or its officials, agreeing with the statements that the CNE could electronically change the results, "steal votes," and skew the results through techniques such as "duplicate identity numbers, dead voters, and foreigners with false ID cards." Furthermore, the poll demonstrates the opposition leads in the upcoming election with 39.2 percent of the vote, leaving the government with a mere 15.5 percent. The remaining percentage is divided among those who say they are unlikely to vote or are undecided.