Mexico Outdoes the United States for Deporting Central Americans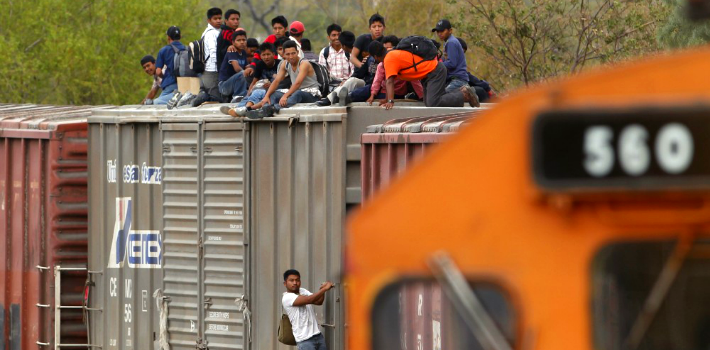 EspañolMexican authorities have deported at least 107,814 Central American immigrants in the last year. Thousands of Salvadorans, Hondurans, and Guatemalans have been forced to abandon North American soil after Mexico joined the United States in this endeavor.
According to the Migration Policy Institute (MPI), Mexico has surpassed the United States in its number of deportations of Central American migrants: in the past 12 months, the United States deported 70,448, while Mexico sent back more than 2,000 migrants every week.
Last Friday, for example, Mexican authorities found 41 Central American immigrants in a house in northern Mexico, and promptly handed them over to the National Institute of Migration (INM).
In August 2014, Mexican authorities put forth their Southern Border Plan, which seeks to prevent Central American immigrants from risking their lives on "La Bestia" (The Beast), the network of freight trains migrants use to travel through Mexico.
Mexican migration officials launched the plan last year, after the Mexican and US governments agreed to cooperate in the face of a severe crisis of child migrants from Central America looking to cross the border on their own. Since then, arrests have increased by 25 percent, and migration checks have increased by 200 percent.
In September 2015, the MPI published a report which calls for the United States, Mexico, and Central American countries to develop more comprehensive migration policies "with workable enforcement and humanitarian protection." The report further recommends that these polices "address poor standards of living, improve citizen security in the Northern Triangle, and facilitate the reintegration of deportees."
The MPI study also demonstrates that the majority of those deported are young men with "low educational-attainment levels, most having experience in low-skilled jobs." Moreover, nearly 40 percent of them were unemployed in the 30 days prior to leaving their home country.
"Ferocious Crackdown"
In June 2015, Mexican President Enrique Peña Nieto stated that the immigration-related measures taken in Mexico have allowed the country to achieve a 0 percent illegal-immigration rate.
Meanwhile, US-based daily the New York Times (NYT) published an article that assures the United States is paying Mexico to enact a "ferocious crackdown" against migrants from Central America.
Pulitzer Prize-winning journalist Sonia Nazario writes: "The United States has given Mexico tens of millions of dollars for the fiscal year that ended Sept. 30 to stop these migrants from reaching the United States border to claim asylum."
Further, the journalist states that "Beginning in July 2014, Mexico redirected 300 to 600 immigration agents to its southernmost states, and conducted over 20,000 raids in 2014 on the freight trains migrants ride on top of, and the bus stations, hotels, and highways where migrants travel."
[adrotate group="8″]
Nazario contends that Mexican authorities allow detainees to apply for asylum. However, during the wait time, they remain locked up in cells where "rats roam by day and worms infest the food migrants get." She further explains that only 20 percent of these migrants receive asylum status.
In May 2015, social-media users shared a controversial video in which alleged Mexican migration authorities mercilessly mistreat a handicapped Honduran immigrant. Both the NMI and the National Discrimination Prevention Council (Conapred) opened investigations into the alleged discriminatory action.
In addition to the mistreatment migrants allegedly receive from Mexican authorities, many of these people are also victims of other serious crimes, such as kidnappings, rape, and murder. According to the Migrant Defense Organizations Documentation Network, the majority of these abuses go unpunished.
Related Posts
Correa's Auctions Serve Politicos, Not the Poor
EspañolBy Atawallpa Oviedo Freire The latest episode in Rafael Correa's socialist adventure involves an auction to sell a gold watch and a Chinese bicycle in order to raise money to "build houses for the poor." The website SubastasParaelPueblo.com (Auctions for the People), describes the items: "The watch was a gift from the Emir of Qatar to Correa Malherbe (the president's son). Made of gold, it is valued at US$12,000.… The bicycle was a present to the Ecuadorian president by his Chinese counterpart, Xi Jinping. Painted with the colors of Ecuador's flag, it has a base value of $1,200. All proceeds will be used to help build affordable housing in the indigenous community of Zumbahua, in the Cotopaxi province." How could Xi Jinping not be grateful? Over the last eight years, Correa has auctioned Ecuador's oil, mining, and several public works to China. Additionally, the Chinese government has loaned Correa millions, throwing a rope around the necks of future generations who will have to pay his debts. The $1,200 bike is nothing compared to what China will receive for all these contracts. As for the loans, the terms remain a mystery for the public. In other similarly mysterious loans requested by the Correa administration, the interest rates oscillated between 5 and 13 percent. It's worth nothing that Ecuador repays the Chinese with oil … that never gets to China. According to Ezequiel Vásquez-Ger from El País, "several shipping documents demonstrate that the oil sold to PetroChina never reaches its destination. Instead, the company acts as an intermediary, and resells the oil at higher prices to other countries, such as the United States and Panama." For such juicy contracts, Xi Jinping should have given Correa a bike for each Ecuadorian minister. "The Comptroller General released a report in 2012 that analyzes just two of the six contracts executed between 2010 and 2011. It concludes that Ecuador failed to receive over $44 million due to an erroneous price negotiation," Vásquez-Ger writes. "As of November 2014, [Ecuador's] debt with China reached $4.7 billion.… The government has announced it will be negotiating new loans with China in 2015 to the tune of $7.5 billion. China is Ecuador's largest bilateral creditor.… Moreover, due to prior agreements with China, Ecuador awards Chinese companies the contracts under special rules, meaning that no public budding takes place." As for the Emir's $12,000 gold watch, is it really pure generosity? With the current state of geopolitics, and considering Ecuador's last eight years of auctions, we can never be too sure of anything. Where Is All the Money? Correa brazenly claims that there have been few cases of corruption during his administration, despite an impressive number of complaints (Yasuní, Duzac, the "man who ate checks," the Dhruv helicopters, the Big Brother, and so on). Adding insult to injury, he has asked Ecuadorians to help preserve his image, arguing it is the most precious commodity of the Citizen Revolution. How is it possible that after managing $250 billion over the past eight years, Ecuador's public debt still borders $32 billion? The obvious question is: where did all that money go? Roads, hydroelectric plants, public schools, and health centers, Correa would likely respond. Yes, that may account for some, but where is the rest? There have been many allegations of overpricing, such as in the construction of hydroelectric plants, as professor Arturo Villavicencio has shown. For the sake of argument, let's say the government committed no wrongdoing. Was it worth investing resources in these monumental public works? Were the conditions and timing for this project right? The truth is, no, they weren't. After eight years of Rafael Correa, the South American nation can be summed up in a single phrase: "Ecuador, a poor country with pretty roads." Correa's flagship roads are not filled with trucks transporting goods. This means they are either a waste or a luxury in a country with millions living in poverty. Was it money poorly spent? Weren't there any other priorities? Wise Investments The hydroelectric plants Correa is building will produce so much energy that Ecuadorians will have no need for it until 20 years from now. Officials say the country could export it in the meantime. But where? Not Peru, since the country is currently looking to export electricity as well. Not Colombia, the region's superpower, which currently sells energy to Ecuador. Furthermore, it is very difficult to export electric power. Not because of technical or financial difficulties, but due to "economic interests in each country, as well as political pressure that hinders such relations," as Luis Alejandro Camargo, manager of the XM company in charge of the Colombian electric system, explains. [adrotate group="8"] Instead of building these needless plants and roads, Correa could have focused on boosting local industries, especially agriculture, which the president himself admits is sorely lacking. Ultimately, the Correa administration has meant massive expenditures on travel, weekly radio and television addresses, a new presidential airplane, state advertising (nearly $3 million on a Super Bowl ad), parties, exorbitant salaries, and the list goes on and on. After all this wasteful spending, Correa now wants to build "social housing projects." What a hypocrite. With all the money he has blown in the past eight years, how many "charity houses" could he have built? Just consider what he could have done with the budget of his Citizen Link TV show alone, which is a staggering $12 million. Correa's "auctions for the people" are an insult to the poor. It is a clear case of a bad president with horrible management skills, who is now trying to make nice with the people. It's an insult to the dignity of Ecuadorians. What a shame. Until when, Father Almeida? The plain truth is that after eight years of Correa, the poor remain poor, and crony businessmen have never earned as much as with this government. While attempting to "modernize capitalism," as the president himself calls it, the Correa administration has been unable to make a single structural change. What we know is that domestic production has stalled, and that many of Correa's public works are underutilized. He squandered the oil boom, and now that oil prices have dropped, and the US dollar has climbed, the president is cornered and frightened, and is seeking a loan from the IMF. All of this demonstrates how the Citizen Revolution has failed. Atawallpa Oviedo Freire is an Ecuadorian doctor of jurisprudence and international speaker. Oviedo is the author of eight books, including Earth's Children, The Return of the Red Man, and Walkers of the Rainbow. Follow @WAKAKUE. Translated by Rebeca Morla.