Internet Speeds in Uruguay Blaze Past Regional Competitors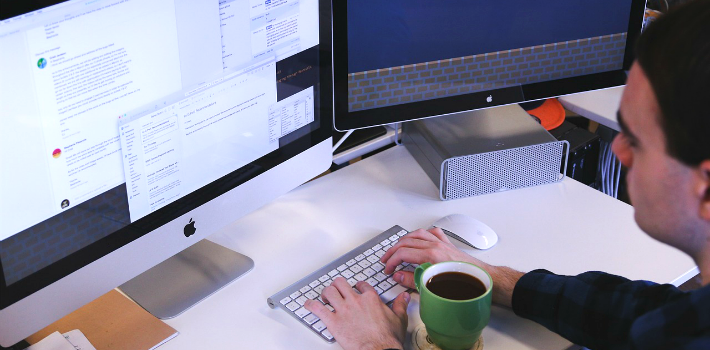 EspañolVenezuela, Bolivia, El Salvador, and Paraguay have the slowest internet connections in the Americas, according to a report by the Economic Commission for Latin America and the Caribbean (ECLAC).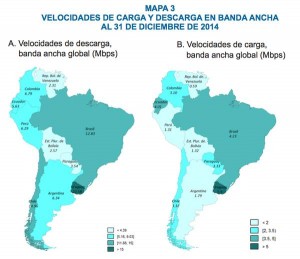 The reports finds that, in 2014, Venezuela had the slowest overall broadband speeds in the region, while Uruguay, Chile, Brazil, and Mexico were the countries with the fastest connections and rank above the regional average.
However, the average global broadband speed for Latin America is only 7.3 Mbps (megabits per second), well behind the 32.2 Mbps average for developed countries.
ECLAC notes that, in 2012, Chile topped the region's download speeds at 8 Mbps. Last year, however, Uruguay surpassed this mark with an average speed of 22.6 Mbps, comparable to Spain, Portugal, and the United Kingdom.
Internet Use
The report also demonstrates that the average internet user in Latin America and the Caribbean is online for roughly 21.7 hours per month, one hour less than the global average of 22.8 hours.
US Americans and Europeans, on the other hand, spend more time online than the global average, clocking in 35.9 and 25.1 hours online per month, respectively.
In the rest of the Americas, Brazil and Uruguay stand out with 29.4 and 32.6 hours online per month, respectively, while other regional countries range between between 15 and 20 hours per month.
According to the ECLAC report, Uruguay earns the top rank across the board for internet connectivity and speed in Latin America. In 2013, Uruguay's state-run telecom company Antel rolled out an ambitious investment plan to extend the country's fiber-optic network, as well as improve service quality.
By contrast, in Venezuela, the country with the worst internet quality in the region, the government has cut public spending on internet services.
In 2009, the Venezuelan government deemed internet access a "luxury" service, and reduced funding for university computer labs and infrastructure projects to improve service in the country.
Currently, the average download speed in Venezuela is 2.3 Mbps, which is lower than even Cuba, where the average speed is 2.9 Mbps.
Social Media in Latin America
According to the report, Facebook is the most used social-networking site in Latin America, with 145 million unique monthly visits in 2014, followed by ShareThis (93 million), LinkedIn (38 million), Taringa (29 million), and Twitter (29 million).
Facebook also leads the way in time spent online, taking up 95 percent of users time on social networks. Twitter ranks a distant second with 1.4 percent. Latin American internet users also spend the most time on Facebook per visit, averaging 17 minutes in April 2014.
[adrotate group="8″]
Mexico, Argentina, Peru, Chile, and Colombia are among the world's top 10 countries with the highest percentage of social-network users. While not in the top 10 as far as percentage, Brazil has more daily visitors to social-media sites, more minutes per visit, and more pages visited than any other country in the region.
Cybercrime on the Rise
As for cybersecurity threats in Latin America, the ECLAC says there has been an exponential growth in personal data breaches over the years, including the theft of credit-card numbers, dates of birth, identity documents, home addresses, and health records.
ECLAC also documents an increased use of ransomware, malicious software that infects and restricts access to a victim's computer and demands a ransom to release it. Other threats include social-media scams, backdoor exploits, security vulnerabilities from out-of-date software, malware, and spam.
The report notes that the increased use of less-secure mobile devices to access the internet has garnered attention from criminals, who now target mobile devices more frequently. Moreover, almost half of mobile users in 24 countries use their smartphones or tablets for both personal and business activities.
Lawmakers around the world have reacted to the surge in cyberattacks on mobile devices by adopting cybercrime regulatory frameworks. As of 2014, roughly 60 percent of Latin American countries have laws against cyrbercrime on their books.
Despite improvements in cybersecurity in Latin America and the Caribbean, the region still lags behind the more developed economies. In 2014, 21 out of 33 countries in the region had effective legislation on this issue. However, the report notes that the situation varies between subregions: 75 percent of the countries in South America have adopted cybersecurity regulations, compared with 69 percent in the Caribbean, and 38 percent in Central America.
The Global Cybersecurity Index, published by the International Telecommunications Union, measures a country's level of commitment on cybersecurity based on its administrative, technical, and judicial performance, capacity building, and international cooperation. Brazil, Colombia, and Uruguay rank among the top 10 countries in the index.
Related Posts
Guatemala Arrests Former Vice President Roxana Baldetti
EspañolThe Guatemalan Prosecutor's Office and the International Commission against Impunity (CICIG) arrested former Vice President Roxana Baldetti on Friday, August 21. Police officers apprehended the former member of the Otto Pérez Molina administration in Guatemala City at the Zone 10 Medical Center. According to local media, Baldetti was admitted to the center for treatment on Sunday, August 16. While prosecutors have yet to disclose specific charges against the former vice president, they say there is enough evidence to presume her involvement in a customs-fraud scheme known as "La Línea" (the Line). Investigators believe Baldetti's private secretary, Juan Carlos Monzón, was the mastermind behind the scheme, but Monzón currently remains at large. Prosecutors also announced they are seeking to open an investigation against President Pérez Molina, who denies involvement in the kickback scheme. [adrotate group="7"] Baldetti resigned as vice president on May 8, after investigations into Guatemalan criminal networks led to the arrest of several government officials. Her resignation was followed by a series of nationwide protests calling for Pérez Molina to also step down. On Thursday, prosecutors raided Baldetti's family residence near the Salvadoran border, and investigators are currently examining bank accounts and potential assets abroad, according to local media. While the investigation could take several months, Siglo 21 reports that police have already seized three properties and frozen several bank accounts belonging to Baldetti and her husband Mariano Paz. Presidential elections in the Central American country are scheduled for September 6, 2015. Source: Siglo21.