Venezuela's Bolívar Plummets to New Low amid Hyperinflation Fears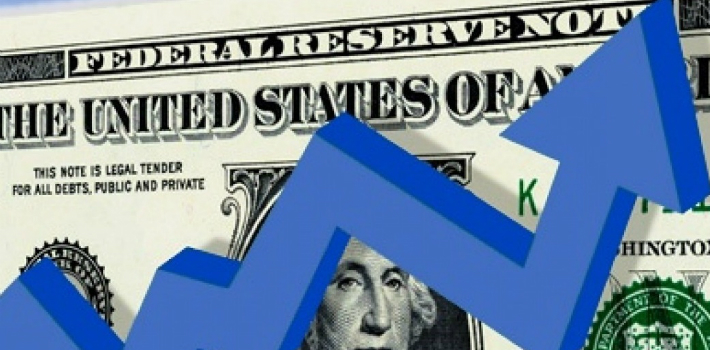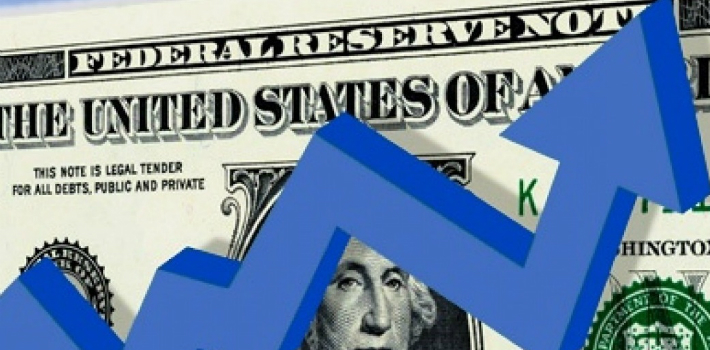 EspañolMore than a month later, Venezuelan President Nicolás Maduro has yet to unveil the details of the "economic overhaul" he announced would address the nation's current crisis. Meanwhile, the black-market exchange rate of bolívares for US dollars continues to climb.
On Thursday, May 21, the exchange rate broke the 400 Bs. per dollar mark for the first time, meaning Venezuelans living on the minimum wage are left earning only US$16.80 per month.
The unofficial rate — 422.5 Bs. per dollar at press time — is now 67 times higher than the lowest fixed rate set by the government's foreign-exchange controls put in pace over 12 years ago on February 5, 2003.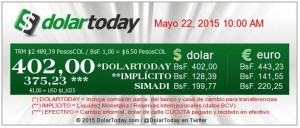 The black-market exchange rate is calculated by the website DolarToday, which reports the value of the foreign currency in Venezuela based on daily exchange operations in Cúcuta, a Colombian city near the southern border.
Reactions were immediate and the hashtag #400Bs became a worldwide trending topic on Twitter on Thursday evening.
El dolar pulverizado por @NicolasMaduro supero la barrera de los 400bs/$… ahora se enfila a los 500! Bravo Nicolas! eres grande

— Manuel Guevara (@ManuelGuevaraB) May 22, 2015

"The bolívar, smashed by @NicolasMaduro, has surpassed the 400 Bs./US$1 barrier… and is now heading toward the 500 Bs.! Bravo Nicolás! You're awesome."
400 Bs por dólar no es un punto de llegada. Es una meta volante. La idea es que mendiguemos aún más al Estado.

— Luis Carlos Díaz (@LuisCarlos) May 22, 2015

"400 Bs. per dollar is not the end. It's a starting point. The idea is that we beg the state even more."
In just eight days, the exchange rate went from 301.93 Bs. to 402 Bs. on the black market, where Venezuelans must purchase their dollars when unable to obtain the tightly controlled lower-rate currency from the government.
Venezuelan consumers are feeling the adjustment. As it becomes increasingly difficult for companies to acquire low-rate dollars, the black-market rate functions as an important signal for setting prices and buying products.
Venezuela's official foreign-exchange market has three rates, which in practice almost no citizen can access. The national government decides who gets these scarce dollars and when.
The lowest rate, the CENCOEX, is set at 6.30 Bs. per dollar, and is reserved for companies that import basic foodstuffs and medicine. The second rate, SICAD, stands at 11 Bs. per dollar, and is doled out to firms that import non-essential items and travelers. Lastly, the SIMADI rate for the general public nears 200 Bs. per dollar and relies on the availability of local exchanges.
Both SIMADI and SICAD have come under fire over the small amount of dollars they allow Venezuelans to buy, which has prevented companies from paying off the billions of dollars of debt incurred with their international suppliers since 2013. The inability to settle these debts has caused a massive shortage of basic products in the country and an official cumulative inflation rate of 68.5 percent for 2014.
Calculating the Unofficial Rate
DolarToday calculates the unofficial price for dollars in Venezuela based on the way bolívares are trading for Colombian pesos in the neighboring city of Cúcuta. Experts believe this is a proxy that best reflects real supply and demand for dollars in Venezuela.
Businesses then take DolarToday's rate as a signal of the dollar's true value in Venezuela and price their products and services accordingly.
Why the Big Jump?
Economist Francisco Faraco told the PanAm Post that the increased demand for the unofficial dollar results from the government's tight control of the currency, which it reserves for "entities that the state deems a priority." Until more dollars are made available through official means, Venezuelans will seek to preserve their money in a stronger currency on the black market, he explained.
Faraco argues the black-market dollar rate has shot up drastically because the Venezuelan government operates a "hugely irresponsible economic policy, which translates to a fiscal deficit and worthless money being printed."
He says the excess bolívares in circulation compels the public to try and protect their savings by converting it into dollars.
The economist Luis Oliveros also explained to the PanAm Post that the unofficial dollar's rise could be seen as a reflection of the unease among Venezuelans, exacerbated by their expectations on inflation. The public no longer wants bolívares because they are worth less with each passing day, he argues.
Oliveros believes the Maduro administration has not demonstrated any intention to improve the country's economic crisis. "It seems inflation will reach three digits in 2015, and the price and exchange controls will continue; this signals bad news and pessimism among the population," he predicts.
Misguided Economic Policies
Faraco says Venezuela's crisis can be attributed to the misguided economic policies Maduro inherited from the Chávez administration. Over the course of 15 years, the Venezuelan government failed to take advantage of the highest oil prices in history, he laments.
"We didn't do much with the oil bonanza. The government thought those US$100 per barrel would last forever. It did not encourage private production, as it thought it could expropriate our way into prosperity, and today we're all paying for that," Oliveros added.
Both experts agree the government should begin by dismantling its crippling controls, and work with the private sector to resume production. Instead, Maduro continues to "incentivize the problems to persist," they say.
On Tuesday, May 19, Maduro announced he would soon release the details of the "economic overhaul" promised in late April. The reforms are expected to be passed through an Enabling Law, which will not require congressional approval.
Maduro claims the reforms are designed to "put a stop to the smuggling of basic products and the plundering oligarchy."
Related Posts
Forced Disappearances: Colombia's Nightmare without End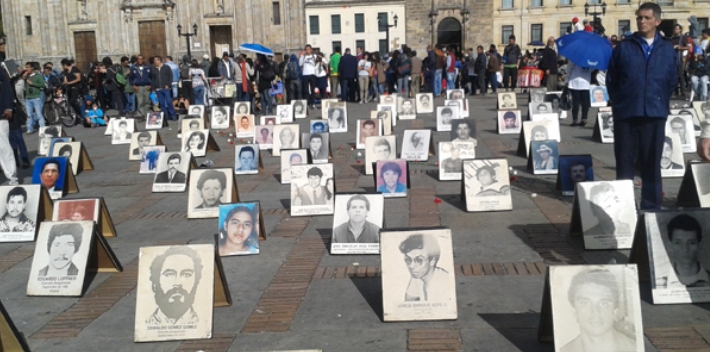 Español"I can't speak loudly, but tell my mom that I'm here in Ocaña, and that I'm coming back between Sunday and Monday. Tell her not to punish me because I left without permission." This was the last message that María Ubilerma Sanabria received from her son Jaime Estiven Valencia, 16, after he disappeared on February 6, 2008, from Soacha, a city on the southern edge of Bogotá. Her sister Cindy received the message on February 8 at two in the afternoon. Monday came and went, and Estiven didn't appear. Tuesday, Wednesday, weeks and months followed, until one day in November María heard on the news that several young people from Soacha had been found in a mass grave in Ocaña, in the Norte de Santander department, 18 hours from the Colombian capital. The news caught María's attention immediately, because as far as she knew, only her son had disappeared. It was then that she realized that she wasn't the only one: 13 other mothers of young people living in Soacha had been looking for the remains of their sons for months. Two days later, María and Cindy were sent photos by forensic police to confirm whether or not one of the bodies depicted was Estiven. Subsequent DNA tests proved the terrible truth that his mother had refused to believe: she'd hoped in her heart that her son wasn't the dead boy shown in the photographs. When she went to collect Estiven's body, a month after his identity was fully confirmed, they told her that her son had died on February 8 at 3:30 p.m. (an hour after he called home), and that he'd been shot in an army ambush, since he was allegedly an illegal guerrilla fighter. It's still not certain why 14 young people from Soacha disappeared on that February 6, nor is the reason why they were found hundreds of miles away in a common grave in Ocaña after being shot by the army as criminals. The case remains under investigation, while María and the mothers of Soacha can only hope that one day justice will be done. There are thousands of recorded cases of disappearances similar to that of Estiven in Colombia. The exact figure varies according to different organizations. The biggest estimate comes from the International Committee of the Red Cross (ICRC), which suggested in August 2014 that as many as 95,000 people are missing. The Information Network of Missing Persons and Corpses (SIRDEC), part of the National Forensics Institute, meanwhile reports that that 57,265 people were registered as disappeared between the year 2000 and the present day, of which 43,211 are men and 14,054 women. From these statistics, Colombia's Victims Unit puts the figure of those forcibly disappeared by the state, by action or omission, at around 4,500 people. It meanwhile blamed rebel group FARC for 2,760 disappearances, and the Attorney General's Office called on it to answer for its crimes. "The problem is that the not everything that appears in a register as a forced disappearance necessarily is. Many people register the fact as a disappearance, but after investigations, it turns out that it was a prisoner swap, or an express kidnapping,' said Julián Fernández, director of the Ombudsman's Judicial Cases Office, which forms part of the National Search Commission for Disappeared Persons. "The problem is that such statistics can't be removed from the catalogue until they have a judicial sentence clearly determining that it was another kind of crime," he added. According to Fernández, the Attorney General's Office holds around 12,000 cases of forced disappearances carried out by various actors. He emphasized that those committed by the state aren't common, even if government-sponsored disappearances often took place in the 1970s and 1980s. In the present day, a high percentage are down to criminal groups engaged in drug trafficking, people smuggling, and other crimes. However, despite the official's claims, the families of victims appear to outnumber the recognized total of those disappeared. "Today, the families of the victims go to ask about their investigations and they find that the cases are still catalogued as kidnappings, murders, and other kinds of crimes," Aura María Díaz, general coordinator of the Association of Relations of Detained and Disappeared (Asfaddes), and mother to César Ariel Sepúlveda, who disappeared at the age of 22 in 2000, told the PanAm Post. "Another thing that happens is when they find the remains, they change the kind of crime to murder, but in general it's more than one crime. It's also that of unlawful imprisonment and torture," Díaz added. Struggle for Identification The complete process of investigation can take between seven and eight years. In general, the cases lack enough information to begin lawsuits, and bodies are only discovered by chance. According to Fernández, for every 10 people who are forcibly disappeared, only the remains of three are found. Bearing these difficulties in mind, President Juan Manuel Santos recently decreed the creation of a database of genetic profiles of disappeared persons. "This will make identification easier, although the problem is that they don't have a basis for comparison. Normally there are genetic records from birth, but in Colombia the only thing we have are living relatives," Fernández explained. In any case, hopes are high that the new database will speed up the process of identification, and that the signing of peace accords with FARC will lead to joint efforts to find the missing. Victims' families are calling on negotiators in Havana to establish a subcommittee of victims of disappearances to bring together the figures, and to highlight the problem of classifying forced disappearances as distinct from other crimes. The same groups are calling on the government to open secret files, and are fiercely protesting against the Military Punishment Law, a legislative bill which would transfer investigation of crimes by members of the security forces from civil courts to military tribunals, fearing that such a move will only worsen impunity. However, the authorities are facing a tough challenge to maintain law and order in areas such as Cauca department, on Colombia's Pacific coast, where multiple disappearances have occurred in recent years. "The city of Buenaventura is in a very serious situation, the same as along the border area with Venezuela in places like Cúcuta. Conflict in Venezuela and border smuggling generate a lot of score-settling between criminal groups. For example, we're seeing that they're murdering people and throwing them in the river," Fernández said. Translated by Laurie Blair.