Another Sunday, Another 89 Political Arrests in Cuba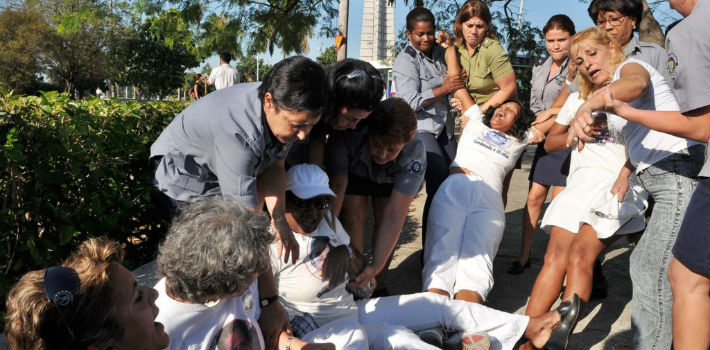 EspañolThe Cuban Commission of Human Rights and National Reconciliation reported on Monday that Cuban security forces made 338 politically motivated arrests during April alone. While the figure is lower than that registered in March, April saw other forms of political repression increase, especially against dissident group Ladies in White.
"Across April we've identified 101 innocent victims of other forms of political repression in Cuba, such as physical aggression, threats, acts of vandalism, and 'shows of rejection' to intimidate peaceful dissidents and terrorize the population still further," write the commission's authors in their "Acts of Political Repression" report for April 2015.
An show of rejection (acto de repudio) typically consists of members of government security forces masquerading as citizens and demonstrating against an opposition protest.
Most recently, State Security forces detained 51 Ladies in White and 38 activists from other human-rights groups for over six hours in Havana on Sunday, May 3.
Berta Soler, leader of the Ladies in White movement, shared with the PanAm Post that the group has spent five consecutive Sundays since April 5 holding a protest "mass." They share images of political prisoners and spread messages in defense of human rights and against the Cuban authorities.
Yet at every one of these peaceful demonstrations, Soler reports that the National Revolutionary Police collaborated with the Interior Ministry and groups dressed as civilians to arrest, threaten, and attack those protesting.
Ladies in White members have previously observed "military troops" and paramilitary organizations attempting to provoke a violent response to attacks on children and women with the objective of charging protesters with destabilization, prompting the demonstrations to move to another location.
The Ladies in White president tells the PanAm Post that while no group calling for greater human-rights protections has committed any kind of violence, the Cuban authorities still arrested them in a "brutally violent" manner.
Soler emphasizes that all the dissidents present were handcuffed with "very tight metal handcuffs," whereas on previous occasions the police had only used plastic restraints. Many of them were "brutally beaten," inflicting bruises and bleeding on several, and throughout their six-hour ordeal the authorities denied them food and water.
"It's further proof of the Cuban government's intolerance towards people who think differently," Soler concludes.
Summit Sham
The document published by the Commission finds that "in the Parallel Forums of the seventh Summit of the Americas the totalitarian regime in power in Cuba showed its true face, and its decision to continue imposing the disastrous single-party and single thought system model, which has mired the vast majority of Cubans in poverty and despair."
The tone of Cuba's participation in the April summit in Panama City further demonstrated Havana's unwillingness to "accept international standards on issues of civil, political, and labor rights, as well as other fundamental rights," the report adds.
Soler seconds this information, and adds that since the Panama summit in April, the Cuban government had worsened its violent stance towards protesters, specifically against the Ladies in White. The hostile stance of Cuban dictator Raúl Castro, she explains, was demonstrated by acts of violence "financed by the Cuban government" that broke out on the fringes of the international summit.
Raúl Castro is seeking credit with powerful countries to keep himself in power.
Soler argues that the regime wasn't able to interrupt the development of roundtable discussions in Panama, and were instead expelled by human-rights organizations, because "they found themselves in a country where there is democracy and where freedom of thought is defended."
The activist details that around 60 political prisoners currently remain in the hands of the Cuban government, although a precise figure is hard to come by without information provided by families, because varying lengths of detention mean that "while they imprison some they free others."
 "Seeking Credit"
According to Soler, the dialogue between the US government and the authorities in Havana "will in no way reach" the issue of human rights and freedom of expression.
She added that Castro is seeking "credit with powerful countries to keep himself in power, due to the fact that Nicolás Maduro, president of Venezuela, can no longer comply with the support that former president Hugo Chávez offered Cuba."
Translated by Laurie Blair. Edited by Fergus Hodgson.
Related Posts
Argentina, Uruguay Declare Zero-Tolerance War on Drunk Drivers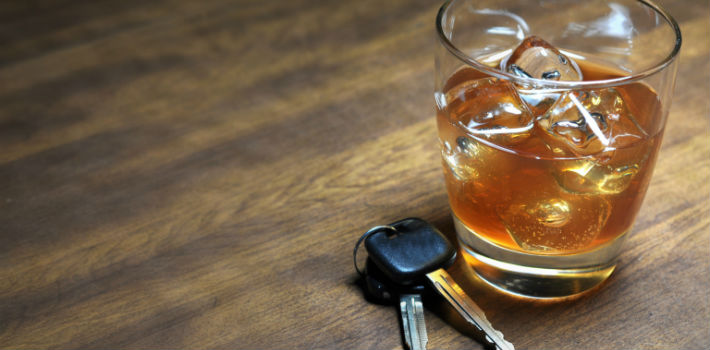 EspañolInitiatives are underway in both Argentina and Uruguay to enact "zero tolerance" bans on driving while under the influence of alcohol. On April 29, incoming Uruguayan President Tabaré Vásquez announced he would seek to significantly reduce the permissible blood-alcohol level for drivers. Meanwhile, Argentina's Interior and Transport Minister Florencio Randazzo said during a radio interview on April 28 that he intends to send a "Zero Alcohol" bill to Congress. Vázquez, a 75-year-old oncologist, will sign a presidential decree effective May 15 ordering Uruguayan police to seize the driver's license of anyone caught operating a vehicle with an alcohol concentration of 0.1 grams per liter of blood. Current legislation caps the alcohol level at 0.3 g/L, roughly equivalent to one glass of beer or two glasses of wine. Vázquez attempted to pass similar legislation during his first term as president (2005-2010), but could not secure enough votes in Congress despite his party's majority. His predecessor, José Mujica, also failed to pass a similar zero-tolerance bill. Nevertheless, beginning on May 15, Uruguayans caught driving under the influence of alcohol will have their licenses suspended and receive a US$460 fine. Following his inauguration, Vásquez declared a "war on alcohol" and stressed the need to regulate the liquor market. In an effort to gather congressional support, the president convened a bipartisan group to lead a three-pronged campaign against alcohol abuse: an awareness drive to highlight the dangers of alcohol, the inclusion of preventive programs in education curriculum, and a ban on drunk driving. "It's not a decree signed behind the public's back; it has support [from the people]," said Daniel Radío, a congressman from the opposition Independent Party who came out in favor of the measure. National Party Senator Verónica Alonso said after a meeting with the president that there are plans to meet with civil society and business leaders within the next 15 days in order to reach a broader consensus on how to further regulate the sale of alcohol. Argentina Down the Prohibitionist Path Randazzo, a potential presidential nominee for ruling coalition Front for Victory, is seeking a similar zero-tolerance ban in Argentina. The bill Randazzo introduced on Tuesday would extend the alcohol ban currently in force for professional chauffeurs to "all drivers." Randazzo told a local radio station that those who oppose the measure "are putting profits before lives," adding that the bill has the support of President Cristina Kirchner. "[The bill] is crucial, because alcohol is among the top five causes of fatal car accidents," Randazzo argues. https://twitter.com/PrensaInterior/status/593158695107895296 #ZeroAlcohol: "The bill puts common drivers on the same level as professional ones, who today face a zero-tolerance ban [on alcohol]." "We decided to put private drivers on the same level as professional ones, those who drive trucks and vehicles with passengers. In that sense, we propose that no one who is going to drive should consume alcohol. Zero tolerance. We took it up to the Senate, I heard both chambers, and the truth is that the arguments coming from groups defending businesses make no sense," the minister explained. Under current federal law, Argentineans are permitted to drive a car with up to 0.5 grams of alcohol per liter in their blood. Motorcyclists, however, are not allowed to drive with a blood-alcohol concentration more than 0.2 g/L. Only the provinces of Salta and Córdoba have passed zero-tolerance laws on driving while under the influence of alcohol. Translated by Daniel Duarte. Edited by Guillermo Jimenez.