Ecuador Breaks the Ice on Drug Legalization in Landmark Bill
EspañolA new bill in Ecuador seeks to change the public-policy paradigm on drug use in the country. On Thursday, April 9, legislators held a historic first debate of the Organic Law on Comprehensive Drug Prevention in the National Assembly.
The project, promoted by the ruling party PAIS Alliance, was introduced to the chamber by Carlos Velasco, head of the Commission of the Right to Health.
The bill aims for "comprehensive drug prevention, by establishing a legal and institutional framework to address drug use, and the regulation of the substances that are subject to control."
It stipulates over 100 substances that would be "controlled," including alcoholic beverages and cigarettes, illegal drugs, and other industrial substances such as solvents which are also used as drugs.
In perhaps the most landmark provisions, however, the 26-article document proposes the creation of a Technical Secretariat of Drugs, under the control of the president, to "regulate and control the activities related to the import, export, cultivation, production, marketing, distribution, transportation, and use," of the aforementioned substances.
Those interested in handling or using the substances provided by the bill would have to register with the agency, although domestic cultivation or manufacture would only be allowed for purposes of "research, experimentation, or training."
The penalties for non-compliance with the provisions of the document vary between fines or forfeiture of the substances. However, the bill as it stands would be a major change to the existing Law of Drugs and Psychotropic Substances, which punishes both cultivation and sale with between 12 and 16 years in prison.
Velasco emphasized that Ecuadorian legislation on the matter passed in the 1980s designed to criminalize consumption had tried and failed to make the problem invisible.
By contrast, the legislator hailed the 2008 Constitution, which defines drug use as a public health issue, paving the way for a dramatic shift in public policy.
In this vein, Velasco further wrote on his Facebook page that it is "absurd" to address the "drug phenomenon" in a repressive manner, "as was done in the 80s and 90s, where prison was the only place for a drug consumer."
"It's necessary to establish a comprehensive system of prevention of drug use," stretching "from the educational phase to rehabilitation and reintegration," he added.
Opposition Spark Up Debate
Nevertheless, the PAIS proposals failed to convince many legislators. Ramiro Aguilar, an independent member of the Assembly, delivered fierce criticism of the bill, which he branded "preposterous" and poorly prepared.
Aguilar, despite admitting being personally in favor of the decriminalization of marijuana, identified glaring gaps in the information provided by the bill, and the failure to provide key definitions of concepts or define the amounts under discussion.
"If the intention of this parliament is to legalize the sale of marijuana, let's do it right," he said, arguing that the decision should be made directly by the people in a referendum.
Opposition legislator María Cristina Kronfle meanwhile argued that the bill is too liberal, and would in fact promote the use and sale of drugs.
Moreover, she complained that the bill, introduced in December 2014, has been treated with greater urgency than other legislative proposals presented before it.
PAIS Assemblywoman María Alejandra Vicuña rose to the defense of the bill, drawing a dichotomy between a prohibitionist model which supports the war on drugs, and the "model of risk and harm reduction, which is based on the premise that it is impossible to completely eliminate drug use."
Vicuña asserted that the latter is the most effective way to address the "social phenomenon of drugs," a problem for Ecuadorian society "that must be treated from a health perspective."
After three hours of full session, the debate in the National Assembly was suspended, but is expected to be resumed in the coming weeks.
Edited by Laurie Blair.
Related Posts
Protesters Pounce on Rubio Entry into Presidential Race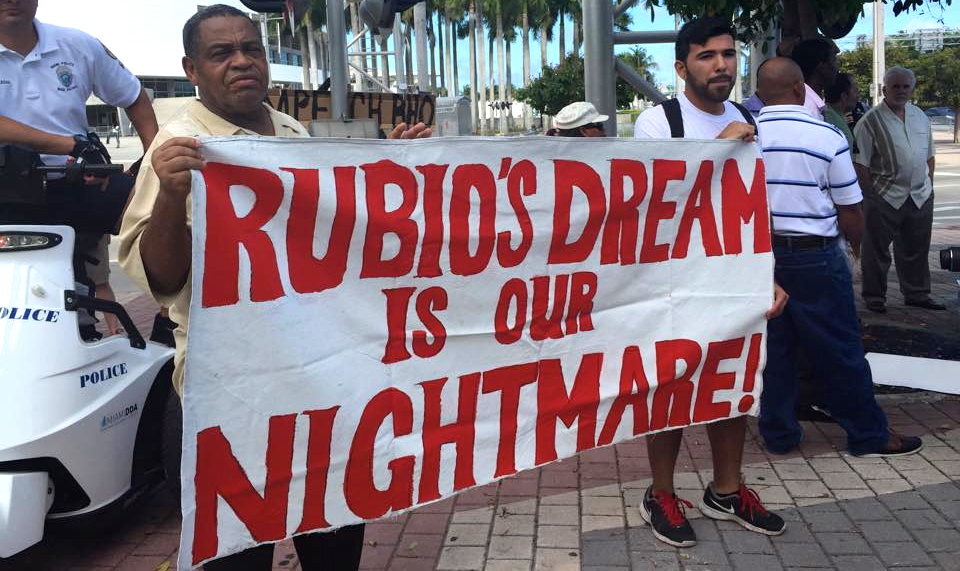 EspañolUS Senator Marco Rubio (R-FL) threw his hat in the ring for the presidency this afternoon, but the major development did not come from his speech at Miami's Freedom Tower. A bevy of protesters did their best to dampen any excitement over the Cuban-American's bid, as they aired diverse criticisms, closed the adjacent road for a period, and almost came to blows with event security. Such is Rubio's celebrity status in South Florida, a large and well-heeled crowd gathered in anticipation of his announcement, including donors, party members, and prominent media professionals from across the United States — far too many to fit in the building. That, however, only emboldened protesters, as it gave them an audience, while organizers processed the limited number of registered guests and media observers. In particular, advocates for amnesty and lenience with regards to illegal immigrants sought to dismiss any notion that Rubio had their support. The Florida Immigrant Coalition rallied their forces for the occasion, describing Rubio as a flip-flopper: "One day he leads Immigration Reform with a path to citizenship in the Senate, and the next he 'regrets it' … defunding Deferred Action for DREAMers and [standing] against Obama's Deferred Action for parents" (DACA and DAPA). Homestead's Equal Rights for All was among the organizations in attendance, as they addressed him in Spanish and English: "El sueño de Rubio es nuestra pesadilla" (Rubio's dream is our nightmare), referring to his campaign theme of a "new American century." They then marched onto the street, soon hastened by police to situate themselves on the median. Juan Ramos, an illegal immigrant unafraid to share his situation, had little love for Rubio: "We have heard his speeches … but when he talks about immigrant families, we cannot identify with him.… He has been saying that he's going to get rid of programs that benefit our families [such as] deferred action." [audio mp3="http://panampost.com/wp-content/uploads/juan-ramos-rubio.mp3"][/audio]Juan Ramos, an illegal immigrant of Homestead's Equal Rights for All, weighs in on the Rubio candidacy. Rubio seemingly couldn't get a break, as pro-Israel activists also camped out in front of the event and drew the attention of the considerable crowd. Bob Kunst, president of Shalom International, said he is sick of attention going to what he believes to be side issues such as gay marriage and abortion. A registered Democrat, he says all that doesn't matter if Iran gets a nuclear weapon and terrorism rears its ugly head on US soil. He added, though, that he is firmly opposed to former Secretary of State and Democratic candidate Hillary Clinton and likely-candidate former Florida Governor Jeb Bush: "Either would be dynasty and disaster, in the same breath." [gallery columns="5" ids="45295,45296,45297,45298,45299" orderby="rand"] During Rubio's speech, the 43-year-old sought to brand himself as the youthful 21st-century candidate, in a "generational choice" against presumed older opponents such as Jeb and Hillary. He also emphasized his Cuban lineage and the community's story of impoverishment and arrival in the United States, to pursue "their god given right, to go as far as their talent and work would take them." Even more prominent was the theme of US exceptionalism. Author of American Dreams: Restoring Economic Opportunity for Everyone, Rubio sought support for a "new century that will be the freest and the most prosperous Americans have ever lived." However, his natural constituency, aside from his Florida electorate and Cuban-Americans, remains unclear. Tea Party activist and video blogger Chuck Suter says that perhaps two years ago he and other constitutional conservatives might have been behind him. Since then, Rubio has supported gun registration, sided with Democrats on mandatory vaccinations, and "consistently supported the unconstitutional NSA programs that are listening to every single phone call in the country of law-abiding citizens." Suter, who founded ConstitutionalWar.org, also notes that Rubio has supported the National Defense Authorization Act, and even "more redistribution of wealth" on the Daily Show. Jon Stewart then asked whether Rubio belonged in the Republican Party, and Suter believes conservatives will ask the same question as they learn more about him in the lead up to the 2016 GOP primary. The likely Tea Party favorites, in Suter's assessment, will be Republican Senators Rand Paul (KY) and Ted Cruz (TX) and Governor Scott Walker of Wisconsin: "Although they have expressed an interest in working on immigration reform, they have not supported the level of amnesty that [Rubio] has supported." Then with the more moderate Jeb Bush in the race, whose candidacy would rule out a Florida running mate, he sees no path to the presidency for Rubio.