Correa's Disenchanted Allies Flock to Opposition Mobilization
Español Civil-society organizations, labor unions, and indigenous groups will march throughout Ecuador on Thursday, March 19, as a show of unity against the presidency of Rafael Correa.
On Wednesday, March 11, representatives of the United Workers Front (FUT) called a national "day of resistance" against the "onslaught of a homogenizing model," which they claimed "seeks to eliminate workers' and social organizations' rights and achievements" in the country.
The FUT emphasized it would be a peaceful demonstration, not seeking to "overthrow the president" but to fight for their rights and job stability, and reject a new system of onerous tariffs imposed by the government.
Other groups such as the Popular Front, the Retirees Front, the National Union of Teachers (UNE), and the Confederation of Indigenous Nationalities of Ecuador (CONAIE) confirmed their attendance at the demonstrations.
A Common Cause
Despite its beginnings as a protest by leftist and indigenous groups, students, members of the opposition, and ordinary citizens soon took the opportunity to express their anger with Correa's Citizen Revolution.
Using the hashtags #19M and #RR, social media users listed the reasons why they're marching on March 19, with the new "safeguards" on 32 percent of the country's imports generating particular discontent.
Tremendo paquetazo nos clavaron. A esto ya nadie puede voltear la mirada. #FeriadoArancelario #19M

— robot ultramoderno (@jotacelira) March 10, 2015

"Such a tremendous tax package they put to us. No one can turn away to this #TaxHoliday #19M"
Que la crisis la paguen los #nuevosricos del correato, NO el pueblo! Otra razón más para la Movilización Nacional del #19M #Ecuador

— David Rosero (@davidroserow) March 9, 2015

"The crisis should be payed by Correa's newly rich, not by the people! Yet another reason for the national mobilization of #19M #Ecuador."
Others highlighted alleged government heavy-handedness in the face of dissent, and raised fears over Ecuador becoming "another Venezuela."
El verdadero milagro ecuatoriano será librarnos de este incapaz, antes de que nos termine de convertir en Venezuela.#19M

— Yo Mandante (@Yo_Mandante) March 14, 2015

"The real Ecuadorian miracle will be to get rid of this incompetent, before he ends up converting us into Venezuela #19M."
Si crees que es normal que funcionarios respondan a ciudadanos en redes sociales con insultos, calumnias y amenazas, no salgas el #19M

— Diana Amores Moreno (@Diana_Amores) March 16, 2015

"If you think it's normal for officials to respond to citizens with insults, slander, and threats on social networks, don't go out on #19M."
Many Twitter users similarly stressed the importance of the march in terms of free speech, democracy, and freedom.
Invito a las mentes liberales a salir a la calle (Shyris o arco del Ejido) mañana #19M
Justamente porque debe haber otras voces.

— Juan Fernando Carpio (@jfcarpio) March 19, 2015

"I invite liberal minds to go out tomorrow #19M. Precisely because there must be other voices."
Correistas Respond
On Monday, March 16, Correa condemned Thursday's forthcoming demonstrations during a meeting with representatives of indigenous movements. According to Correa, his administration has a strong record on defending indigenous and workers' interests.
"It makes no sense that these worker leaders march against the government that's done the most for the working class," he said, similarly criticizing the "alleged indigenous leaders" who organized the national mobilization.
National daily El Comercio reported on Wednesday afternoon the arrival of 15 buses in Quito from across the country. The vehicles were ferrying hundreds of Correa's supporters to the capital, who began a "citizen vigilance" in support of Correa.
About 40 people set up tents and spent the night outside the presidential palace in solidarity with the president. Several argued that Thursday's march is designed by Correa's political opponents to generate uncertainty, instigate violence, and ultimately undermine Correa's government.
In the same vein, government legislator Rodrigo Collahuazo denounced the manifestation as part of "a national and international strategy" aiming to destabilize democratic governments in the region.
Marcela Aguiñaga, director of the ruling PAIS Alliance party in the province of Guayas and Vice President of the Ecuadorian National Assembly, branded the march an "opportunist union" of various sectors of the opposition.
"Basically, what it reflects is that multiple groups are opportunistically joining in the old way of doing politics, and supporting traditional opposition leaders. They're not looking to defend rights of freedoms," she argued.
Aguiñaga anticipated that Correa's supporters would hold mass "mobilizations for the revolution" throughout Guayas province.
The demonstrations are expected to begin at 3 p.m. local time in 14 cities across the country, including Guayaquil, Portoviejo, Ambato, Machala, and Loja.
Related Posts
Che Guevara: The Good, the Bad, the Hollywood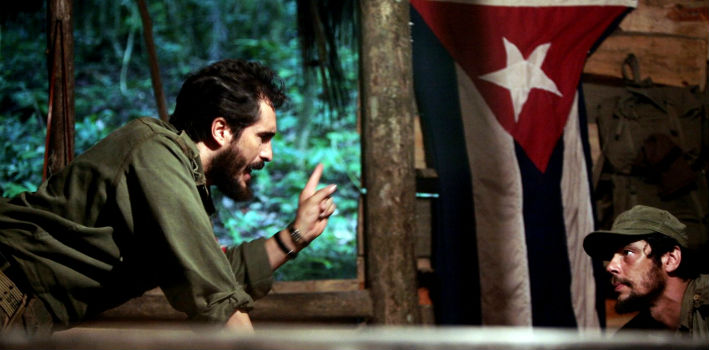 EspañolAt the end, a flash of introspection, even of doubt. Ernesto "Che" Guevara is on board the Granma with 81 revolutionary fighters bound for Cuba in 1956. He looks to the other side of the boat, where Fidel and Raúl Castro are in deep discussion. Could he have imagined that, 60 years on, the pair would still rule the island he helped them conquer? But to reach these few seconds of reflection, we first have to sit through the entirety of Steven Soderbergh's 2008 two-part biopic of the Argentinean revolutionary. Despite a runtime of over four hours, it barely reveals anything of Che Guevara's interior life: his thought process, his complexities, his family life, his well-documented dark side. Instead, Che offers two strong but uneven war films, faithfully recreated moving diorama of guerrilla in the mist. Part one, The Argentine, sees Guevara, impressively imitated by Benicio del Toro, taking to the Cuban jungle to bring down the regime of Fulgencio Batista. They set up schools, recruit enthusiastic campesino volunteers, and occasionally interrupt manly embraces between comrades to derail trains and shoot up colonial backdrops. Part two, Guerrilla, is markedly darker in tone, as an asthmatic Che trudges through washed out landscapes to bring revolution to Bolivia: an attempt that leads to his death at the hands of CIA-directed forces. Soderbergh's visual style is admittedly captivating, a cinéma vérité approach that makes the viewer feel part of the action, particularly in Che's final desperate days before his capture. Just War Films The director has defended the narrow scope of the movie. They're "war films," he said, with other aspects "just not interesting to me. I was interested in making a procedural about guerrilla warfare." As for glossing over the killings perpetrated by Che, Soderbergh was similarly unrepentant: "There is no amount of accumulated barbarity that would have satisfied the people who hate him." Yet any film's claim to offer a realistic portrait should be judged as much by what is omitted as is included. Maybe Soderbergh's decision to not include Guevara's five-month command of the La Cabaña prison, during which he oversaw dozens of executions, can be excused by Soderbergh not wanting to show Che's life as "a bureaucrat." But equally glaring are the omission of multiple executions which Che personally delivered in the Sierra Maestra — including that of Eutimio Guerra, suspected of passing on information: "I ended the problem with a .32 caliber pistol, in the right side of his brain.... His belongings were now mine," Che later wrote. The screenplay, however, is happy to depart from the war story to show Che giving interviews and addressing the UN General Assembly in 1964 in a tirade against US imperialism. Here, Guevara gets the movie-star treatment, despite the director's claim that "you can't make a movie about a guy who has these hard-core sort of egalitarian socialist principles and then isolate him with close-ups." https://www.youtube.com/watch?v=2gQeFlZJoJk Another pointed omission is Che's 18 months spent fighting in the modern-day Democratic Republic of the Congo. Leading a contingent of Cuban advisors, Guevara left behind his duties and family in Cuba to prolong the bloody Simba rebellion. Infighting and disease took their toll, and Guevara was persuaded not to stay and fight to the death. "We can't liberate by ourselves a country that does not want to fight," he wrote at the time, although his ill-fated Bolivian expedition would seem to suggest that Che didn't learn his lesson. Why omit the Congo episode? Perhaps because it further suggests that dogmatism, even a bloodthirsty egoism, came before practical considerations in Guevara's avowed aim of exporting revolution worldwide. The Survivor This is one of many fascinating, complex periods in Guevara's life that both his detractors and supporters would benefit from knowing about. Without them, the movies, despite their strengths, are left feeling oddly flat: as two dimensional as the infamous Alberto Korda image. But for my money, the film, and the ongoing polemic about Che, focus on the wrong man. A much more interesting study could be made of the man who brought down a dictatorial regime to replace it with a one-party state. A man who threatened to point Soviet missiles at the Yankee enemy only to begin talks with it decades later, who imprisoned former comrades such as Huber Matos and oversaw the fatal ramming of refugee boats bound for Florida. What led Fidel Castro to take, or authorize, each of these decisions? Did he ever feel any regret, or any conflict between the lofty ideals of his 26th of July Movement and the tough realities of unelected office? As US businesses plan their return to the Caribbean island, what does 88-year-old Castro believe his revolution has achieved? These are the kinds of questions that are ripe for answering in a movie: neither hagiography nor hatchet-job, showing the good and the bad. It's a good thing that Hollywood can now legally import Cuban cigars: they'll need plenty.