Maduro's Prisoner-Swap Deal Ignites Fury over Arbitrary Detention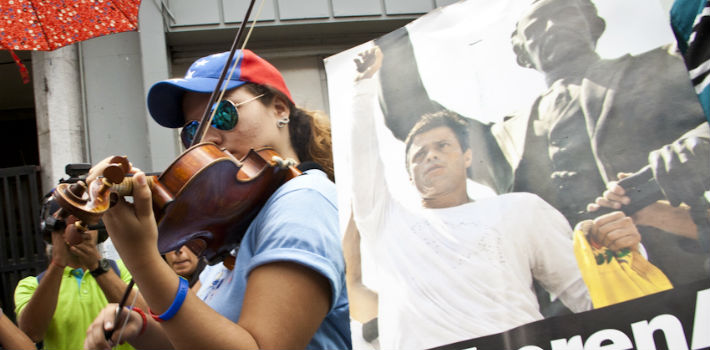 EspañolPresident Nicolás Maduro has once again stirred controversy both inside and outside of Venezuela. On Monday, January 5, he offered to release jailed opposition leader Leopoldo López if the US government would agree to a prisoner swap for Puerto Rican nationalist Óscar López Rivera.
Freddy Guevara, national coordinator for opposition party Popular Will, argues that in doing so Maduro has unwittingly confirmed López's status as a political prisoner. The Venezuelan government formally charged the 43-year-old former mayor in February 2014 with "incitement of crime, criminal association, arson of a public building in the second degree, and damage to public property."
Popular Will leaders further argue that Maduro's actions reinforce the ruling from the UN Working Group on Arbitrary Detentions and the European Parliament that the prominent opposition leader has been jailed arbitrarily and should be freed immediately.
Human-rights NGOs, such as Amnesty International and Human Rights Watch (HRW), have also voiced their concerns over López's incarceration. HRW chief José Miguel Vivancos has stressed that "the swap is not an option; the only way out is his immediate release."
Ever since the UN Working Group ruled in October 2014 that López should be freed, the dissident politician has refused to appear before a Caracas court, contesting its legitimacy and arguing that it must comply with the international body's ruling.
López's attorneys have formally filed a request for his release with the Appeals Court, but it has yet to respond. Following a series of postponements, the most recent on Monday, January 5, the next hearing in his case has been scheduled for January 13.
On Sunday, before leaving for an international lobbying tour of Russia, China, and OPEC nations, President Maduro revealed part of a conversation held with US Vice President Joe Biden on January 1 in Brazil, during President Dilma Rousseff's inauguration ceremony.
Maduro said Biden requested López's release, to which he replied: "The only way I'd use my presidential powers to free López is if we exchange him, man for man, for the Puerto Rican nationalist Óscar López Rivera, put him on a plane, and send him to the United States."
The Venezuelan president referred to López as the "monster of Ramo Verde," a reference to the military prison where the opposition leader is held in almost total isolation. In the past, Maduro has also referred to López as a "murderer" for allegedly spurring the protests on February 12, 2014, that left three students dead. López, however, has not been charged with homicide, while two police officers are currently under investigation in connection with the killings.
The 12-F protest was the climax of over three months of student demonstrations that left 42 people dead, most at the hands of armed Chavista paramilitary groups. Over 100 people still remain in police custody as a result of the protests, and 2,000 others face criminal charges.
According to reports from several human-rights NGOs, the Venezuelan government arbitrarily arrested over 3,000 protestors, and violated human rights in 157 instances. This led to the approval of targeted sanctions by the United States directed against Venezuelan officials accused of human-rights violations.
Following Maduro's recent statements, the opposition alliance group, the Democratic Unity Rountable and López's own Popular Will party, have condemned the proposed prisoner exchange. They claim that Maduro's comments not only acknowledge López is a political prisoner but also reveal his desire to exile one of the country's most popular politicians. Opinion polls demonstrate López holds double the approval rating of Maduro, whose popularity is currently lower than any president since 1999, when Hugo Chávez launched the Bolivarian Revolution.
Repercussions Within and Abroad
"Leopoldo López's swap has become international news," said Leopoldo Castillo, one of Venezuela's most influential journalists, to his 1.3 million Twitter followers. "If Maduro thought he was being funny, it came out as an insult."
El canje de Leopoldo López es noticia internacional. Si Maduro pretendió una gracia le salió una morisqueta

— Leopoldo Castillo (@elcitizen) January 5, 2015
"If Maduro thought he was being funny, it came out as an insult."
Lilian Tintori, López's wife and spokesman, has rejected the possibility of López leaving Venezuela.
"Maduro, this isn't about a swap deal; this is about justice," Tintori responded.
Freddy Guevara of Popular Will adds that he believes this ordeal reveals López has been "kidnapped" and "Maduro is a kidnapper.… If anyone had any doubts that Leopoldo was a political prisoner … it became clear for everyone yesterday, when Maduro proposed exchanging him for another political prisoner."
However, López's defense attorney, Juan Carlos Gutiérrez, left the door open to consider the unlikely deal. "If the United States were to accept the offer, we'd be willing to evaluate it," said Gutiérrez. He added that from a legal standpoint, however, the arrangement would be "openly unconstitutional."
Despite the attorney's response, US State Department spokeswoman Jen Psaki put the speculation to rest, responding within 24 hours by rejecting any possibility of such an arrangement.
"There's no comparison in our view between these cases," she stated. "It is unfortunate that someone – Leopoldo Lopez, who should be presumed innocent – is being sentenced on national television by Venezuela's president without the conclusion of a trial."
Renowned Venezuelan legal scholars like Alberto Arteaga have also expressed their amazement at Maduro's proposal: "It's unprecedented in Venezuela … The prisoner swap hypothesis is not contemplated in the legal system, and he [Maduro] is only allowed to grant a presidential pardon. What we're seeing is that López's persecution really is politically motivated and Maduro isn't embarrassed to show it."
Miranda governor and former presidential contender Henrique Capriles had harsher words for the president, saying Maduro "should turn on his brain" before speaking. "What is this? Asking for an exchange for someone who has nothing to do with us? We want justice for Leopoldo López and the rest of our fellow activists in jail."
As both sides exchange political blows, López remains in Ramo Verde prison, and according to Juan Francisco Alonso of El Universal — who has closely followed López's legal proceedings — his situation is unlikely to change in 2015.
"[There is] clearly no precedent" for Maduro's offer, said Alonso on local news radio. He also suggests the trial has been plagued by misconduct, unfairly favoring the prosecution, as the court has limited the defense's ability to present counter evidence during pretrial hearings.
The prosecution is asking for a 16-year sentence against López, whose health conditions in prison have deteriorated since February 2014. The Popular Will leader, as well as the deposed mayors Enzo Scarano and Daniel Ceballos, have denounced abuses and poor living conditions inside the military jail.
Translation by Daniel Duarte. Edited by Guillermo Jimenez and Fergus Hodgson.
Related Posts
Charlie Hebdo Murders Threaten Us All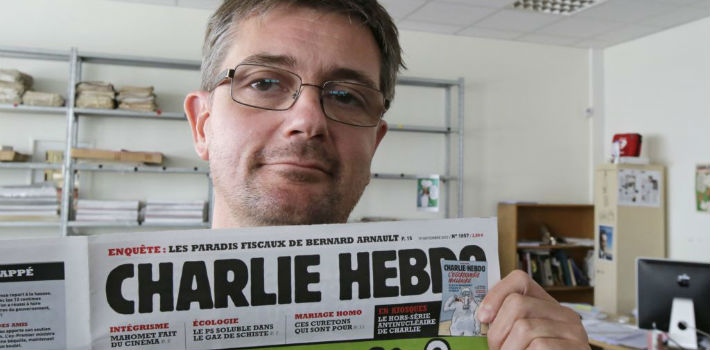 Español Why do the intolerant among us get so riled up by humor? This question has taken center stage again, after three suspects stormed the Paris offices of satirical newspaper Charlie Hebdo on Wednesday morning, and murdered 10 employees — screaming "God is great" in Arabic. In some cases, the assassins screamed the name of the journalists before opening fire, as they did when they killed Stéphane Charbonier, a.k.a. Charb, the editor in chief. Two policemen were also murdered — one cowardly, as he lay on the ground in the video below — and 11 got injured, four of whom are struggling to stay alive. NB: viewer discretion is advised. https://www.youtube.com/watch?v=ODZbkKln9Fc Charb as well as the other employees, specifically the cartoonists, had received numerous threats for their mocking of Islam and its Prophet Muhammad. But the cartoonists hadn't singled out the Islamic religion; Charlie Hebdo was equally iconoclastic towards politicians, the banking system (which they compared to Hitler once), and even Christianity. But once the threats started pouring in, Charb and his team courageously doubled down on the Islamic satire — perhaps precisely because they lived in the land of Voltaire, who allegedly expressed, "I disapprove of what you say, but I will defend to the death your right to say it." The murdered French comedian once said, "I've defended the right to publish the Muhammad cartoons. If we cave in to self-censorship, the few extremists around the world and in France will have won." Charlie Hebdo's last tweet shows a cartoon making fun of Abu Bakr al Baghdadi, the self-anointed Islamic State leader. The outlet depicts him saying "Best wishes, by the way. To Al-Baghadi too. And especially good health!" The latest edition also mocked Submission, a novel by intellectual Michael Houllebecq that portrays a France ruled by a Muslim president. https://twitter.com/Charlie_Hebdo_/status/552773881283764224 "Best wishes, by the way. To Al-Baghadi too. And especially good health!" Going back to our initial question, what is it that makes humor so dangerous for dogmatic groups, political and religious alike? One answer is that humor desacralizes what it attacks. Humor says "don't take this too seriously," and this, for those who do take themselves seriously, is devastating. Humor levels the playing field. When you mock the powerful, you bring them down to the commoners. Humor says "don't take this too seriously," and this, for those who do take themselves seriously, is devastating. As Albert Camus, another great French thinker, used to say, "people who pretend to know and control everything always end up as murderers." Some people also define humor as entertaining intelligence. My father, a simple man, used to admonish: "Beware of people without a sense of humor." Those who have it all worked out, who're so very sure of their convictions, are usually intolerant people. Humor hits them like a gut punch because it makes them doubt. And doubt, they say among the military, is the beginning of disobedience. I live in Venezuela, a country with a sense of humor so intense that sometimes it gets in the way of taking anything seriously. So I can relate to the attack and understand this, because the Chavista regime has targeted humor in television and the press, censoring and legally harassing cartoonists and comedians. The strokes of a paintbrush are sometimes more powerful on public opinion than hours of smug, empty, pompous speeches from politicians who take upon themselves the role of interpreting "history." The worst outcome of Charb and his workmates' murders is that the intolerant ones, those "few extremists," have won — not because of the casualties, as Charb's ideas will live on, but due to the voices that call for repressing and controlling all Muslims in Europe. Fascist-oriented, xenophobic politicians from all across the continent — one that has suffered enough unspeakable horrors stemming from xenophobia — are already saying, "See? We told you so." Today's attack entrenches not only the intolerance of extremist Muslims, but that of those who oppose them. And it threatens thousands of people who have traveled miles to live in Europe, at times even running away from religious encroachment upon their private lives at home. Those who died today surely wouldn't approve of any kind of persecution. They fought and died in the name of tolerance and the sacred cause of freedom of speech. Like them, every journalist around the world has been attacked, murdered. Today we're all Charlie Hebdo; we're Charb and his coworkers. Translation by Daniel Duarte. Edited by Fergus Hodgson.