Honduran President Aims to Lengthen Jail Terms for Gangs
EspañolHonduran President Juan Orlando Hernández sent two bills to Congress on Monday that would deliver tougher sentences for gang members and isolate the Central American nation's most dangerous prisoners.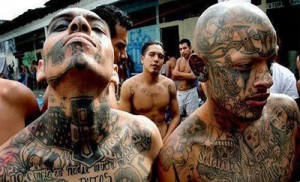 The bills will review Article 322 of the country's penal code which establishes prison sentences for gang members, and could see longer jail terms imposed in aggravated cases.
President Hernández simultaneously announced "reform for the penitential system, [to] isolate the most dangerous criminals" and thus prevent inmates from continuing to commit crimes from jail.
The announcement comes after a violent weekend in Honduras. On Sunday, four gunmen killed three models traveling in a bus in the capital, Tegucigalpa, while on Saturday, an unidentified assailant murdered a lawyer in the northern city of San Pedro Sula.
Hernández's proposal would reform the so-called antimara law, that seeks to battle the gangs involved in drug-trafficking, contraband smuggling, theft, and murder, among other criminal activities.
According to the current Honduran Criminal Code, leaders of maras face from nine to 12 years in prison and fines of up to 200.000 Ls. (US$9,300).
Hernández also sent to Congress a law to allow inmates to work during their stay in prison to contribute to their rehabilitation.
Earlier this year, the president announced a sharp reduction of the country's homicide rate from 86 to 66 per 100,000 people, which still ranks among the world's highest murder rates. The government cites drug trafficking as the principal cause of gang violence in the country.
Sources: Infobae, El Heraldo.
Related Posts
Bolivia's Minimum Wage: How to Kill the Economy
EspañolBolivian President Evo Morales has once again come to an agreement with the Bolivian Worker's Center (COB) to increase their workers pay by 8.5 percent, and increase base salaries by 15 percent, making the country's minimum monthly wage 1,656 Bol. (US$238). Despite this year's increase being the lowest in the last four years, it is still an absurd arrangement that creates more harm than good. It would be political suicide if Morales didn't increase the minimum salary every year: his socialist rhetoric demands it. His goal is to stay in power, so he needs to maintain the support of the poor. As a result, the Morales administration plays with minimum wage and inflation policy as if it were playing with toys, when in reality the measures it's taking can kill a national economy stone dead. One of the central principles of the "real," unfixed wage, is that it represents the productivity of each worker, or, in other words, the value of his work in relation to the needs of the employer. The real wage is also a private agreement between two individuals which completely dissolves when minimum wage laws are implemented. Mandatory wage hikes do nothing to increase productivity, giving something for nothing, and plucking an arbitrary price for labor out of the air that damages industries. It is regulated by an individual or organization (in this case, the Minister of Economy) who has no idea about what employers need, and what they can offer employees. Workers know what they are worth, and employers know what they want, yet when laws are not in line with market demands, the laws simply cannot deliver. In addition, minimum wage laws create mediocrity within society, as they immediately eliminate any incentive to work more efficiently, or do better. Workers can sit back and relax in the knowledge that the paternalistic state will come around every year to give them a raise, earning itself "good guy" status in the process. Workers know what they are worth, and employers know what they want, yet when laws are not in line with market demands, the laws simply cannot deliver. The result of this kind of regulation is a gigantic increase in the informal work force. Minimum wages and government bureaucracy are the biggest culprits in driving the informal economy, as employers and employees duck onerous regulations to earn a living. Minimum wage laws mean that those whose labor is not worth 1,656 Bol. will never be able to find formal work, and are instead doomed to unemployment or informal work which is the fate of the majority of the poor in this country. This calls into question why workers demand minimum wage increases in the first place. The answer is that rising inflation makes workers feel poorer year on year. The next logical question is to ask who controls inflation. The answer is the state, hence a vicious circle. The government increases inflation each year at a rate that is slightly higher than the minimum wage with the aim of controlling the population. Cash-strapped citizens remain dependent on the state for handouts, and under these conditions, they'll never sever ties with the state in favor of individual responsibility. Minimum wages and inflation will kill an economy, and they have critical consequences in the short run, and are unsustainable in the long run. Bolivia is very close to a crisis, and now is not the time to play with imaginary prices for political gain. Now is the time for efficiency, productivity, real wages, investment, and the creation of far-reaching economic and social liberty. Translated by Thalia C. Siquieros. Edited by Laurie Blair.